Italy's president knights Italian and Classical Studies professor
Francesca Behr to receive "Stella d'Italia" medal of honor at Dec. 11 ceremony in Houston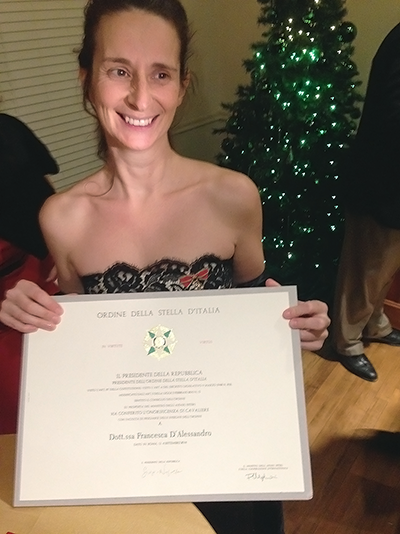 Giorgio Napolitano, president of the Republic of Italy, has bestowed the honor of the knighthood of the order "Stella d'Italia" upon Dr. Francesca D'Alessandro Behr for her committed service to promoting Italian culture and language.
Dr. D'Alessandro Behr is an associate professor of Italian and classical studies in the Department of Modern and Classical Languages.
The "Star of Italy" honorary knighthood is the highest honor the Italian government can bestow on a foreigner.
The award was created as the Cavaliere dell' Ordine della Stella della Solidarietà Italiana (Knight of the Order of the Star of Italian Solidarity) after World War II by the Italian government to show appreciation for people outside the country who contributed to the reconstruction of Italy.
In 2011, the honor was retitled to the Ordine della Stella d'Italia (Order of the Star of Italy) to reflect its refreshed purpose to recognize "preservation of the Italian spirit" and "promotion of Italian prestige" abroad.
The medal of honor representing the knighthood will be presented by Elena Sgarbi, the Consul General of Italy in Houston, to Dr. D'Alessandro Behr at 6:30 p.m. on December 11 at the Italian Cultural and Community Centre, 1101 Milford Street, Houston, 77006.
Dr. Sgarbi noted in a letter of congratulations Dr. D'Alessandro Behr's significant contributions to the yearlong "educational marathon" celebration of the 150th anniversary of Italian unification in 2010 and 2011. The home of the ancient Roman empire became a modern nation-state on March 17, 1861.
Dr. D'Alessandro Behr earned her Ph.D. in Classical Studies from the State University of New York at Buffalo. Her monograph, Feeling History: Lucan, Stoicism and the Aesthetics of Passion, was published by Ohio State University Press.
She was recognized by the University of Houston with a Teaching Excellence Award in 2013 and by the College with a Ross M. Lence Teaching Excellence Award in 2010. Dr. D'Alessandro Behr's current research interests include epic, gender studies, reception studies and comparative literature.
- By Shannon Buggs