Graphic Communications Students Map Third Ward
"Welcome Center" project invites neighborhood to explore itself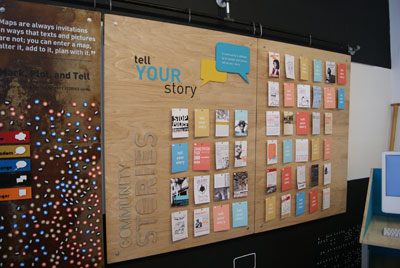 Houston's Project Row Houses (PRH) has long been a destination for artists and art-lovers alike. Located in the city's historic Third Ward, this collection of shotgun-style houses hosts exhibitions, installations and conversations focused on the neighborhood.
For many visitors, PRH's main administrative building at 2521 Holman St. is the point of entry into this creative center. Thanks to University of Houston Graphic Communications students, this entrance to PRH is hosting an interactive installation that further connects visitors to the neighboring community.
The project, "Welcome Center: Mapping Community Stories," features several maps, kiosks and a welcome wall that help tell the story of the Third Ward and invite participation from visitors.
UH graphic communications professors Cheryl Beckett and Beckham Dossett directed the four student teams in collaboration with artist-in-residence Ashley Hunt.
"Welcome Center" was funded by UH's Cynthia Woods Mitchell Center for the Arts as part of its "Communograph: Mapping Community Through Creative Action." This series is aimed at connecting Houstonians with the Third Ward through artist talks, exhibitions and community tours.
"As students, the Third Ward was just an area we drove through to get to school," said graphic communications student Osama Ashawa. "Through this project, we learned more about the community and its relationship to Houston."
The installation encourages community interaction and storytelling through playful and user-friendly materials. It also provides a framework for gathering personal experiences from residents as well as a collective history of the Third Ward.
"This material will provide a better understanding of the people, places and history that shaped the neighborhood and will be useful for Project Row Houses and the Communograph project as it continues to map this historic part of Houston," Beckett said.
Among the components comprising "Welcome Center" is the Welcome Wall, which communicates the history of the Third Ward and Project Row Houses on large panels using text and photos. Complementing this piece is a video wall that broadcasts a documentary on the Third Ward and a bulletin panel where brochures and cards can be placed.
The project also includes a large-scale interactive map of the Third Ward, which allows visitors to both explore the community and chart various areas within it. Using magnets that represent Third Ward areas where people can eat, play, live and love, visitors can map the neighborhood based on their own experiences. This section also contains a children's area with interactive activities.
Another component is titled "Maps of Possibility," which provides visitors with maps (designed by UH students) detailing cultural locations within the neighborhood. These locations are broken down in to categories such as arts, history and foundations of the Third Ward. Visitors are provided with materials to illustrate their own maps of the area based on their experiences.
The final component of "Welcome Center" is a wall filled with community stories detailing the people and places that define the Third Ward. Stories are communicated using cards that hang on this story wall. Visitors also can tell their own stories as blank cards and art materials are available at a nearby kiosk. These cards may be added to the wall and will also be scanned and shared on the Communograph Web site.
The main wall is comprised of a chalkboard that encourages visitors to share their insights on the Third Ward. Another kiosk is equipped with a computer, so guests can interact with the Communograph web site.
"One thing our team had to focus on was how to make a design speak for a specific community," said graphic communications student Louis Pitre, a member of the team that worked on the kiosks and community stories cards. "We also had to select materials and apply them in a way that complemented the community."
"Welcome Center" is the latest community project undertaken by UH graphic communications students. Previous works include "WorkingShop," an installation that celebrates the history of Houston's historic Ryan Middle School and "Dis(solve): Natural Signs" focused on providing signs and amenities to the city's Japhet Creek.
"Dis(solve): Natural Signs" received the Mayor's Proud Partner Award in 2010 and was recognized by the Society for Environmental Graphic Design. Both "WorkingShop" and "Dis(solve)" were collaborative efforts that partnered UH graphic communications students and architecture students.
"It's important to teach students that the things they make can impact society," Beckett said. "They have to develop empathy for society and the planet. These kind of projects help build that."
- Mike Emery
Related Links