More Texans Take a Chance on the Lottery
Hobby Center for Public Policy Finds Upward Trend in Player Participation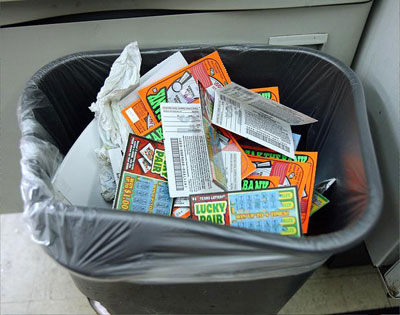 Photo credit: Alberto Martínez/AMERICAN-STATESMAN
The tough economic times did not curb Texans' appetite for games of chance.
A new study from the Hobby Center for Public Policy found more Texans took a chance on Texas Lottery games in 2011, changing a 10-year downward trend.
"The takeaway from this year's survey is that participation is up quite a bit, but average monthly spending per person is down," said Jim Granato, professor and director of the HCPP.
The Texas Lottery has been surveying participants since 1993, as required by law.
Nearly 1,700 Texans were surveyed between July and August. For the past decade, participation rates have been steadily decreasing, but that trend changed in 2011.
The study found that participation in all games increased nearly 7 percent compared to rates in 2010, though players are spending a bit less per month on the games than in 2010. Last year more than 40 percent of Texans played Texas Lottery games, spending an average of $31.08 a month, down from $38.92 a month in 2010. The most popular games in 2011 were Powerball, Mega Millions, Cash 5 and Megaplier.
"Based on our data, we are projecting lottery sales between $2.67 billion and $2.81 billion in 2012," he said. "That range is lower than the actual lottery ticket sales for fiscal year 2010 of $3.8 billion."
Participation rates were highest in the El Paso lottery district, followed by San Antonio and Lubbock. Participation rates were lowest in the Fort Worth lottery district.
Additionally, more men than women played Texas Lottery games - 44.1 percent compared to 37.5 percent - a change from the last few years, though men spent less than women on the games.
Other points of interest:
80 percent of participants are homeowners
46 percent of participants have college degrees
Most players are employed
Participation among people 65 years and older rose to 33 percent from 28 percent
Related Links