Milestones in the College: 40th Anniversary of the Center for Mexican American Studies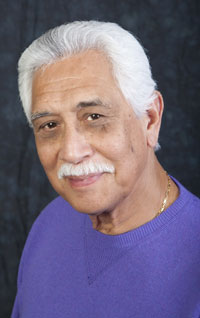 "I Feel Privileged" by Dr. Tatcho Mindiola
The Center for Mexican American Studies marks its 40th anniversary on the University of Houston campus in the fall of 2012.  I feel privileged to have been the Center's director since 1980.
In those four decades, the Center has addressed every opportunity and challenge in higher education:
Our dropout rate in high school and college is too high and we work to address this issue through college career days and the Academic Achievers Program.
These retention initiatives provide scholarships, tutoring and skills workshop to promising students. We supplement those efforts with a lounge within the Center's office space, where students gather on a regular basis. This helps students integrate into the University environment. Nearly 75 percent of the participants in our Academic Achievers Program for undergraduate students earned their degrees within six years of entering the University of Houston. The overall rate for the University is 46 percent.
We offer a minor in Mexican American Studies.
This brings diversity to the University of Houston's curriculum. Our plan is to offer a major in the very near future.
The Visiting Scholars Program and Graduate Fellowship Program promote academic achievement and excellence.
Visiting scholars receive a salary appropriate to rank and are expected to be in residence during the academic year. Priority consideration is given to applicants who have specializations in both Mexican and Mexican American Studies and who have an interest in remaining at the University in a tenured or tenure-track position after completing the one-year residency. To date 34 Visiting Scholars have spent a year teaching at the University and 44 percent were employed permanently.
Graduate Fellows are outstanding students who have demonstrated an interest in the research and study of the Mexican American or Latino community. Students pursuing a master's or doctoral degree in Liberal Arts, Social Sciences, Education or Social Work are eligible to apply. Students are required to write their thesis and/or dissertation in an area related to Mexican American or Latino Studies. The fellowships provide up to $13,000 per academic year and are renewable for a second year. We have welcomed 44 graduate fellows to campus so far and look forward to many more in the future.
We document the history and experiences of Mexican Americans.
The Center also supports the research of the faculty associated with the Center and we sponsor conferences, speakers and cultural events.  Our monograph series, the University of Houston Series in Mexican American Studies, has published seven books and several more are in progress.
To ensure the long term viability of the Center we have undertaken an endowment drive.  Our goal is to endow the components of the Center as outlined above with a million dollar each and expand the Center's physical space. To date, we have raised approximately $2 million for our endowment and nearly $3 million in scholarship funds through our annual banquet.
Our journey is not over, but at this point in our history, we feel that our best times lie ahead.   
Dr. Tatcho Mindiola is an Associate Professor of Sociology and Director of the Center for Mexican American Studies. During his tenure as the Center's director, he has developed it into one of the premiere academic programs of its type in the nation.