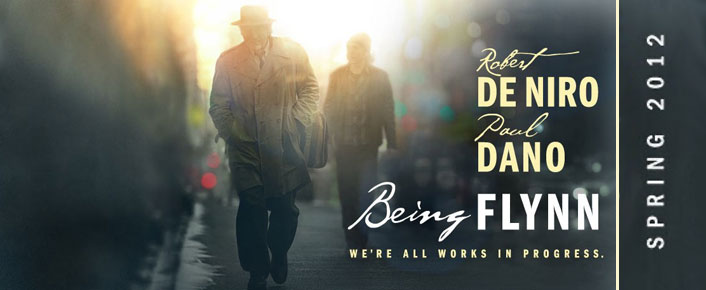 Being Nick Flynn
Creative Writing professor shares life lessons in memoirs and major motion picture
Upon listening to Nick Flynn speak, you are immediately sure of one thing – Nick Flynn can teach you something.
On Monday, March 5, UH Arts, the Museum of Fine Arts, Houston, the Houston Cinema Arts Society, and Focus Features presented a sold-out preview screening of the new film Being Flynn. The screenplay by Paul Weitz ("About a Boy") is an adaptation of Creative Writing Professor Nick Flynn's memoir, Another Bullshit Night in Suck City.
The film, which opens in Houston and nationwide on Friday, tells the story of the rocky reunion between Nick Flynn (played by Paul Dano) and his absent, alcoholic father, Jonathan Flynn (played by Robert De Niro.) In sporadic letters sent from prison, Jonathan Flynn professes himself to be one of the three great writers in American history – himself, Mark Twain and J.D. Salinger.
The film tracks Jonathon's decline from working as a taxi driver to being unemployed and without a home. After sleeping on the streets, Jonathan checks himself into the homeless shelter where his son Nick now works. But despite his circumstances, Jonathan is still writing his "great American masterpiece."
His father's deterioration pushes Nick to examine his own life, his own addictions and his own aspirations to be a writer, while coping with the death of his mother (played by Julianne Moore.) The film mines the depth of Nick's loss and travels his road to self-discovery.
At the premiere, Nick Flynn chuckled at the start of the questions-and-answers session that followed the screening. He called the audience his "Houston family" and his kind of people because there was laughter in all the right places, showing an understanding that there is humor in somber tales.
Flynn was integral to the transformation of his memoir into a movie. During the seven years it took to get the film into theaters, the script went through 30 revisions and several large studios toyed with the idea of making it before passing on it. Finally, Focus Features took on the project. Flynn was on set throughout the entire filming process. He's now writing a book on the making of "Being Flynn."
Flynn has been honored with the PEN/Joyce Osterweil Award for poetry and a Guggenheim Fellowship. He's been on the faculty of the English Department's Creative Writing Program for nine years. He teaches poetry, nonfiction and the lyric essay, and leads the Collaboration among the Arts class each spring.
"Nick's particularly good at helping students think through a full poetic manuscript," said J. Kastely, director of the Creative Writing Program. "He doesn't work from the top down…he has confidence in his students, and allows the class to find direction without it being imposed on them."
~ Jana Jackson