UH Art Historian Sandra Zalman Named ACLS Fellow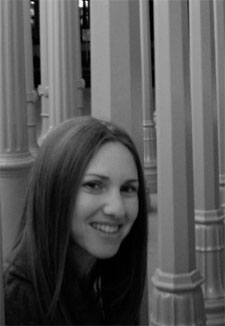 American Council of Learned Societies fellowship to support Surrealism research
Each year, the American Council of Learned Societies (ACLS) awards fellowships to scholars advancing the knowledge and learning in the humanities and related social sciences. Among this year's ACLS fellows is Sandra Zalman, assistant professor of art history.
The fellowship stipend will support Dr. Zalman as she completes her upcoming book "Surrealism and its Afterlife in American Art: 1936 - 1986."
"I'm very honored and incredibly grateful to receive this award," she said. "This fellowship period represents a crucial opportunity to concentrate on my research and focus on writing this book."
The scholarly work re-examines the history of 20th century American art through the lens of Surrealism. The book focuses on how surrealism is absorbed by American mass culture and interacts with it. Artists to be covered in the book include Salvador Dali and Rene Magritte.
"The book is about how these artists' works circulate in popular culture and how exhibitions of surrealism frame these works for public consumption at places like New York's Museum of Modern Art (MoMA) and the Museum of Fine Arts, Houston," Dr. Zalman said.
Dr. Zalman specializes in Modern and Contemporary Art and teaches courses in Surrealism and the public presentation of art. This semester, her course on museums explores how MoMA shaped the canon of contemporary art in the U.S.
In February, she co-chaired the panel "From Camp to Visual Culture: Accounting for Bad Art since the 1960s" at the College Art Association's 100th annual conference. In 2010, Dr. Zalman was awarded a Creative Capital-Warhol Foundation Arts Writers Grant that supported her article "Whose Modern Art? Huntington Hartford, MoMA and the First for Modern Art's Legacy"
Through fellowships and grants, ACLS encourages scholarly activity in fields concerned with human thought, experience and creativity. Fellowship programs are available to scholars at all career stages and focus on new methods of research and collaboration. Programs address digital humanities, collaborative research, postdoctoral opportunities and scholarship in non-academic environments.
Related Links