Student Success
Our graduate and undergraduate ComD students had a very successful 2012-2013 academic year. Below are some highlights of their accomplishments. 
Master's Theses
Amanda Procter completed a master's thesis on stop voice onset times in bilingual children with cochlear implants.
Dorain Sobel did a master's thesis project investigating the effects of heading the ball on cognitive function.
Undergraduate Honors Theses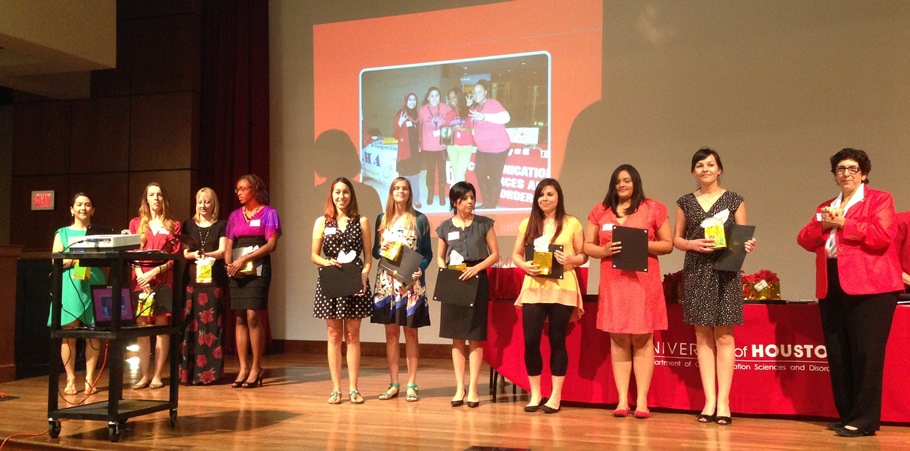 Rhianna Hendry  completed a thesis on functional cognitive deficits in breast cancer survivors. Her project received an Outstanding Thesis Award for 2013 given by the Honors College of the University of Houston for an exceptional undergraduate honors thesis. Congratulations, Rhianna!
Chung Hwa Brewer's thesis was titled "Contributors to the intelligibility of Japanese-accented English:  Prosody and Articulation Errors".  Chung Hwa explored her mother's country of origin, Japan, and investigated how Japanese accented English affected intelligibility, or how easy a person is to understand.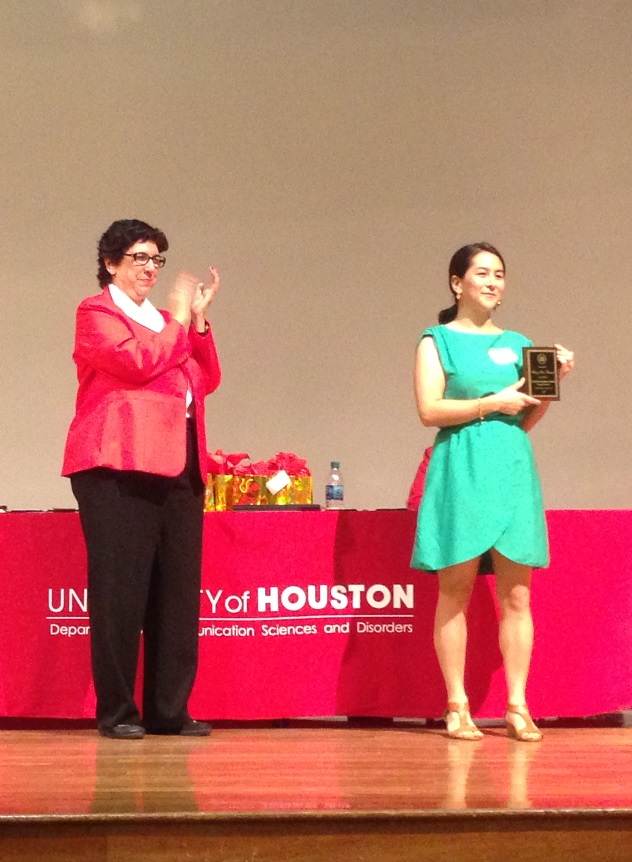 Jessica Conners completed a thesis titled "Persistent Speech Errors and Possible Treatment Options for Children with Hearing Loss". She researched various therapies used to improve the speech of children with hearing loss, and is planning to do a treatment study in this area when she returns for her Master's degree.
Tonya Freeland completed a thesis on "Auditory comprehension of narrative stories in typically aging adults ages 50-85". She examined how healthy adults monitor contextual cues regarding space, time, causation, and characteristics of the protagonist.
Christy Lee completed a thesis on "Measures of change in narrative discourse in aphasia".  Christy assessed various measures to see which ones really reflected functional changes after treatment for aphasia.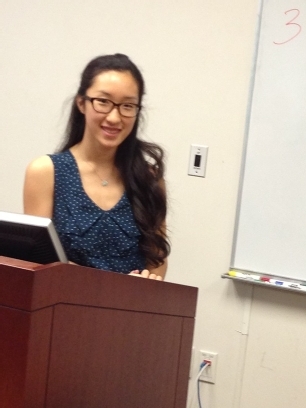 Sara Molnar's thesis was titled "Examining the Homosexual Male Production of /s/".  She investigated how actors portray homosexual speech patterns, specifically how they produce the stereotypical /s/and what the implications are for code-switching and social identity.
Brittney Rojas  completed a Senior Honors thesis on the topic of career counseling for people with disabilities.  She investigated the options students with disabilities were provided with in high school to help them make career decisions. 
Lauren Siler completed a senior honors thesis titled "Measuring speech sound identification in a bilingual Spanish-English speaking pediatric population". For this project, she developed a word recognition test for bilingual children with hearing loss.
Chelsea Thompson did an undergraduate honors thesis on "Comparing Urban and Rural Library Services".
Simmone Windsheimer completed a Senior Honors Thesis titled "Comparing Expressive Verbal Features Between a Preschool Child with High Functioning Autism and One with Typical Development".  This study has implications for children with ASD who have basic language skills, but who don't apply these skills in natural conversations.
Independent Studies by Undergraduate Students
Erin Aoughsten completed an independent study with Dr. Ivey.  She created a resource on research-based interventions, including hyperlinks to videos and references, appropriate for working with individuals who have autism spectrum disorders. 
Valeria Hinojosa has worked as a volunteer in the bilingual language lab for about a year and completed an independent research study during which she learned about how the sound systems of bilingual children develop.
Christina Martinez explored the differences in language abilities between individuals with high functioning autism and those with Asperger Syndrome.
Denise Vasquez  investigated how coming from linguistically diverse backgrounds versus mainstream America impacted the social skills goals of individuals with autism spectrum disorders.
HGEC Competition
Students in the Medical Specialty Track who participated in the HGEC Competition: An inter professional learning experience in TMC through the University of Texas College of Nursing. UH ComD Students joined with students from 11 other health related programs to determine community needs and resources to support a Memory Cafe for individuals with Alzheimer's disease.