Administration & Finance / News /
News Release
FOR IMMEDIATE RELEASE
Cindy Granier
Administrative Assistant
713-743-0612
cgranier@central.uh.edu
Campus Safety's Nick Ackles Retires from UH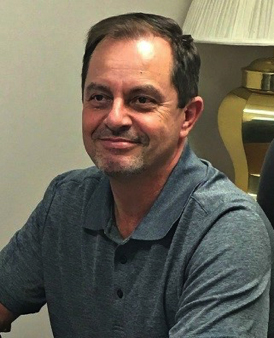 Houston, Sept. 10, 2018 —University of Houston Campus Safety has said its farewells to Nick Ackles, who retired Aug. 31.
Ackles began working at UH in 2002 and transferred to Campus Safety in January 2017 to become campus safety systems manager.
During the last five years, while Ackles worked for Technology Services and Support and later for Campus Safety, he managed the technical support and maintenance for the University's surveillance video network. He was instrumental in designing the system installations for cameras and intrusion alarms systems while providing configuration services for newly installed Code Blue telephones.
He also spent time assessing the systems' upgrade needs and helping Assistant Vice Chancellor/Assistant Vice President for Campus Safety Malcolm Davis with determining plans for the future of security systems at the University.
"It is with deep gratitude and more than a little sadness that I announce my last day of work here at the University," Ackles said before he left. "I have enjoyed working with and getting to know each and every one of you over the years, and I wanted to take this opportunity to thank you for the privilege of having done so. We were able to share a great many accomplishments during my time here. I will forever be grateful for your support, your professionalism, and for the many wonderful friendships I was able to forge along the way."
Ackles said he plans to visit his mother in France for a while. Campus Safety wishes him good luck with his new endeavors.
---
About the University of Houston
The University of Houston is a Carnegie-designated Tier One public research university recognized by The Princeton Review as one of the nation's best colleges for undergraduate education. UH serves the globally competitive Houston and Gulf Coast Region by providing world-class faculty, experiential learning and strategic industry partnerships. Located in the nation's fourth-largest city, UH serves more than 45,300 students in the most ethnically and culturally diverse region in the country.