Administration & Finance / News /
News Release
FOR IMMEDIATE RELEASE
Saira Trevino
Communications Coordinator
832-842-3131
cphguest@central.uh.edu
Bianca Del Rio's 'It's Jester Joke' Coming to UH in the Fall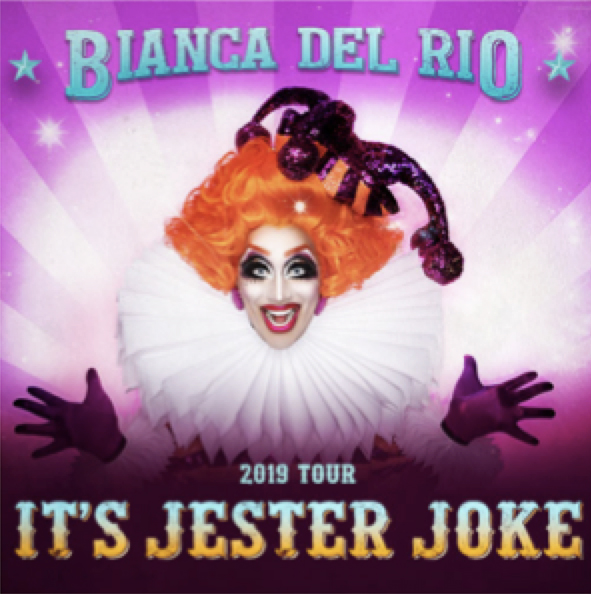 Houston, Feb 25, 2019 — Drag comedy queen and "RuPaul's Drag Race" champion Bianca Del Rio has announced North American dates for her "It's Jester Joke" comedy tour, which will make a stop at the University of Houston's Cullen Performance Hall this fall.
The show will be Friday, Nov. 8, at 8 p.m. Tickets can be purchased at the Cullen Performance Hall box office or its online ticket site.
The self-proclaimed "clown in a gown" will tell tales of her worldwide adventures and the outrageous circus that is her life in her comical "tell it like it is" voice. The "It's Jester Joke" tour is considered the biggest-ever solo drag show tour in North America.
A Louisiana native, Del Rio is of Cuban and Honduran descent, and is the season six winner of the hit TV series "RuPaul's Drag Race." She was once known as Roy Haylock, who emerged on the New Orleans nightclub circuit. Since then, she has earned numerous awards and performed in sold-out shows around the world, gaining praise from The New York Times.
She is writing a book, "Blame it on Bianca Del Rio," and has amassed over 1.7 million followers on Instagram and 536,000 on Twitter.
For more information about Del Rio, visit her website. For details about other upcoming concerts and shows at Cullen Performance Hall, follow it on Twitter, Facebook and Instagram.
---
About Cullen Performance Hall
Nestled among the tree-lined sidewalks in the heart of the University of Houston campus is the historic Cullen Performance Hall, which has been one of the premier entertainment venues in the city of Houston since it opened in 1950. Its cozy, relaxed atmosphere provides the ideal setting for music concerts, public lectures, dance performances and theatrical productions.