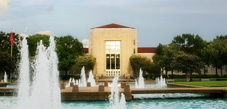 John Palamidy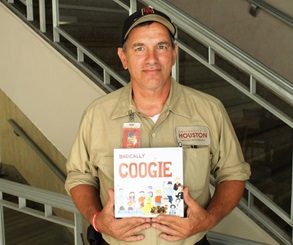 John Palamidy's mother discovered her son's passion for drawing at a very early age.

"She told me that when I was a couple of years old, she made the mistake of leaving a pencil out and rather than jab myself in the eye with it, I went up to a white wall and just started drawing," said Palamidy, a journeyman plumber at the University of Houston. "Basically, I haven't stopped drawing since. It just comes natural."

He started working for the university in 1994. Shortly afterward, he discovered the Daily Cougar newspaper and went to its offices to see if they would publish his cartoons.

"I talked to the editor there about the possibility of making a strip, and she looked at me and said, 'But, you're a plumber." Palamidy said.

He was able to convince them to give him a shot, and "Coogie" was born.

The strip, which appeared daily, was a humorous look at life on the UH campus. It featured a slew of characters, including a student named Mikey, Shasta and a group of renegade squirrels. It was popular among students and staff.

"It was an extreme labor of love." he said.

Palamidy even self-published a collection of the strips in 1998. He still has copies of that book and said anyone interested in obtaining a copy can email him.

In 2006, after realizing he could not keep up the hectic pace - it takes over two hours a day by his own estimation to write and draw one comic strip installment - he stopped producing "Coogie." Now, when he finds the time, he'll draw several a year.

Palamidy keeps busy in his job as a plumber for the university and has seen the campus grow tremendously in his 19 years here. In 2007, he attained master certification from the state.

He grew up in Pasadena and graduated from Sam Rayburn High School.

After serving several years in the Army, he became a plumber and worked for several private companies. All the while, the desire to be a cartoonist burned inside him. He convinced a small paper in Pasadena to use his cartoons before the Pasadena Citizen, which at the time was a daily newspaper, agreed to publish his editorial cartoons. The paper did so for 19 years, during which time he estimates he drew 1,200 of them. His last cartoon for the paper appeared in 2006.

It was in his high school newspaper that his first cartoon was published. He can still remember how much he got paid for it.

"They gave me a candy bar," he said.