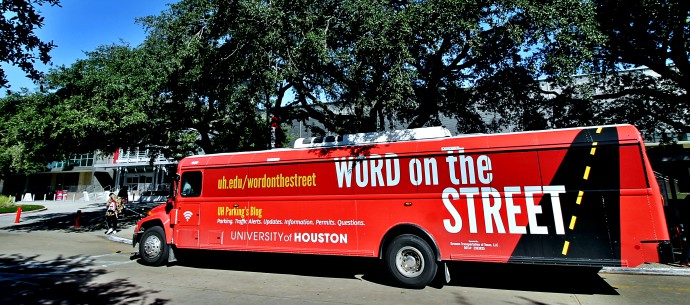 SERVICE UPDATE
The Cougar Line shuttles will not be in operation May 14-Aug. 15, 2021.

Service will resume Aug. 16, 2021.
The Cougar Line shuttle service currently is limited to two routes:
Circulator Route
Days of Operation: Monday-Friday
Hours of Operation: 7 a.m.-7 p.m.
Shuttle Stops: Student Center, Campus Recreation and Wellness Center, Zone D (stop 4A-2), Zone E (stop 9B), Zone F, Philip Guthrie Hoffman Hall at Entrance 14, Moores School of Music at Entrance 16, UH Technology Bridge Building 1
Number of Buses in Service: One shuttle bus will run a continuous route clockwise around campus.
Because of the Cullen Boulevard construction work, the shuttle buses are not able to enter or exit Entrance 14. As a result, the PGH (Philip Guthrie Hoffman Hall) shuttle stops have been temporarily moved to Cullen Boulevard:
Sugar Land Route
Days of Operation: Monday-Friday
Shuttle Stops: Student Center South / George Building at UH at Sugar Land
Hours of Operation: The shuttle will leave the Student Center at 7 a.m. each morning. The last trip departing the Student Center will be approximately 6 p.m. The last trip back to the Student Center will depart from Sugar Land sometime around 6:30 p.m.-6:45 p.m. Because of weather and traffic, these times are approximate and may vary.
Number of Buses in Service: One shuttle bus will run a continuous loop between the two stops. A one-way trip is approximately 40 minutes. The bus will remain at each stop five minutes before departing.
Eligibility Requirements: In order to board the shuttle bus, you must have a special sticker on your Cougar Card by the 15th class day. To be issued a sticker, you must be taking classes at UH and UH at Sugar Land. Please come to the Parking and Transportation customer service office in the Lofts after the 12th class day. Prior to coming to the office, you must join a virtual line or make an appointment by clicking here and following the instructions.
Safety Precautions
Masks will be required of everyone who rides either shuttle route. Some seats will be blocked off to allow for proper social distancing. The buses will be thoroughly cleaned on a regular basis by Groome Transportation. Passengers must enter and exit via the back door. 
Cougar Trax Shuttle Tracking
Cougar Trax is a real-time GPS tracking system designed to show you when the next UH shuttle will be at a specific shuttle stop. Access Cougar Trax on the website.
Advertise With Us
Advertising space on the shuttle buses is rented on a monthly basis. Learn more.
Lost and Found
For lost and found inquiries, please email parking@uh.edu.