GLOBE- Global Leaders of Behavioral Health Education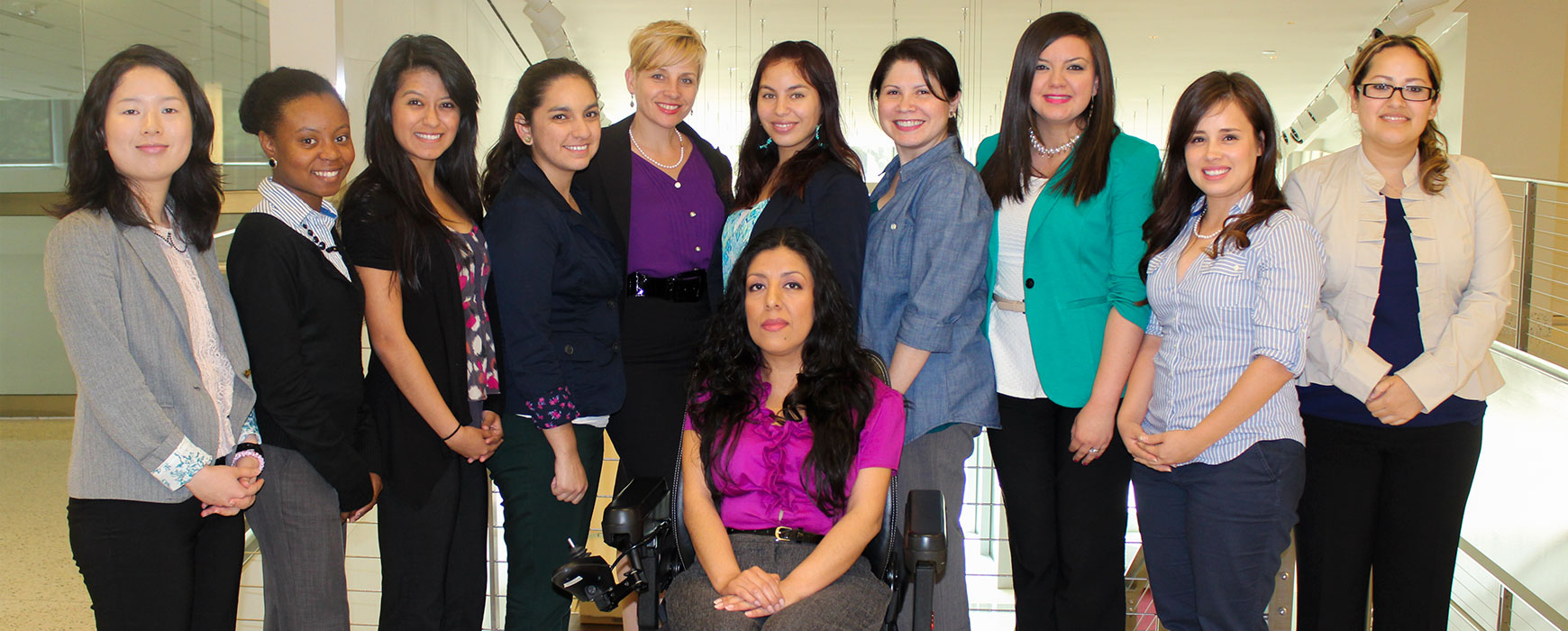 Program Description
The Graduate College of Social Work at the University of Houston has been running a professional training grant from the Health Resources and Services Administration (HRSA) since 2012.

Dr. McClain Sampson is the Prinicple Investigator and Project Director of the 2021-2024 GLOBE Youth Team Training program. This is an interprofessional team training program that enrolls MSW and Counseling Psychology students. GLOBE Team Training strives to increase the number of culturally competent social workers who deliver behavioral health services to underserved populations. Those who are selected as GLOBE Fellows will be required to do Field 3 & 4 at placements that deliver mental health and other services AND are required to attend 4 workshops a year. The grant provides students with a $10,000 dollar stipend during the student's final year of field (Field 3 & Field 4). Apply here.
Program Benefits
Awarded by HRSA, Health Resource Service Administration of the Dept. of Health and Human Services, the goal of the GLOBE fellowships are to increase the number of bilingual, culturally competent clinical behavioral health workers in Harris County. The Benefits of the program include: specialized training in common behavioral health treatments, a field placement that offers clinical experience in behavioral health, mentoring, job networking opportunities and a stipend of $10,000 to be paid in monthly payments during the student's final year of field practicum. Currently the demand for behavioral health specialists is very high in Harris County. Twenty eight percent of adults in the county have some form of mental illness and 63% of them have no insurance and no access to care. Having knowledge in screening techniques, intervention and follow up for co-occurring disorders and experience working in medical or inter-professional settings are highly sought after skills on the job market. Because Houston is rapidly growing and, is a minority majority big city, meeting this goal is essential to the future of the city and other areas in Harris Co.  In order to meet the needs of those most vulnerable, we must increase the number of multi-cultural bilingual graduates who are competent in serving diverse populations in Harris County.  Since the inception of the program in 2012, 98 students have received the GLOBE fellowship. Students who participated in GLOBE have direct service jobs in settings such as: hospitals, primary care clinics and research projects that deliver mental health counseling and substance abuse prevention. Students who receive the fellowship report satisfaction with the specialized clinical training, exposure to a broad range of job opportunities and a greater sense of integration between field practicum and "real world" trends in clinical practice for mental health, substance abuse and other co-occurring health conditions.  

Eligibility Requirements
You Must Be Entering Field 3.
You must declare as "clinical" and have strong interest in delivering clinical services in mental health and/ or substance abuse.
You must complete Field 3 and Field 4 by August of the next spring.
Have a 3.0 undergraduate GPA and maintenance of a 3.5 graduate GPA.
Commit to work with culturally and linguistically diverse populations in a mental or behavioral health capacity, in Harris County, for two years post-graduation.
Bilingual is Preferred but NOT required.
Permanent resident or U.S. Citizen.
How to Apply
The application cycle opens each year on the day of the Field Agency Marketplace.
The process consists of filling out the program application and writing an essay on the importance of cultural competency in delivering mental health services. If selected for the second phase of the application, the student will be interviewed by a panel that will make a decision on the final selection.
There are two different ways to get an application:
You can email Louretta Nickerson (Program Manager) at lrnickerson@uh.edu to be sent an application with instructions on how to apply (recommended action).
You can pick up an application at the front desk of GCSW and can return the completed application to the receptionist (Attention: GLOBE or Louretta Nickerson). Or you may download the application here.
The application has instructions on how to deliver the completed application to the correct people.
Contact Information
Dr. McClain Sampson
Associate Professor
Project Director
Email: mmsampson@uh.edu
Room: 403 Social Work Building
Phone: 713-743-6719
Louretta Nickerson
Program Manager
Email: lrnickerson@uh.edu
Phone: 713-743-9027