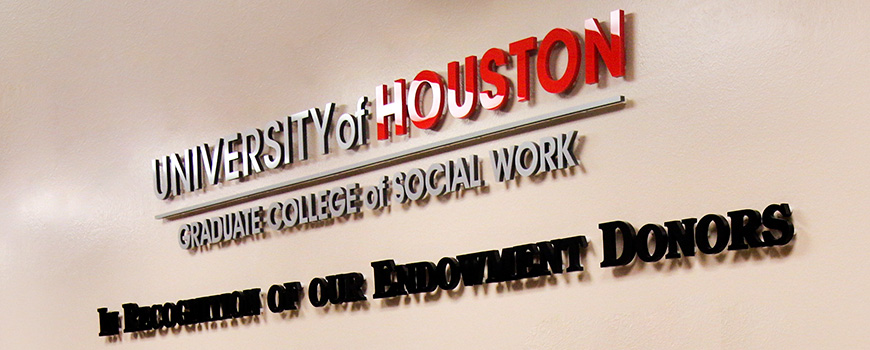 Your gift to one of our funding priorities has a far reaching impact. We are focusing on these key goals through 2020:
Social Work Building Renovation Project
Target Amount: $7,000,000
Renovation of the Social Work Building prepares the GCSW for the changes in delivery of education in the 21st Century by creating open meeting spaces for visitors and students; an appealing external image that encourages interactions, uses of the space more efficiently through re-design based on current and anticipated needs for instruction, learning, and research. As a result, it raises GCSW in national rankings by increasing the quality of students' experience; improves potential for recruiting and retaining higher caliber students, faculty, and builds on the impact the GCSW already has nationally and internationally.
Endowed Funds for Graduate Student Scholarships and Fellowships 
Target amount total: $3 Million 
Current total: $2,000,000 (existing endowed scholarships and fellowships)
To be raised: $1,000,000
This goal targets student debt, which is significantly growing for GCSW students. When achieved, our students' debt will be significantly reduced or eliminated. Such financial support will attract the "best and brightest" individuals from around the country to the University of Houston, which, in turn, will strengthen the Greater Houston community's non-profit and public social services workforce. This is a bold goal that puts the GCSW and the University of Houston on the national map in a manner that has not been achieved by public universities.
Dean of Social Work Endowed Chair
Achieved in 2014 with creation of the Dr. Maconda Brown O'Connor EndowedDean's Chair.  $2,000,000 was donated by The Brown Foundation, Inc and qualified to receive TRIP matching funds creating a $3,000,000 Endowed Chair for the Dean of the GCSW making the GCSW, like the highest nationally ranked programs, one of very few programs to have an endowed chair at the Dean's level at the $3M level. This ensures that the GCSW has, in perpetuity, the ability to compete nationally for a top leader in the profession to lead the College in the decades to come.
Social Work Endowed Chairs and Endowed Professorships for GCSW Faculty members
Target amount total: $5 Million
Current total: $3,175,000 (existing endowed professorships and chairs) To be raised: $1,815,000
To be competitive nationally, the GCSW must continue to recruit and retain top ranked faculty with proven records in research and publications, as we currently have. Of the top ten ranked social work programs, six schools/colleges ensure that every one of their faculty with a rank of Full Professor hold an endowed chair or professorship. This is emblematic of nationally recognized leaders in higher education and an expectation for a top national program. Endowed positions for all full professors will ensure national rankings and competitiveness in perpetuity.
---
Why give to Scholarships and Fellowships?
Because we need social workers, the professionals who are on the front lines addressing critical human needs from birth to death for all of us.
Our Goal: $1,000,000 per year to provide scholarships and stipends for all of our students.
Donors this year are providing over $320,000 in scholarships and fellowships.
Only one – third of GCSW students will receive financial support through scholarships and fellowships.
Student debt for GCSW graduates is over $37,000 just for the MSW.
Accumulated student debt is well over $50,000.
Average starting salary for a MSW graduate is $45,000 (per annual survey).