Any patron may ask a staff member for free tour or orientation to any of the Campus Recreation and Wellness facilities, programs or services.
Center Court, North and South
6,307 sq ft per court/ 12,614 sq ft together
High School size Basketball Courts featuring Maple Flooring. It can be configured to play one championship game across both courts.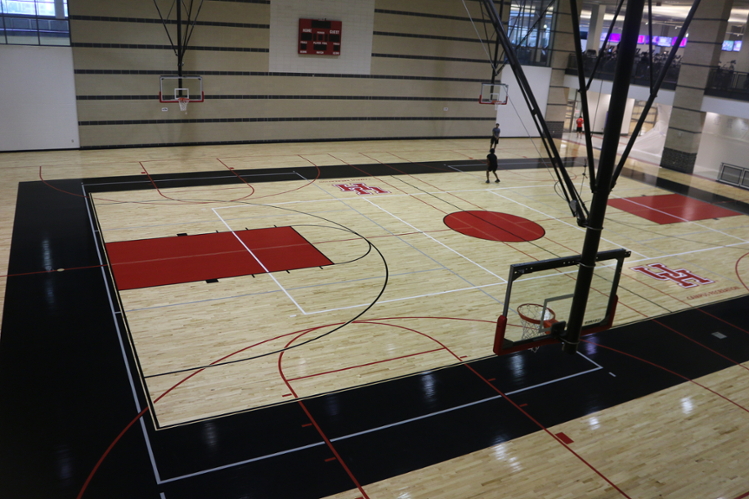 Climbing Wall
53 feet tall
Features 2 auto belay systems and 2,500 sq. ft of climbing. Also available for birthday parties, team building and other special events.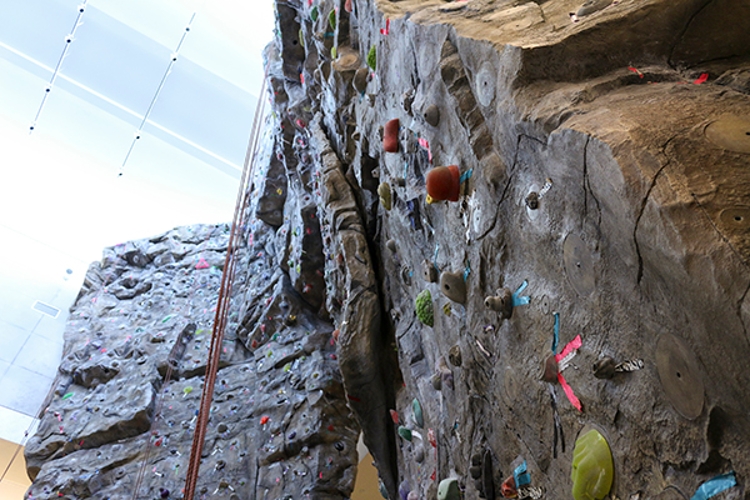 Fitness Zone
24,000 sq ft
The Campus Recreation and Wellness Center features a top of the line 24, 000 sq ft Fitness Zone that is built with you in mind. Plenty of natural light to give you a welcoming environment coupled with our staff who is trained to answer all of your questions. There is 3 main sections to our weight room that is organized in a progression. We recommend that you start in the most stable areas (e.g. pin loaded) and work your way to the Free Weight section. Cardio Section features 85 pieces of equipment and spaces to meet every member's cardiovascular and running needs.
Ask a Fitness Zone Attendant or Personal Trainer on Duty for a Fitness Zone equipment orientation at any time.
16 60 inches TV's with Roku's attached

AudioFetch app for all Apple products on our secure wifi

Approximately quarter-mile track with two Daktronic digital timers
24 Precore Treadmills

11 Touchscreen Treadmills with internet access and sign on capabilities (Netflix)
10 running board treadmills
3 curved treadmills to promote a forefoot strike

25 Ellipticals
15 Bikes

5 Road cycles
5 Upright bikes
5 Recumbent bikes

8 Concept Rowers with a digital screen
4 Stair Climbers with 2 steppers
4 Arc Trainers
4 Octane Lateral Trainers
1 Jacobs Ladder (never-ending climber)
Sanitizing stations with wipes
Day use lockers with resettable locks
Pin-Loaded and Ab Row
Wheelchair acceptable cable station
24 pieces of bilateral (both sides of the body at the same time) pieces of equipment that can be divided into two different total body circuits
9 pieces of unilateral (one side of the body at a time) equipment so you can not only train the whole body but work it one side a time for heightened effects
4 Cybex Bravo cable trainers with abdominal adjustments (2 cable handles on each)
2 multi-station cable trainers that include 8 different varies of cable exercises
Attachments for every major muscle group in the body
8 pieces of abdominal equipment
2 GHR's (glute/hamstring/reverse extension) machines
2 Low back extension stations
Plenty of Mats / Physio Balls/ Bosu Balls/ Foam Rollers
Sanitizing stations with wipes
Free-weight and Plate Loaded
30 pieces of Hammer Strength unilateral  plate loaded equipment that allows you to train every muscle group at a higher intensity
26 Olympic Power Bars and specialty bars (Swiss/Trap/Anderson)
9 Functional squat racks
2 Smith machines (controlled squats)
Plyometric boxes up to 42 inches
12 Olympic benches

6 Flat benches
2 Decline benches
2 Incline benches
2 Overhead presses

15 adjustable and fixed benches
Fixed straight and curved bars from 20 – 100 pounds ( 2 sets)
Dumbbells up to 130 pounds
Medicine balls up to 18 pounds
Kettlebell Kings Kettlebells up to 40 pounds
TRX suspension training station (located on track)
Sanitizing stations with wipes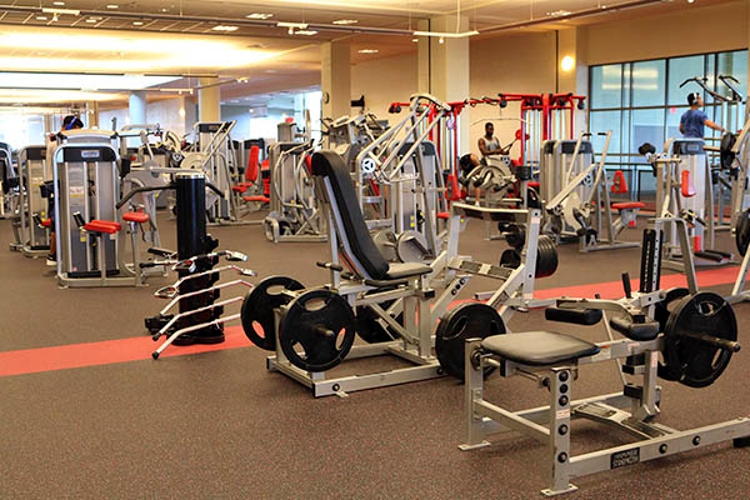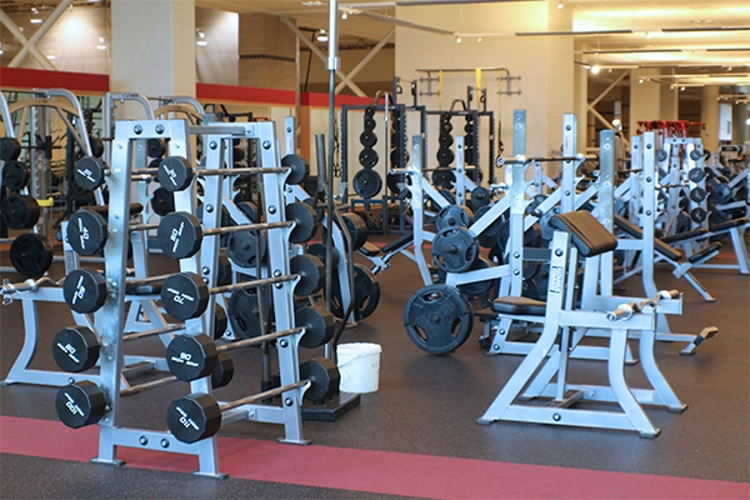 Functional Training Studio
771 sq ft
The Functional Training Studio (FTS) is available through the Personal Training Program. One will find all the latest functional training and sports performance equipment to complement their workout.
Indoor Tires (TYIR)
Corebags
GIIPR
50 ft. Battle Rope
Power Block Dumbbell Set with kettlebells attachment (up to 95 lbs.)
Plyo Box ( up to 36 inches)
Slam Balls
TRX
Ridge Roller
Kettle Bell Rack (up to 40 lbs).
Strength Bands, Slastix Toners, Versa Loops
Adjustable Speed Jump Rope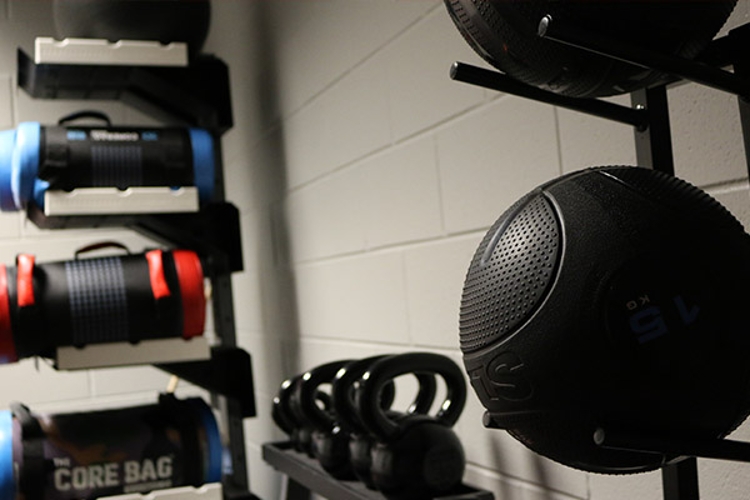 Outdoor Leisure Pool, Outdoor
31,658 sq ft
Zero depth beach entry with waterfalls
Children and adult slide
Bathing shelf and underwater seating available
Three lap lanes
Hot tub with capacity for 20
Outdoor lighting and sound system
Sand Volleyball Court with Schedule System
Restroom, Concession access in the CRWC Annex
Primary use is open recreation as well as aquatic programming and swim lessons. Available for birthday parties and receptions. Capacity – 240 maximum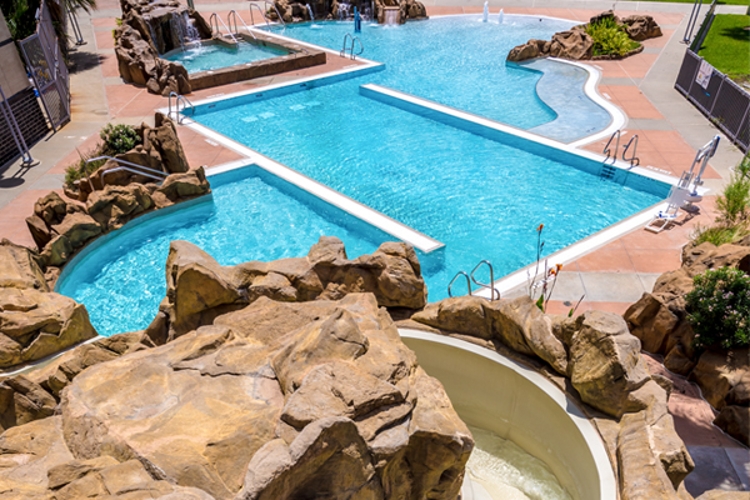 Main Gym (3 courts)
8,070 sq ft per court/ 24,212 sq ft for all 3 courts
High School size basketball courts with Maple flooring. Can be set up in the following configurations: 3 basketball courts / 4 volleyball courts / 4 badminton courts. 2 curtain dividers provide for separation between courts.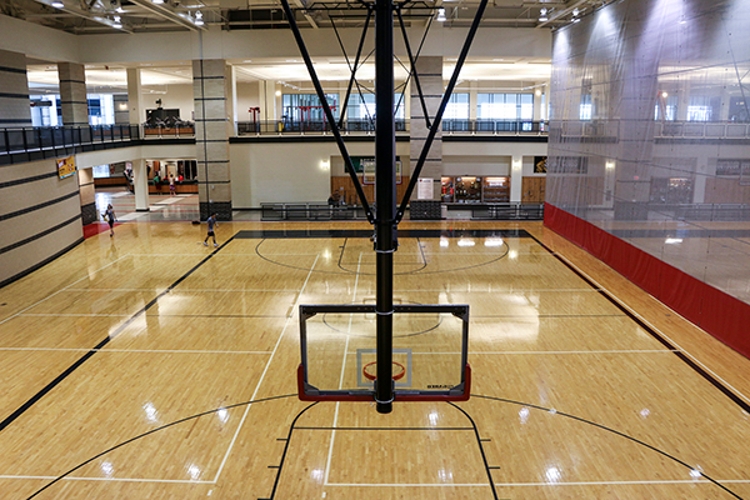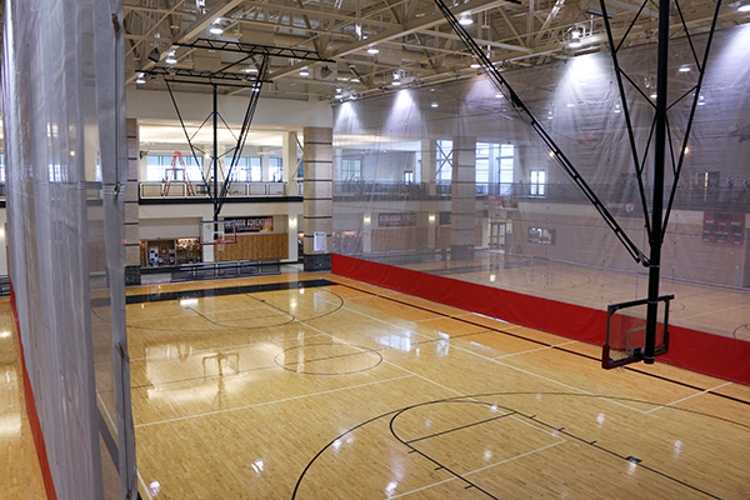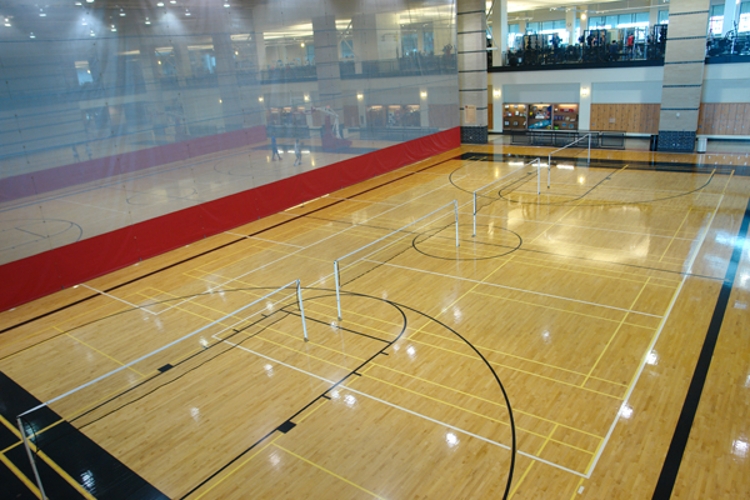 Multipurpose Activity Court (MAC)
9,500 sq ft
Features a synthetic flooring with built in goals for soccer and badminton. This area can be setup for soccer, handball, dodge ball and indoor tennis. Secondary uses are for banquets, parties, tournaments, conferences and job/health/resource fairs. The Special Event entrance allows for access to this room from West side of building to accommodate after hours or large special events. Capacity – 500 standing / 300 seated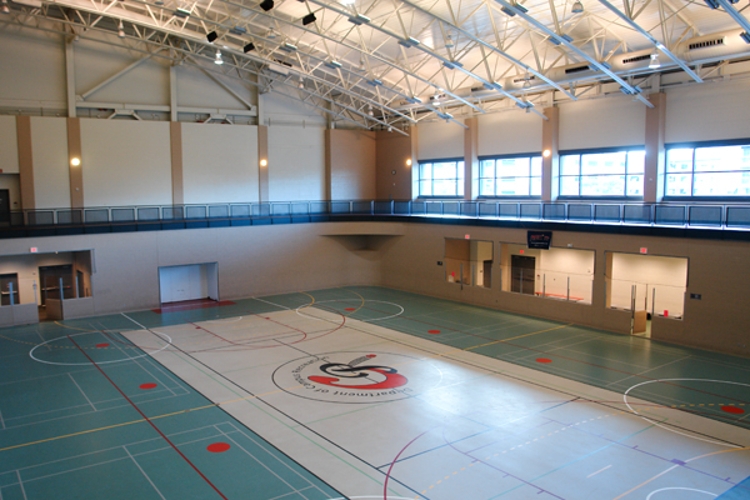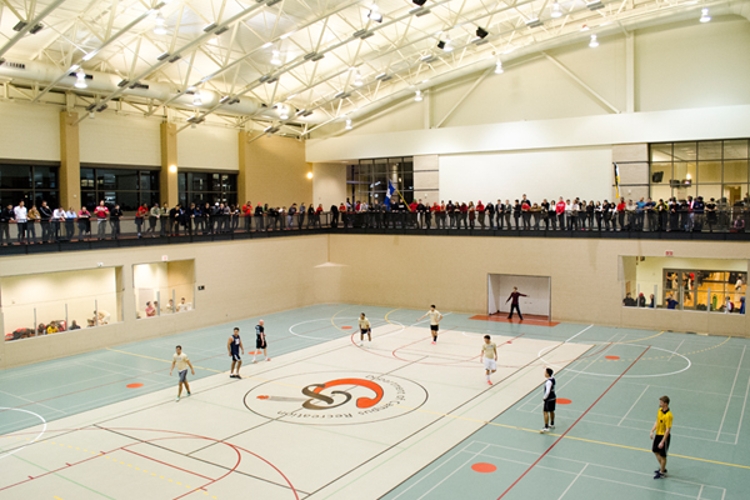 Multipurpose Rooms 1 & 2
2,345 sq ft/ 2,295 sq ft – 4,640 sq ft together
Room Features: Bio-cushion maple flooring with mirrored walls/ 2 projection screens (one in each room) for presentations—[note: Customers MUST supply OWN laptop/in focus projector to use screens] / access to Catering kitchen (includes ice machine, 4 sinks, warming oven and refrigerator).
Primary use is fitness programming and sport club practice. Secondary uses are receptions, parties, conferences, banquets, dances and classroom/meeting space. Capacity – 150 seated / 300 standing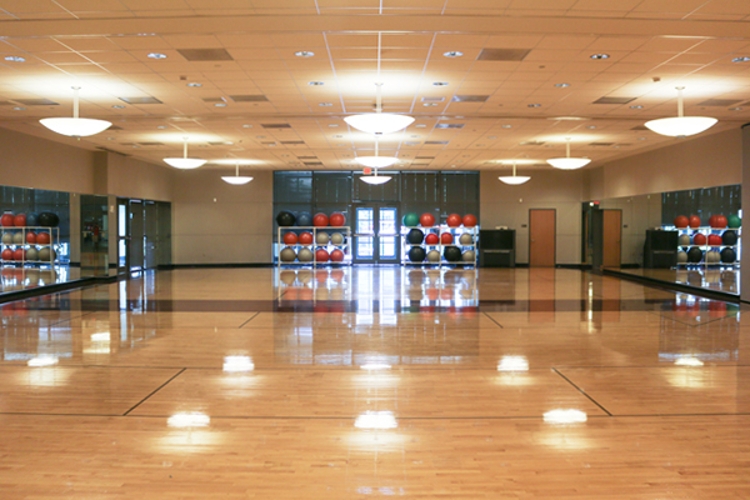 Multipurpose Room 3
894 sq ft
Bio-Cushion maple flooring
Mirrored walls
Ballet Bar
Primary use is fitness programming and sport club practice. Secondary use is dance practice, modeling practice, open recreation exercising, and conference/classroom space. Capacity – 30 standing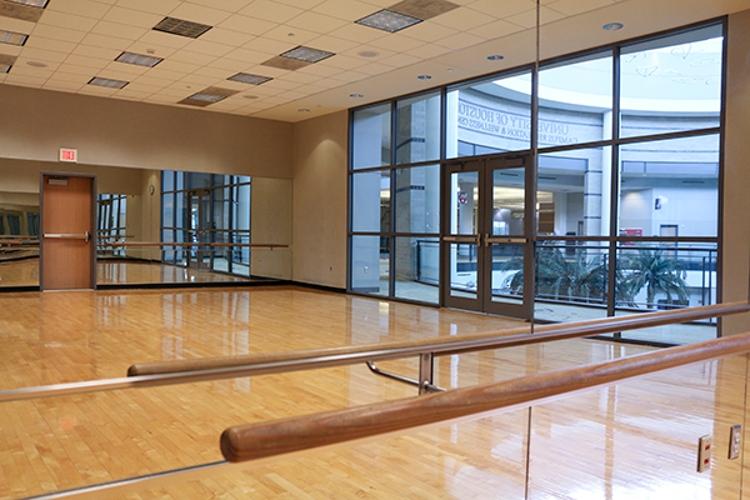 Multipurpose Rooms 4 & 5
1,444 sq ft/ 1,509 sq ft – 2,953 sq ft together
Bio-Cushion maple flooring with mirrored walls. Primary use is fitness programming and sport club use. Secondary use is open recreation exercising, dance practices, conference or classroom space and martial arts events. Capacity – 75 seated / 150 standing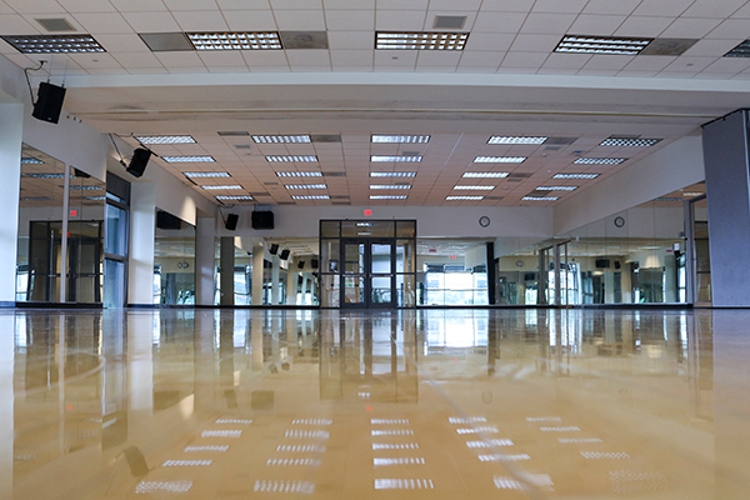 Natatorium
30,473 sq ft
70 meter Competitive Pool Facilities
1.3 Million Gallons of water
Three bulkheads allow for four activity spaces
Eight Long Course Lanes
Depth Varies from 4 feet to 17 feet
Water polo set up available
Wet / Dry Classroom
Dry Sauna with capacity of 20
2 One meter and 2 Three Meter Springboards
1,3,5, 7.5, and 10 Meter Platforms
Sparger System for dive practice
Seating for 600 in the 2nd floor Observation Deck
Primary use is open recreation and aquatics/fitness programming as well as sport clubs. Used by Athletic Swimming and Diving for practices and meets. Available for outside swim and dive meets depending on availability.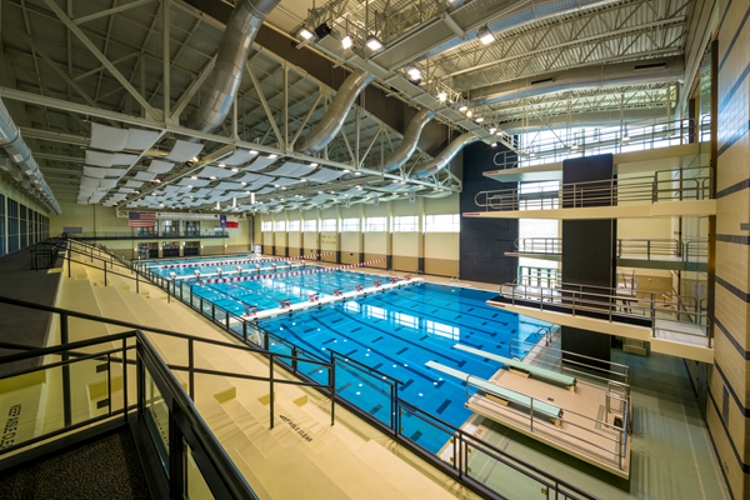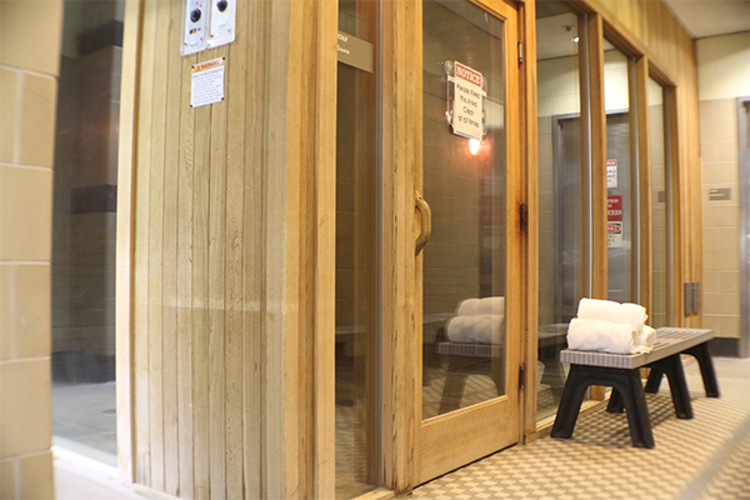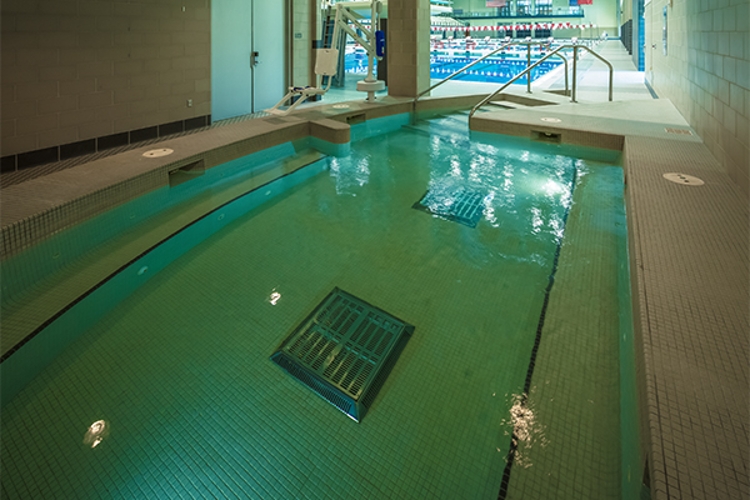 Outdoor Track and Functional Fitness Units
The outdoor track is located at the CRWC Field and is a 1/3 mile around the track. New exercise stations challenge users and create the ultimate environment for intense outdoor training. Different stations are available around the track to take upper-body, core and lower workouts to the next level. These units incorporate a strong social component to promote community-building as well as fitness.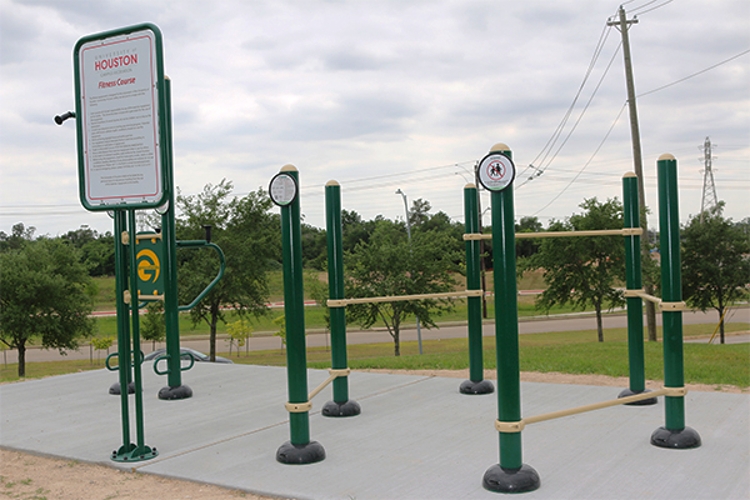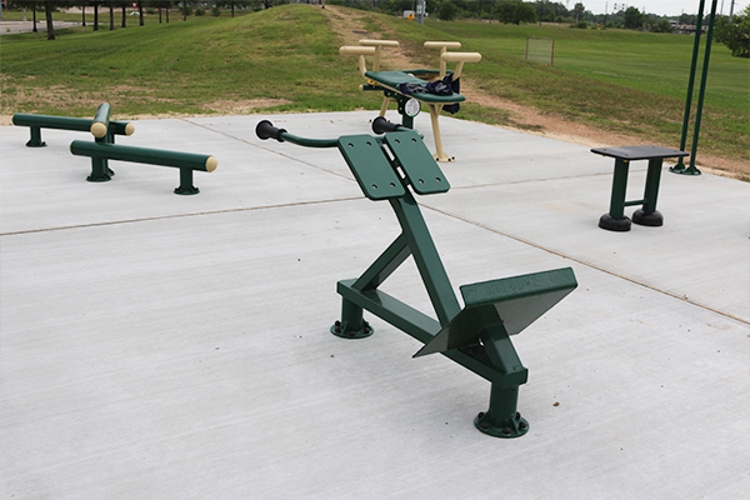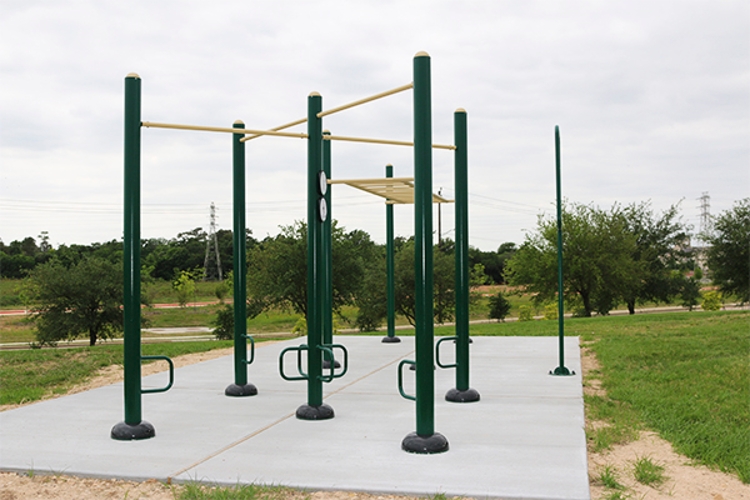 Racquetball (6) and Squash (2) Courts
Seating for 80 people available between the tournament racquetball courts. Primary use is open recreation, but tournaments can be scheduled upon availability.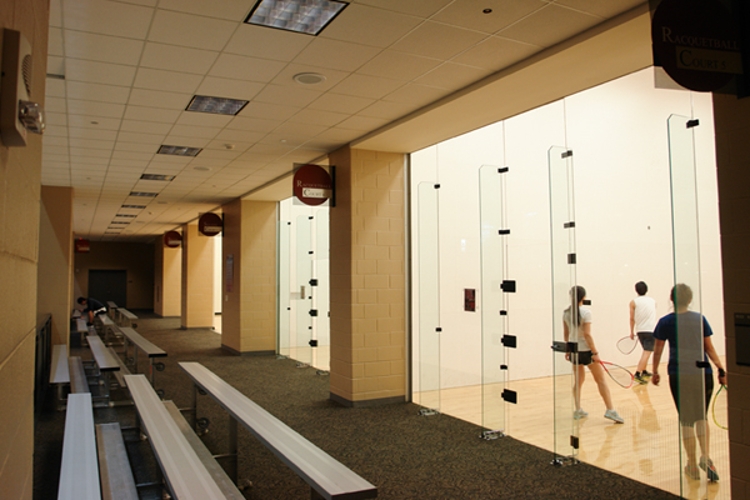 Rotunda
13,808 sq ft
Our primary entry point for the facility offers an open space for parties, wedding receptions and other related events. The Rotunda is available for exclusive use after our normal closing time. We can hold resource fairs, demonstrations, career fairs and health fairs during our regular hours depending on the scope of the request.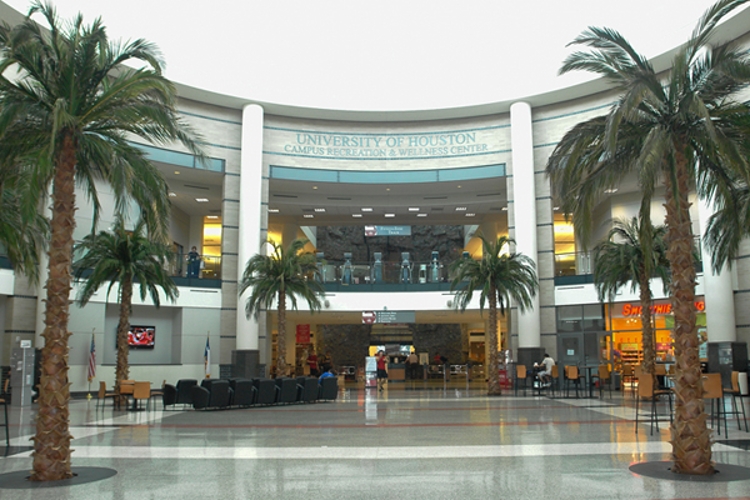 CRWC Field
Located behind the Campus Recreation building adjacent to parking lot 2B. The lighted flied is used for soccer, flag football, rugby and other outdoor activities and is available for special events such as retreats and field days.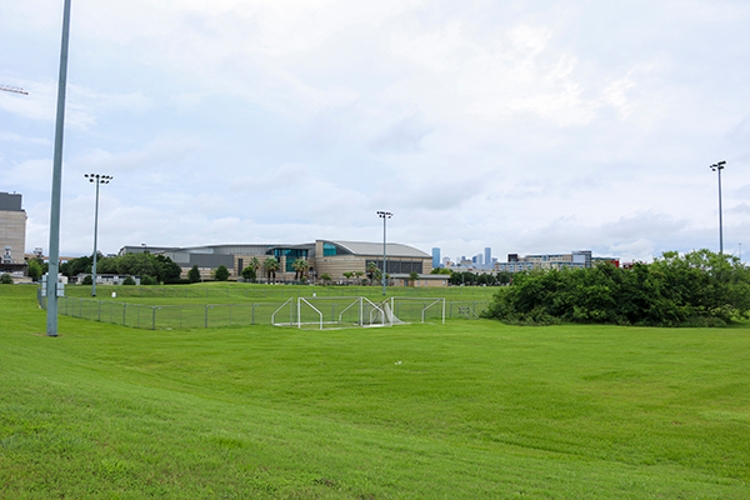 Gertner Field
Located on the corner of Cullen Blvd and Elign. The lighted field is used for soccer, flag football, rugby and other outdoor activities and is available for special events such as retreats and field days.
Classroom (Room 1038C)
Typically setup in a classroom style with tables and chairs to seat 33 people. It can be used for meetings and lectures and also features a White marker Board and Projection Screen. [note: Customers MUST supply their own laptops and projectors to use screen]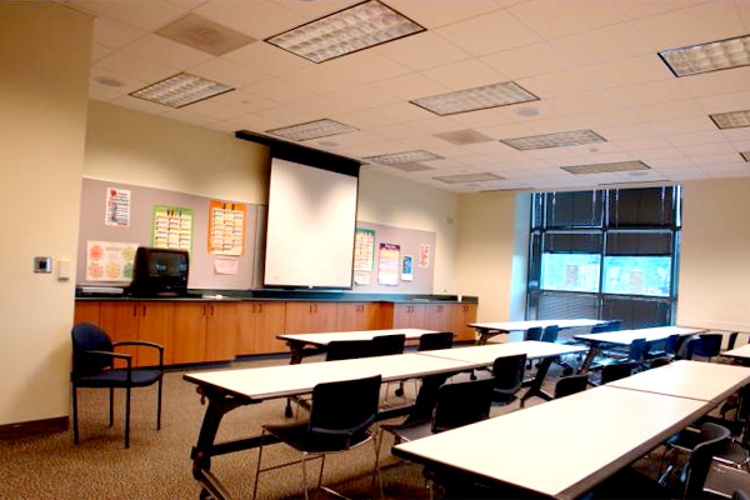 Wet/Dry Classroom
This classroom located in the Natatorium is primarily used for teaching first aid and CPR classes. It can all be used as room for preparation for swimmers in competition or since it connects to both the outside and indoor pool can be used for swim parties.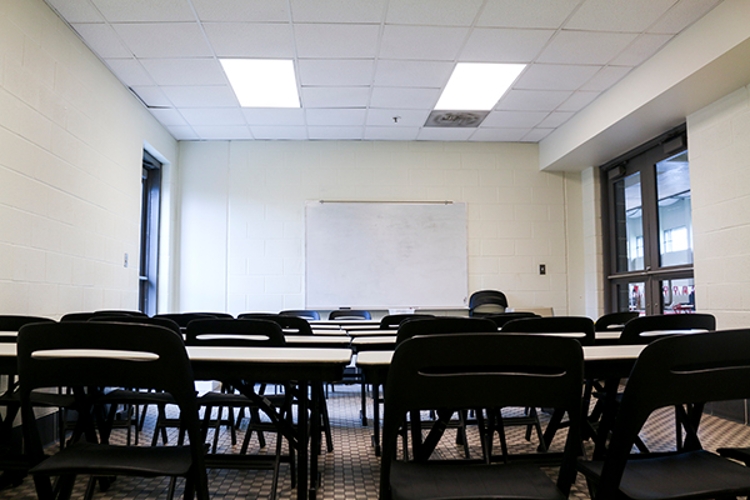 Administrative Conference Room
Conference room set with leather seated chairs and tables that seat 20 and can be changed into several configurations to suit. It is a state of the art conference room offering such office amenities as a copier, fax machine, telephone, sink and nearby restrooms.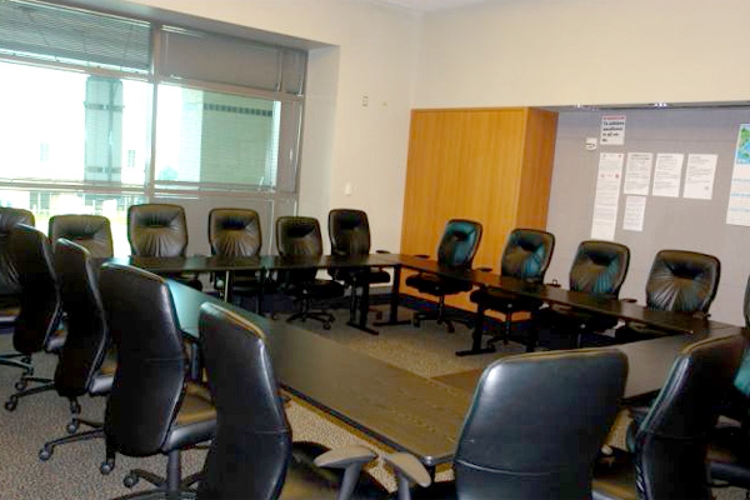 Small Conference Room
This conference room is available for meetings for groups of 10 or less. There are two large tables with chairs with workspace, UH wireless internet and multiple outlets available.