Students, faculty and staff who have a bicycle on campus are required to register it. Registration takes only minutes to complete and is free. A registration sticker will be provided and should be placed on the bicycle.
If the bicycle is ever lost or stolen, the University will have the serial number and other identifying information. If the bicycle is recovered, this information makes it much easier to return it to its rightful owner.
How to Register a Bicycle
Log in to AccessUH.
Click on "myParking Account"



Click the "Permits" pull-down menu.
Click "Get Permits"
Click the red button that says "Register Bike"
Enter the bicycle serial number, model and color, and "Relationship to Vehicle" (your bicycle). You may also upload photos of your bicycle.
Click "Submit"
Visit the Parking and Transportation customer service office in the Elgin Street Garage (Suite 110) to pick up your decal. No appointment is required.


 Where to Place Registration Sticker

Common Bike Serial Number Locations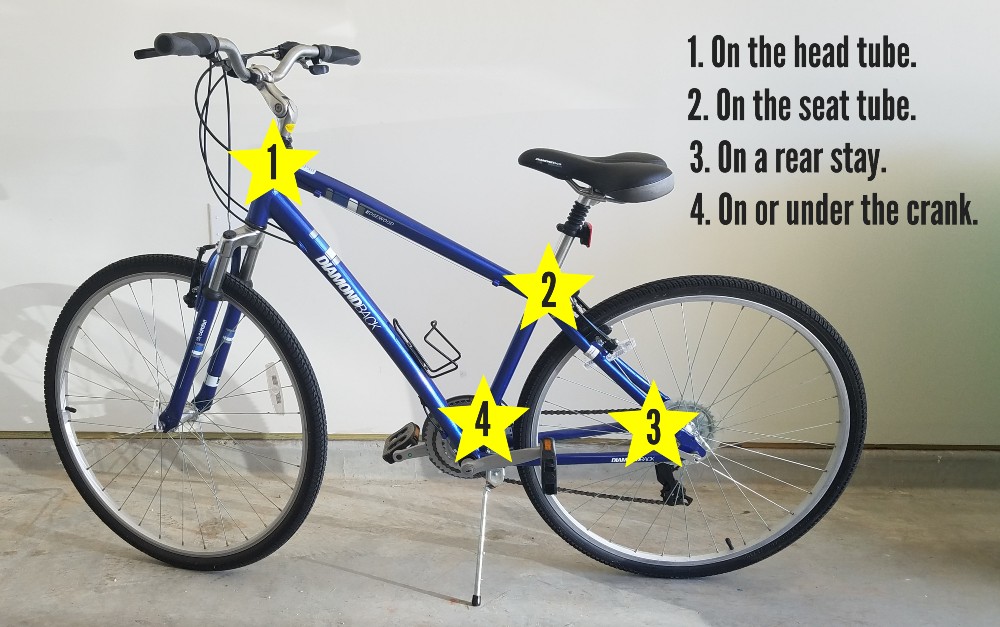 Bikeep Smart Bike Parking Stations

The University of Houston provides free, high-security, smart bike stations to secure your bike while on campus. The Bikeep stations are available to current students, faculty and staff and are managed via the UH Go app. The stations are located at Butler Plaza and University Lofts. 
How Do I Use Bikeep?
Register your bicycle with UH Parking and Transportation
Using UH Go, choose a dock and activate it. Light and sound will indicate the dock is ready.
Locking/Unlocking your bike:

To lock:

Lift the arm
Secure the frame and wheel by pushing the arm down; pull up the bar to ensure it is properly locked

To unlock:

Use UH Go to unlock the bike.
Lift the arm then remove your bike.
For assistance, please call UH Parking and Transportations Services at 832.842.1097.
Disclaimer: Bicycles are subject to be removed from Bikeep racks if they have been locked for five or more days.
WHERE ARE THE BIKEEP STATIONS LOCATED?
Bikeep is conveniently found in 2 locations on campus: Butler Plaza in front of MD Anderson Library and at University Lofts.