Gift Establishes The Paul C. W. Chu and May P. Chern Endowed Chair in Condensed Matter Physics
World-renowned University of Houston physicist Paul Chu and his wife, May Chern, made a generous $1.4 million gift to advance scientific education and research at UH. The gift establishes The Paul C. W. Chu and May P. Chern Endowed Chair in Condensed Matter Physics in the College of Natural Sciences and Mathematics and The Paul C. W. Chu and May P. Chern Endowed Distinguished Lecture series.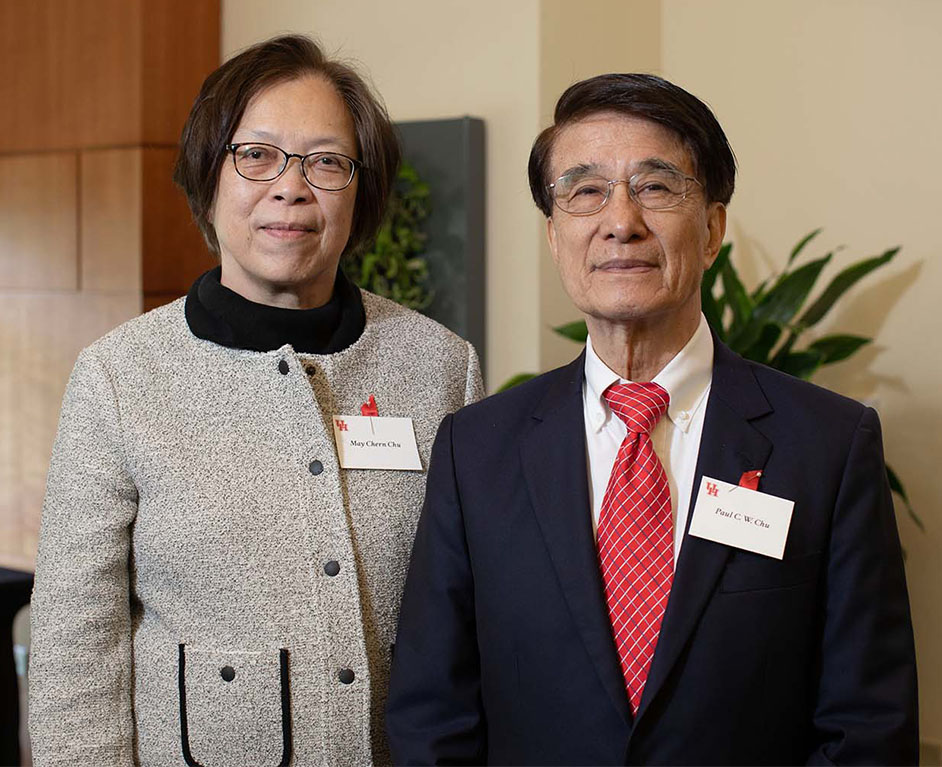 "Science has always been a passion for us, and we believe in the potential for transformative discoveries at the college," said Chu. "We are excited to be a part of this journey and we look forward to the incredible research and advancements that will arise from these endowments."
Chu, who joined UH in 1977, is the T.L.L. Temple Chair of Science in the College of Natural Sciences and Mathematics as well as the founding director and chief scientist at the Texas Center for Superconductivity at the University of Houston (TcSUH), which is recognized as one of the world's leading university-based centers of its kind. In 1987, he and his research team discovered superconductivity above the boiling point of liquid nitrogen. His body of work has resulted in the publication of more than 700 papers in peer-reviewed journals. In 1988, President Reagan presented him with the National Medal of Science.
Chern, meanwhile, serves as president of the S.S. Chern Foundation for Mathematical Research, named in honor of her father, a former distinguished visiting professor emeritus at UH who was considered one of the greatest mathematicians of the 20th century and a National Medal of Science recipient from President Ford in 1976.
"We are honored to welcome the addition of a new endowed chair and lecture series at the University of Houston," said Diane Chase, UH senior vice president for academic affairs and provost. "Both will honor the achievements of their namesakes and recognize faculty excellence at UH, and the lecture series will be particularly meaningful as it will provide additional learning opportunities for our campus community and further inspire tomorrow's scientists."
Condensed matter physics deals with matter's macroscopic and microscopic physical properties, especially the solid and liquid phases arising from electromagnetic forces between atoms. By understanding how these atoms behave and come together to form molecules, scientists can develop new materials and technologies to improve our everyday lives, such as faster computer chips, stronger and more lightweight airplanes or superconductors that can conduct electricity without any resistance which could lead to more efficient energy systems.
"This gift will empower our faculty and students in advancing scientific knowledge and research," said Dan Wells, dean of the College of Natural Sciences and Mathematics. "We are profoundly grateful for their dedication to the pursuit of academic excellence, which will reverberate through our college and the scientific community at-large."
During the gift ceremony at MD Anderson Library on Nov. 14, 2023, Zhifeng Ren, professor of physics and TcSUH director, was announced as the first chair holder. Ren, who came to UH in 2013, is a prolific researcher whose group focuses on energy-related materials, including nanomaterial approaches to high-performance thermoelectrics, solar energy conversion, transparent electrodes, surfactants for oil recovery, carbon nanomaterials and superconductors. Ren also presented the inaugural Chu Endowed Distinguished Lecture, where he discussed potentially world-changing materials and technologies.
"I am humbled and grateful to be named the first Chu Endowed Chair," Ren said. "This honor not only recognizes my work but also highlights the importance of research and innovation in condensed matter physics. I am excited to lead the university's world-class efforts in this field."
Provost Chase said the endowed chair and distinguished lecture series are powerful investments in education and innovation, allowing the university to attract exceptional faculty members and bring the world's leading scientists to campus to discuss groundbreaking research that pushes the boundaries of scientific knowledge.
"The University of Houston is grateful to Paul Chu and May Chern for their ongoing support of our institution," Chase said. "We remain indebted to both for their contributions to their respective disciplines. They continue to inspire future generations of STEM students and both the endowed chair and lecture series will ensure their names remain a part of UH's history for years to come."
The Chus' gift will be enhanced by an additional $750,000 from the Texas Research Incentive Program (TRIP) which provides funds to assist in leveraging private gifts, including endowed chairs, for increased research productivity and faculty recruitment, and more than $265,000 from the UH Foundation, bringing the total value of the gift to nearly $2.5 million.
- Bryan Luhn, University Media Relations