Ceremony Celebrates Summer and Fall 2022 Graduates
Bachelor's, master's and doctoral degree candidates participated in the University of Houston Commencement for College of Natural Sciences and Mathematics (NSM) on the morning of December 17. The ceremony was held at Fertitta Center.

More than 600 NSM students completed degree requirements in summer and fall 2022. In all, 59 doctoral candidates earned degrees in atmospheric sciences, biochemistry, biology, chemistry, computer science, geology, geophysics, mathematics, or physics. More than 100 NSM students were candidates for master's degrees, and nearly 460 students were candidates for bachelor's degrees.
There were 20 summa cum laude graduates, the highest academic honor for bachelor's degree recipients. Fifty-four students graduated magna cum laude, with high honors, and 54 students graduated cum laude, with honors.
Dan E. Wells Outstanding Dissertation Award – Xiaolong Wei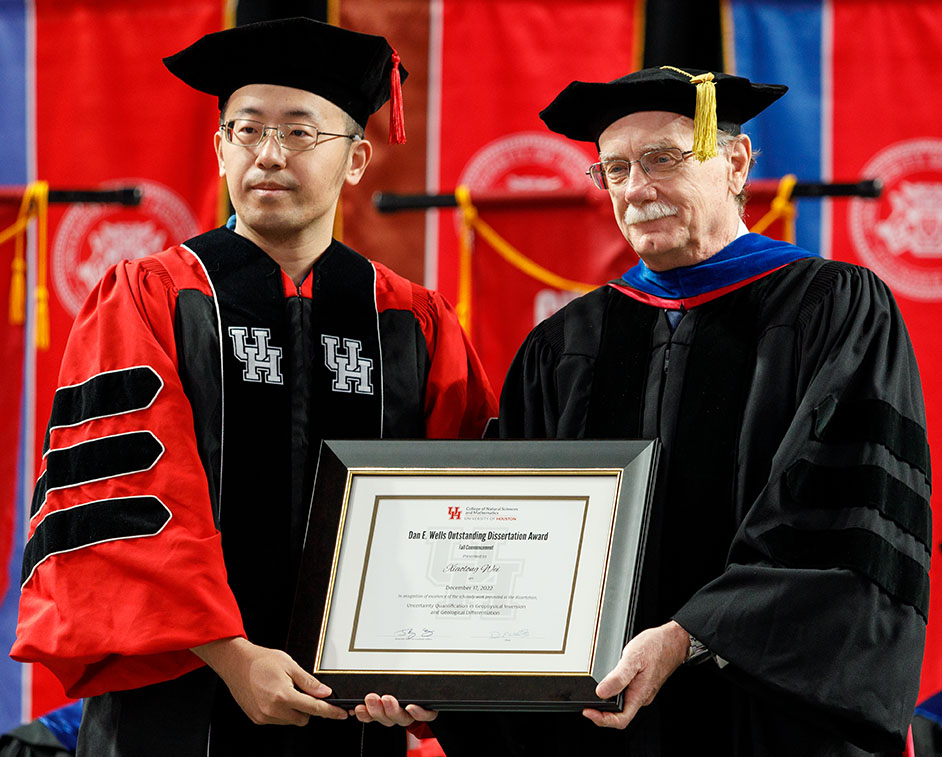 Each commencement, NSM recognizes a graduating doctoral student who has performed outstanding research and submitted the best dissertation to the College. The summer-fall recipient of the Dan E. Wells Outstanding Dissertation Award was Xiaolong Wei, a geophysics Ph.D. candidate. He received a certificate and an award of $1,000.
His dissertation is titled "Uncertainty Quantification in Geophysical Inversion and Geological Differentiation." His work was conducted under the supervision of Jiajia Sun, assistant professor in the Department of Earth and Atmospheric Sciences.
Wei's dissertation topic is the creation of new tools for discovering critical mineral resources needed for batteries, solar panels and other key technologies for sustainable energy. These tools address the computational challenges of creating three-dimensional images of subsurface geological composition from aerial magnetic and gravitational surveys. These tools help practitioners to evaluate the reliability of the three-dimensional images, providing important information for decision making.
The use of these tools has already enabled the discovery and mining of new deposits of these critical minerals, and the techniques are readily applicable to other geoscientific studies such as the imaging of volcano structure.
After graduation, Wei will be doing postdoctoral research at Stanford University.
For the award, nominated dissertations are evaluated for:
Significance and impact of the research
Originality of the work
Quality of the scholarship
Quality of the presentation and organization of the dissertation
Commencement Student Speaker – Christian Montemayor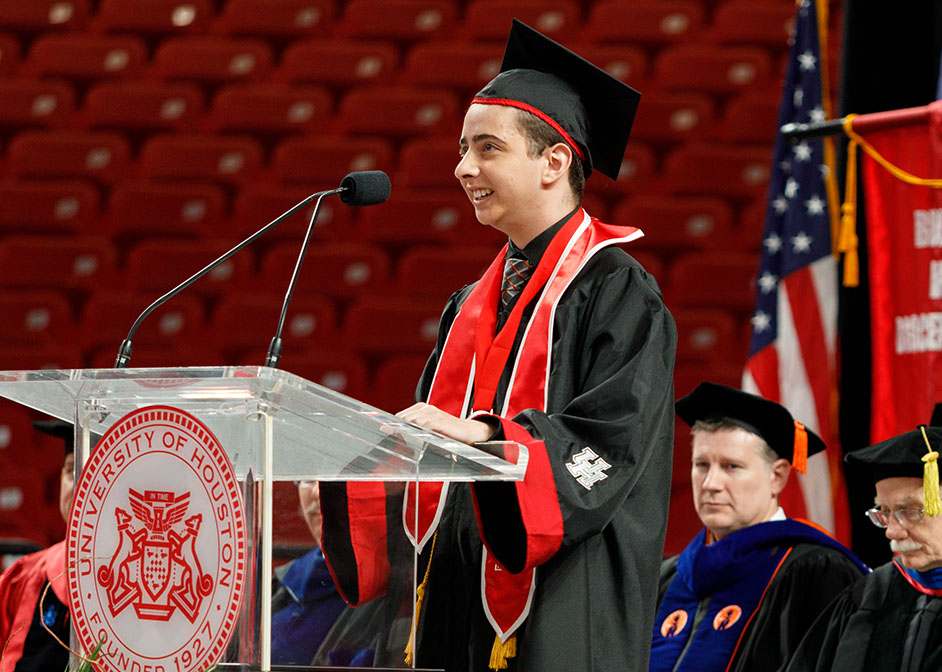 Christian Montemayor, receiving a dual degree in Computer Science and Mathematics, spoke at the ceremony on behalf of all the students. He was selected through a speech-writing competition open to NSM's summa cum laude graduates.
Montemayor came to UH with an Academic Excellence Scholarship. He is graduating early – a year and a half early – with a minor in Data and Society, offered through the UH Honors College.
In his speech, he reminded students that "we can't accurately measure our life based on successes and failures." He encouraged them to know that "what truly matters is that we spend each moment enjoying our lives to the fullest."
While at UH, Montemayor had two summer internships with Google; the first after his freshman year.
"The internships confirmed early on that I really liked computer science. Through that experience, I've known my career path since I started," Montemayor said.
In April, he will begin a full-time position with Google in California working in the Google Cloud Platform product area.
NSM's 4.0 Summa Cum Laude Graduate – Midhat Jafry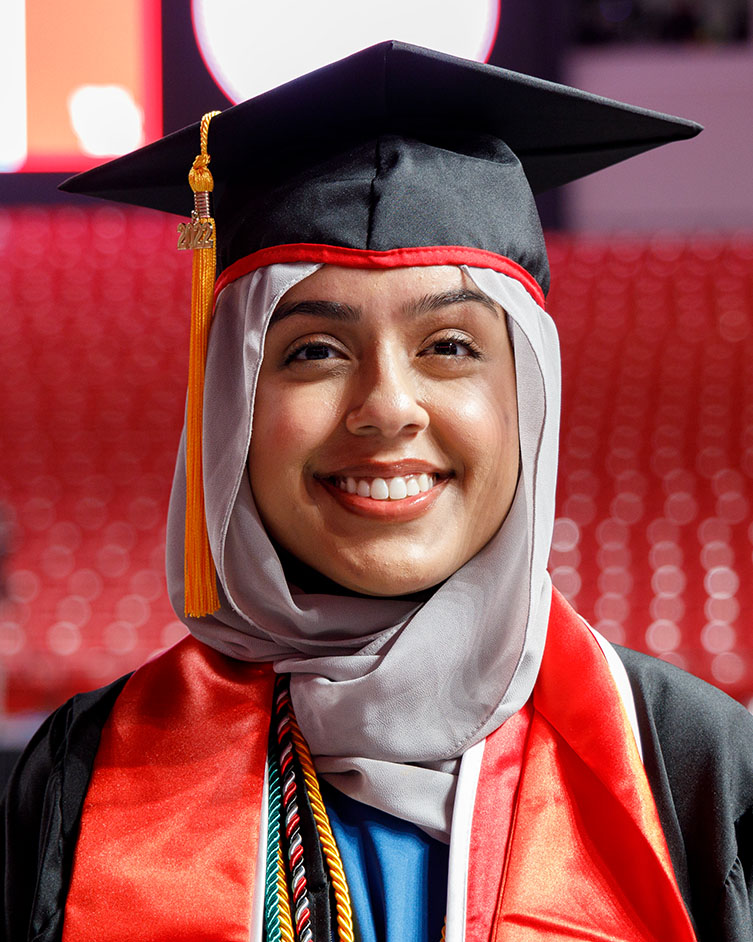 At the ceremony, one exceptional student graduated summa cum laude and with a perfect 4.0 grade point average.
Midhat Jafry, completed her entire college career at UH and graduated with a dual degree in Biology and Liberal Studies with minors in Health, Psychology and Sociology. She is a member of UH's Phi Beta Kappa chapter, an academic honor society recognizing excellence in the liberal arts and sciences.
While at UH, Jafry did undergraduate research with Dr. Lorraine Reitzel's Social Determinants/Health Disparities Lab in the UH College of Education. "As a member of the lab, I conducted research on homeless health and on tobacco cessation with a focus on identifying prevalent barriers to treatment," Jafry said.
She was also active in organizations with a community outreach focus. Jafry co-founded the Hearts for the Homeless Houston, a service organization promoting cardiovascular health among adults experiencing homelessness. She was also president of Partnership for the Advancement and Immersion of Refugees, a group that mentors Houston-area refugee youth in middle and high school.
After graduation, she will work as a research data coordinator in the Health Disparities Department at M.D. Anderson Cancer Center and will enter medical school in Fall 2023.
Commencement Banner Bearers – NSM Outstanding Students

The College's Commencement processional included outstanding students from NSM's six departments carrying the NSM and departmental banners.
College Banner: Midhat Jafry
Department of Biology and Biochemistry: Anthony Tran Nguyen
Department of Chemistry: Michael Sacra
Department of Computer Science: Jordan Miles
Department of Earth and Atmospheric Sciences: Karla Ortega
Department of Mathematics: Azalia Trujillo
Department of Physics: Innara Vellani
- Kathy Major, College of Natural Sciences and Mathematics