New Teachers Supported Through Professional Development, STEM Training and Networking
Sixteen of the fastest-growing industries of the future are STEM-related and recent research highlights the importance of STEM—which stands for science, technology, engineering and math—yet schools and districts often struggle to recruit and retain STEM teachers.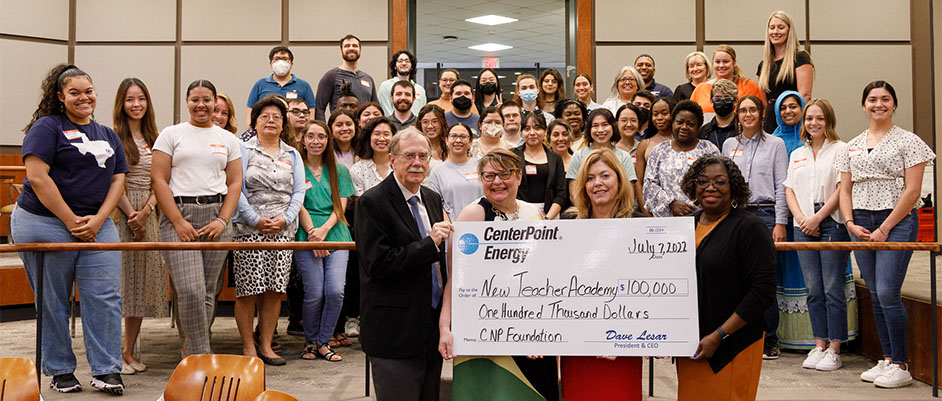 To address these challenges and better prepare first-year STEM teachers for the classroom, the CenterPoint Energy Foundation awarded the National Math and Science Initiative (NMSI) and the University of Houston teachHOUSTON program a $100,000 grant to launch the CenterPoint Energy New Teacher Academy.
Designed for pre-service teachers graduating from UH, the university will recruit and select participants for the academy. Those chosen will receive in-person, summer professional development, annual STEM training with NMSI, and networking opportunities that connect new teachers with second-year and master teachers—providing ongoing support and resources at no cost.
"Teaching is an incredibly demanding profession," said Michelle Stie, NMSI vice president of teaching and learning. "While schools and districts are feeling the effects of staffing shortages more than ever, recruiting and retaining STEM teachers is a lingering challenge and even more difficult in high-poverty schools and districts. The grant from CenterPoint Energy plays a significant role in not only addressing this, but also exposing students to STEM and educating the next generation of STEM professionals."
NMSI's Laying the Foundation (LTF) program, a core component of the annual STEM training that participants receive, will provide the pedagogical and STEM content support needed for effective instruction in today's classroom. The program will empower new teachers to build and maintain subject matter expertise, enhance their leadership skills, and propel students' confidence, creativity, and problem-solving skills. Afterward, teachers can interview to become NMSI Coaches, helping to advance STEM education for all students.
"Quality induction programs are essential for the success and retention of beginning teachers," said Paige Evans, clinical professor and co-director of teachHOUSTON at UH. "We are exceedingly grateful to CenterPoint Energy and the National Math and Science Initiative for the funding and support of the CenterPoint Energy New Teacher Academy."
"The value of a high-quality teacher induction program cannot be underestimated," added Jennifer Collier, principal at Spring Woods High School in Spring Branch ISD. "A well-prepared new teacher is ready and able to change hundreds of lives on day one. What a valuable gift the New Teacher Academy will be to the educational community."
An announcement event took place earlier this week with representatives from each organization present to celebrate the unveiling of the CenterPoint Energy New Teacher Academy.
"An effective teacher can make all the difference in a student's life," said Alicia Dixon, director of community relations for CenterPoint Energy. "This academy will establish a strong foundation for success, and ensure new STEM teachers feel confident, succeed and grow in their professions."
- Article courtesy of the National Math and Science Initiative