Free, Two-Week Online Program Serves Students Entering 6th-9th Grade
Building on the results from summer 2020, the UH College of Natural Sciences and Mathematics STEM teacher preparation program, teachHOUSTON, is planning its second virtual STEM initiative for students entering grades 6-9.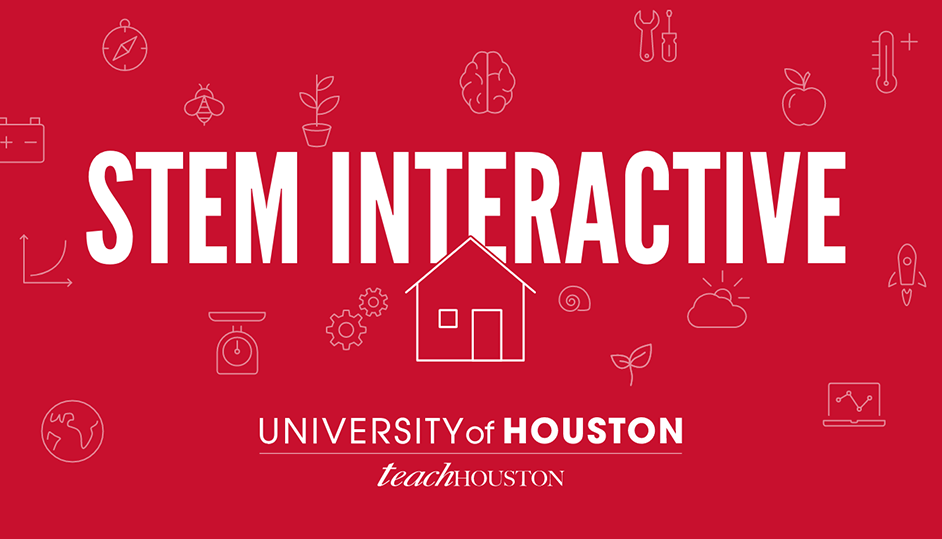 In 2020, with in-person summer camps out of the question, teachHOUSTON leadership saw the need to provide STEM education opportunities. The result, teachHOUSTON STEM Interactive, was a huge success with over 3,000 participants during the multi-week program.
"Our goal is to engage our youth in quality STEM lessons as well as expose them to potential STEM careers and research topics. This supports teachHOUSTON's mission to broaden participation in STEM and promote STEM literacy," said Paige Evans, associate director of teachHOUSTON.
Join teachHOUSTON STEM Interactive: June 14–June 25
The Summer 2021 program will feature two weeks of fun activities published Monday-Friday on various STEM topics including:
Mathematics
Life Science
Environmental Science
Engineering Design and Innovation
Physical Science
Each week, participants will access 2-3 hours of engaging activities including:
Interactive Mini-Lessons
Science Experiments
Prototyping
Engineering Design Challenges
All materials, including lesson videos, detailed activity plans and weekly material lists, will be accessible from the teachHOUSTON STEM Interactive webpage.
"For the participants, the experience is both synchronous and asynchronous with videos, challenges, and opportunities for enrichment, Zoom classes, and feedback," Evans said. "STEM Interactive also provides valuable experience for our pre- and in-service teachers who develop and teach the online lessons."
Interested? Sign Up Now!
Please complete our form to register and receive program information. For questions and inquiries, please contact tHSTEM@uh.edu.
Outcomes of 2020: Reaching Beyond Houston
"The response was gratifying," Evans said. "We had over 3,000 participants with the majority of the students in grades 6-9."
By the Numbers
84% Students from Texas, 11% Other States, 5% Other Countries
4 Daily Zoom Classes with ~1,000 Daily Participants
24,000 Online Lesson Page Views
1,107 Participants in Private Facebook Group Generating 1,896 Posts and 7,188 Comments
Twenty-six NSM teachHOUSTON undergraduates and four graduates (in-service teachers) received paid internships.
"The benefits to our teachHOUSTON interns were twofold – having a paid internship during a time when jobs were scarce and learning how to create, plan and implement STEM lessons on virtual platforms, which clearly prepares them for a unique future as a STEM teacher," Evans said.
The 2020 program was supported by a grant from the National Science Foundation. In 2021, teachHOUSTON STEM Interactive is once again supported by the NSF, as well as grants from The Jacob and Terese Hershey Foundation, Chevron, and The Williams Corporation.
- Kathy Major, College of Natural Sciences & Mathematics