Core Laboratories Scanned 20 Rocks from UH's Teaching Collection to Bolster Geologic Education
Even before the pandemic changed life as we know it, teaching and learning how to use a petrographic microscope was no easy task.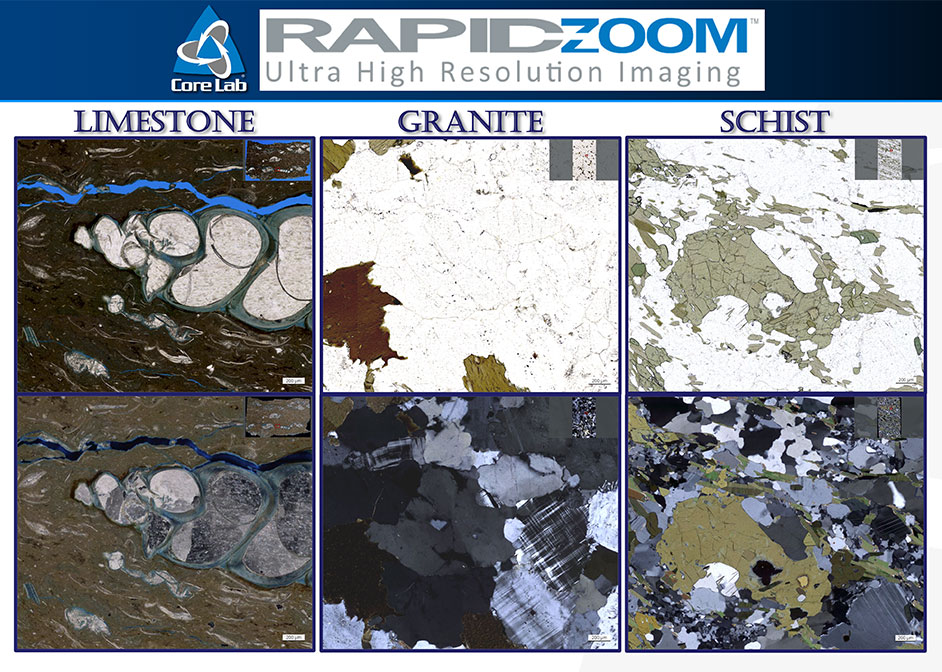 University of Houston's petrography course (GEOL 3372) can be particularly difficult because students learn a skill for the first time, ever.
In this case, how to use a petrographic microscope to identify, classify and analyze rocks at macro- and microscopic scales; and it is much different than a microscope used in biology class. Trying to teach and learn this skill from home has been an added challenge for the UH Department of Earth and Atmospheric Sciences.
"This is a fundamental skill," said Peter Copeland, professor of geology at the UH College of Natural Sciences and Mathematics. "One of the ways geologists understand rocks is by observing details about minerals and fossils using a microscope. Not being able to touch the rock and microscope makes it more difficult. There are a few online resources for this, and they're growing. But in the last year, people have been scrambling."
Two UH alums stepped in to bridge the gap.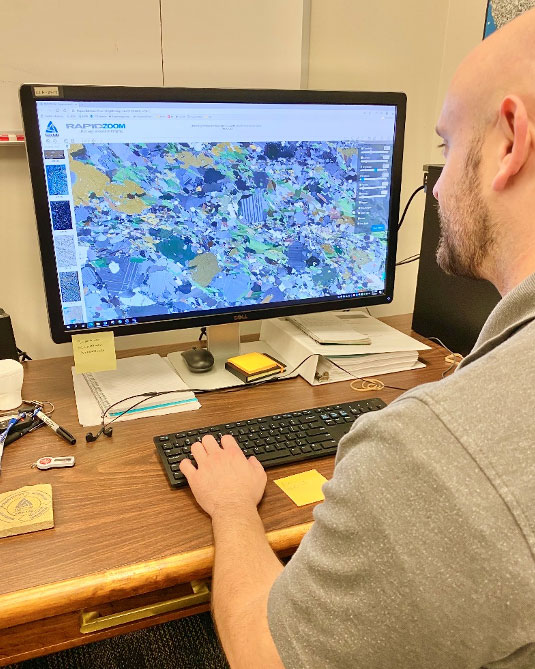 Katrina Cox ('05, M.S. '07) and Hallie Fowler ('19), who is currently earning her M.S. in geology at UH, both work at Core Laboratories. They scanned 20 rocks from UH's teaching collection, using a special, petrographic microscope-camera setup and made the data available online for Copeland's class.
Cox said the idea to provide the service came from a conversation she had with Fowler. She asked the M.S. student how classes were going.
When Fowler described the challenges of online learning and how Core Labs' RAPIDZoom™ technology could aid students in their studies, Cox thought to contact her former advisor, Peter Copeland. From there, she offered to scan rocks from Copeland's lab and upload it to Core Labs' servers.
Partnership Between Faculty and Students
According to Core Labs, RAPIDZoom is a web-enabled tool, developed to visualize ultra-high resolution images. It allows users to view images of their samples from a computer, tablet or phone. This service is standard for oil, gas and environmental companies evaluating their reservoirs.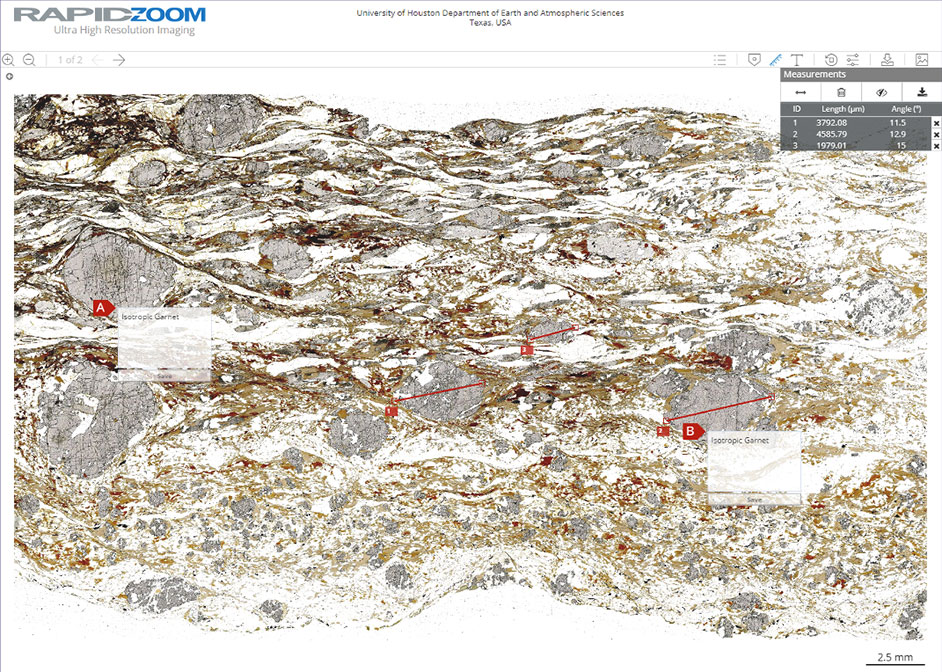 Features of the tool include pan and zoom across an entire image with dynamic scaling, on-screen measurements, annotations, image descriptions, screen capture and image rotation. The tools make it user-friendly for teaching assistants to show students what a rock sample looks like as a whole and at high-magnification.
"This partnership between faculty and former students is helping us get through these times in which the very hands-on practice of geology has had to go online," Copeland said.
Cox also gave Copeland's class a RAPIDZoom tutorial.
"Knowing how difficult it is to teach and learn optical microscopy without being in the lab behind the microscope, it feels great as an alum, knowing we helped," said Cox. "We are glad we could provide a solution to one of the many challenges during these times. RAPIDZoom continues to help our clients access their rock images quickly, whether in a class setting or when trying to integrate thin section and core observations with core analysis and other geologic measured data."
RAPIDZoom may also be used in the upcoming fall semester, even if there are more in-person classes, Copeland said, because it allows students to study the rocks when they cannot use the microscope.
However, he hopes the overall focus of the class returns to use of the petrographic microscope.
"It's like watching a video on how to drive, as opposed to actually driving," Copeland said. "Imagine trying to learn how to drive manual transmission, but on a computer. That's what we're doing here."
- Rebeca Trejo, College of Natural Sciences and Mathematics