Live Science List Includes Work to Reconstruct the Vanished Resurrection Plate
Research out of the University of Houston Department of Earth & Atmospheric Sciences claimed a spot on Live Science's list of the "10 Geological Discoveries that Absolutely Rocked 2020."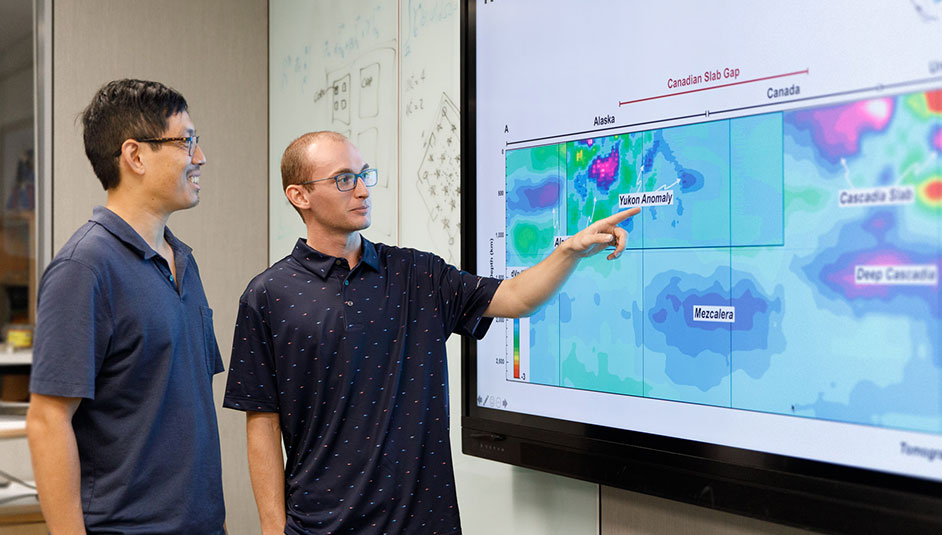 The work of assistant professor Jonny Wu and graduate student Spencer Fuston to reconstruct the vanished Resurrection plate offshore western Canada was featured on the list. Wu and Fuston digitally reconstructed a tectonic plate and showed that its movement likely gave rise to an arc of volcanoes in Alaska and western Canada some 60 million years ago.
The findings, published in October in the Geological Society of America Bulletin, could help geologists better predict volcanic hazards as well as mineral and hydrocarbon deposits. (UH News Article)
The existence of a tectonic plate called Resurrection has long been a topic of debate among geologists, with some arguing it was never real. Others say it subducted – moved sideways and downward – into the earth's mantle somewhere in the Pacific Margin between 40 and 60 million years ago.
Wu and Fuston found the lost plate in northern Canada by using existing mantle tomography images – similar to a CT scan of the earth's interior. They applied a technique developed by the UH Center for Tectonics and Tomography called slab unfolding to reconstruct what tectonic plates in the Pacific Ocean looked like during the early Cenozoic Era.
Using 3D mapping technology, Fuston applied the slab unfolding technique to the mantle tomography images to pull out the subducted plates before unfolding and stretching them to their original shapes.
"When 'raised' back to the earth's surface and reconstructed, the boundaries of this ancient Resurrection tectonic plate match well with the ancient volcanic belts in Washington state and Alaska, providing a much sought after link between the ancient Pacific Ocean and the North American geologic record," explained Wu.