Program Helps Students Transition from High School to College
The University of Houston is proud to announce a partnership between TC Energy and the University of Houston's College of Natural Sciences and Mathematics (NSM) to help high school students interested in science, technology, engineering or math (STEM) majors prepare for the transition to college.

The online TC Energy Summer Scholars Academy recruits students with outstanding high school records but who have SAT scores indicating they may not be math-ready for entry into their program of choice. The academy provides students an opportunity to earn Calculus 1 credit and ensures they are both math-ready and college-ready as they enter their chosen degree programs in the fall.
The $50,000 gift from the TC Energy Foundation is instrumental in providing scholarships and technology needed for online learning. Participants and undergraduate peer facilitators have access to Wacom One tablets that will be crucial for the calculus course offered in the summer program.
"The students invited to participate are really good students, but their academic preparation may not have been rigorous enough to get them ready for what is going to come at them in college-level STEM courses," said Donna Pattison, NSM Assistant Dean for Student Success. Special attention is paid during the recruiting process to reach out to students from low-performing high schools.
Focus on Math and College Readiness
Pattison says that SAT scores aren't always the best predictor of college success.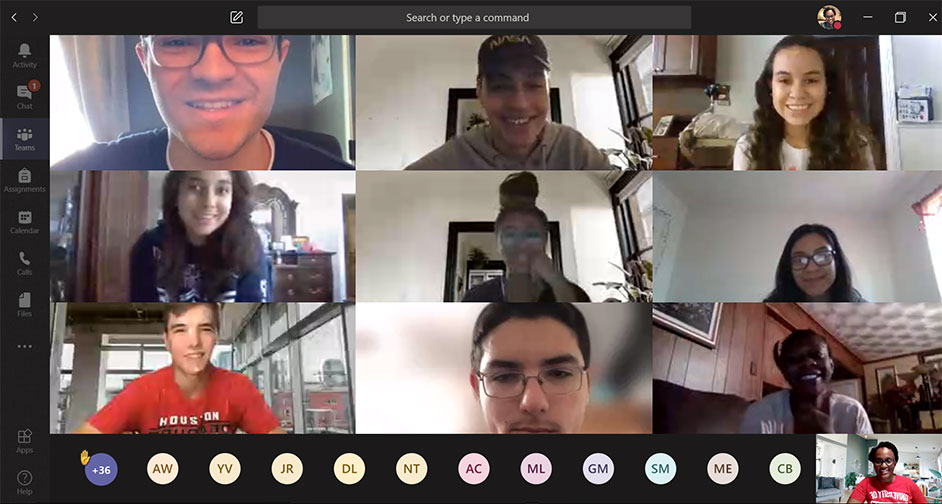 "Many of these students have limited access to different experiences, activities and resources during high school, and their SAT scores, particularly math scores, tend to be lower. It doesn't mean they aren't smart, talented students," Pattison said. "This program opens the door for them to begin their college career as STEM majors."
The nine-week program runs five days a week and covers summer tuition and fees.
In addition to calculus, students receive a preview of Chemistry 1 and take a mini-course on college success. The class day also includes small-group review sessions, workshops and tutoring assistance. TC Energy's Talent Acquisition and Student Program teams will host panel discussions to prepare the students for a future in the STEM field and lead a session applying the course material directly to real-world applications.
Incoming NSM and Engineering Majors
The 2020 program includes 50 students split almost equally between NSM (science, math, computer science) and engineering majors. In the fall, these students will enter degree programs in either UH's College of Natural Sciences and Mathematics or Cullen College of Engineering.
"Technology is evolving at a rapid pace – now more than ever, it is critical that students receive exposure to STEM and develop skills that are in high demand," explains Stanley Chapman III, TC Energy's Executive Vice President & President U.S. Natural Gas Pipelines.
"TC Energy is proud to partner with the University of Houston to offer the Summer Scholars Academy and support a uniquely diverse group of students in pursuit of a STEM education that will prepare them to be future innovators in the workforce."
Pipeline of Diverse Talent for STEM Workforce
The program began on June 9 and runs through August 7, featuring a diverse group of students with 36 of the 50 participants identifying as Hispanic or Black and 29 identifying as female. This supports the partnership's focus on developing a pipeline of diverse talent for the workforce of tomorrow.
TC Energy funds are providing essential equipment as the 2020 program is completely virtual due to the COVID-19 pandemic.
"You really can't do calculus on a keyboard," Pattison added. "The tablets will facilitate group work, and TC Energy funds are also providing webcams for students who have computers without cameras – another essential item in today's online learning environment."
Calculus 1 is a predictor of STEM success; that's why it's a key piece of the summer academy.
"At UH, the chance for success in STEM is around 1% or less if students don't complete Calculus 1 by the end of their first year," Pattison said. "Students may still graduate, but they rarely finish as a STEM major."
Pattison adds that students completing the 2019 program did phenomenally well. "The 2019 Summer Scholars Academy students who continued on to Calculus 2 earned an average GPA of 3.762 in the course, compared to a 2.11 for all other students enrolled."
A Sense of Community
The program provides support to the most vulnerable, at-risk students, many of whom are the first generation in their family to attend college.
"We provide them with a community to be a part of from day one, when they have their first course as a UH student," Pattison said. "They get to know other new students, and they have slightly older peers they can talk to about college – how does it work; how do I do this?"
In addition to the three course instructors, 23 undergraduate peer mentors and two graduate assistants support the students throughout the program.
In the fall, participants receive ongoing support through NSM's Scholar Enrichment Program which includes cooperative learning groups, tutoring and workshops for STEM courses. They also have the opportunity to join an NSF-funded Hispanic Serving Institute program that organizes freshman interest groups and opportunities for undergraduate research in the sophomore year. As they progress through both programs, they can apply for financial support by serving their peers through positions as tutors or workshop facilitators.
"This program brings together the coursework, technology and sense of community that is essential for these students to succeed," Pattison said.
- Kathy Major, College of Natural Sciences & Mathematics