Ceremony Celebrates Summer and Fall 2019 Graduates
Bachelor's, master's and doctoral degree candidates participated in the University of Houston Commencement for College of Natural Sciences and Mathematics (NSM) on December 13. The ceremony, held at UH's Fertitta Center, included students completing degrees in summer and fall 2019.

More than 600 NSM students completed degree requirements. In all, 81 doctoral candidates earned degrees in atmospheric sciences, biochemistry, biology, chemistry, computer science, geology, geophysics, mathematics, or physics. Ninety-one NSM students were candidates for master's degrees, and nearly 440 students were candidates for bachelor's degrees.
There were 19 summa cum laude graduates, the highest academic honor for bachelor's degree recipients. An additional 43 students graduated magna cum laude, and 45 students graduated cum laude.
Guest speakers included The Honorable John D. Fields from the UH System Board of Regents and Carlos Vanegas, president of the NSM Alumni Association.
Dan E. Wells Outstanding Dissertation Award – Naghmeh Hassanzadeh Khayyat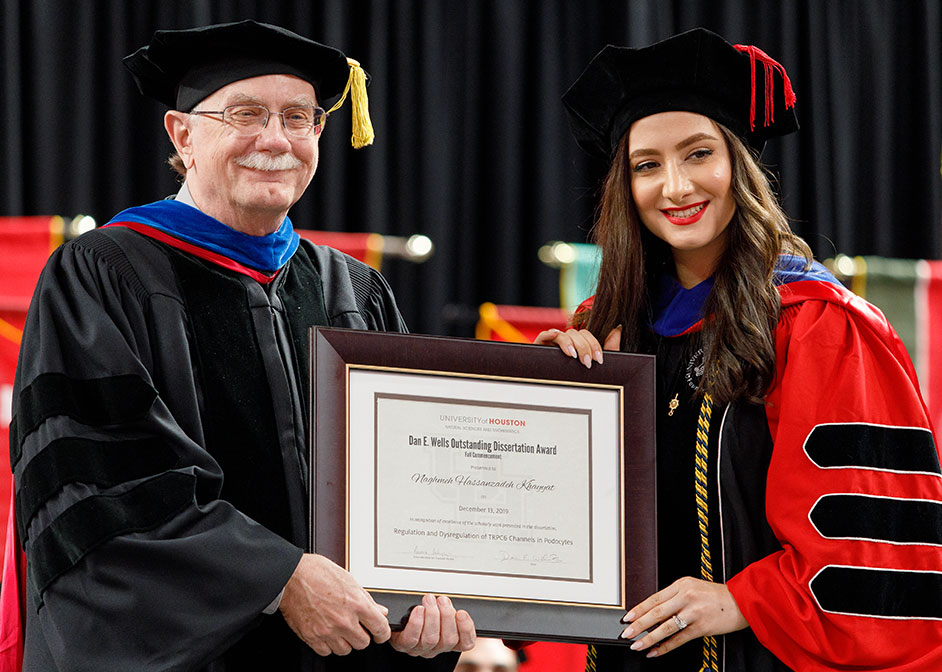 Each commencement, NSM recognizes a graduating doctoral student who has performed outstanding research and submitted the best dissertation to the College.
The summer-fall recipient of the Dan E. Wells Outstanding Dissertation Award was Naghmeh Hassanzadeh Khayyat, a biology Ph.D. candidate. She received a certificate and an award of $1,000.
Her dissertation entitled, "Regulation and Dysregulation of TRPC6 Channels in Podocytes," is centered on molecular events that underlie severe chronic kidney diseases that affect millions of Americans, including kidney disease arising as a complication of diabetes.
As quoted by her advisor, her results will have a "high impact in the field … [and] implications on how drug companies are likely to approach drug development." Hassanzadeh Khayyat's mentor is Dr. Stuart Dryer, Moores Professor in the Department of Biology & Biochemistry.
For the award, nominated dissertations are evaluated for:
Significance and impact of the research
Originality of the work
Quality of the scholarship
Quality of the presentation and organization of the dissertation
Commencement Student Speaker – Sarah Fontenot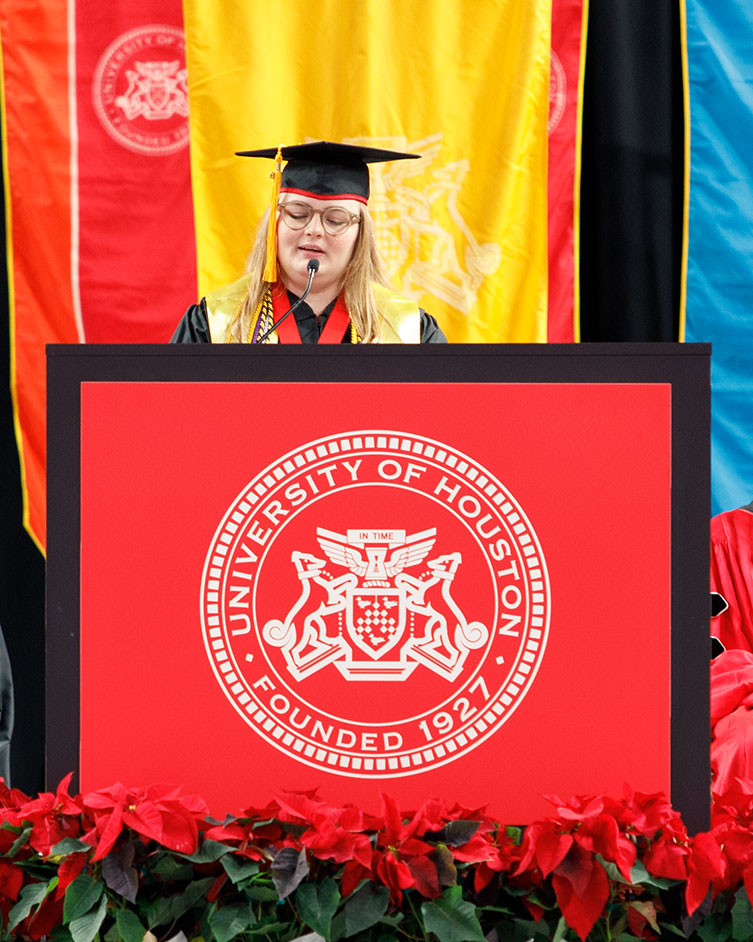 Sarah Fontenot, a mathematics major with a finance option, spoke at the ceremony on behalf of all the students. She was selected through a speech-writing competition open to NSM's summa cum laude graduates.
Fontenot, who minored in computer science and economics, came to UH with a four-year Academic Excellence Scholarship. While at UH, she received additional scholarships, including an NSM Alumni Association Scholarship.
During her speech, Fontenot emphasized that each graduate had a responsibility to convey scientific information to the world at large. She stated "the scientist of today must be more than a thinker or a doer; they must be a teacher, someone who can explain complex topics to an audience unfamiliar and potentially oppositional to their ideas."
As an undergraduate, Fontenot assisted fellow students through her work as a peer teaching assistant for calculus and introduction to statistics. She also worked as a grader for the Department of Mathematics since 2016.
She is a member of the UH Honors College and several student organizations, including the national honor society -- Phi Kappa Phi -- and the mathematics honor society -- Pi Mu Epsilon, where she served as secretary and president.
"Being an active member and later an officer of Pi Mu Epsilon was an excellent experience. I became a better leader and learned how to reconcile club responsibilities with my class schedule," Fontenot said.
After graduation, Fontenot will explore graduate program options. Her interests include data science and engineering.
UH's Youngest Graduate: Marko Kluge Jovanovic, Computer Science Major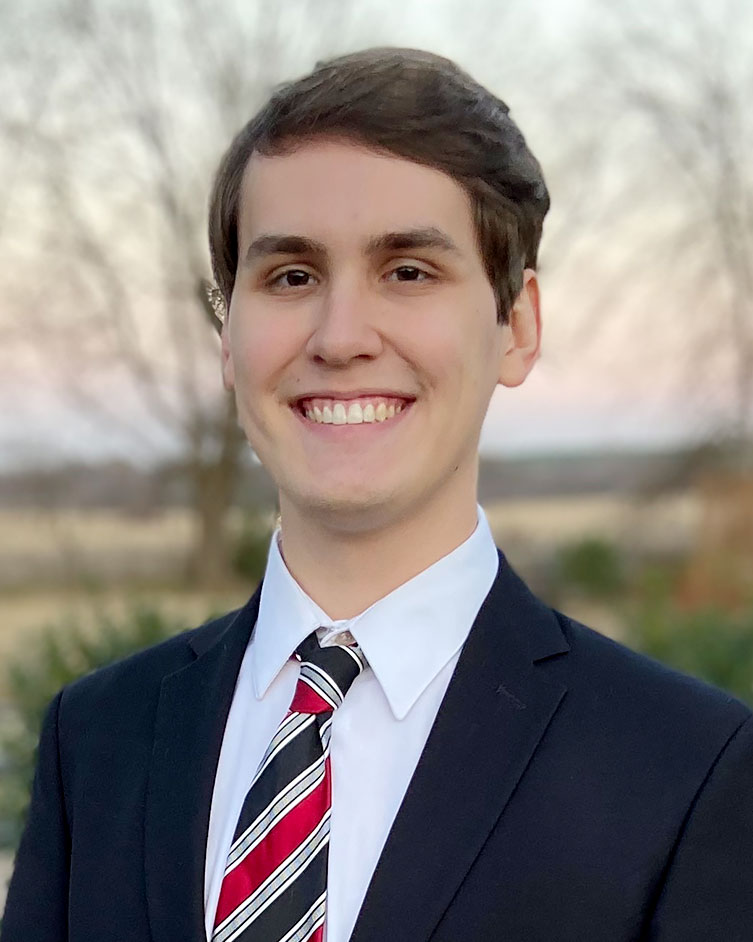 This semester, NSM had the distinction of having UH's youngest graduate. Marko Kluge Jovanovic, 18, graduated cum laude with a bachelor's degree in computer science.
He has always had an interest in computers. When he was six, he and his father built his first computer from scratch – "case, motherboard and all."
In the new year, Jovanovic will start work at Pariveda, a strategic services and information technology consulting firm.
Commencement Banner Bearers
The College's Commencement processional included outstanding students from NSM's six departments carrying the University, NSM and departmental banners. The banner bearers have the additional honor of sitting on stage as part of the Commencement platform party.
University Banner: Nguyen Ton
College Banner: Daniela Orozco
Biology and Biochemistry: Laura Paglicawan
Chemistry: Boi-Lien Nguyen
Computer Science: Saumya Bajracharya
Earth and Atmospheric Sciences: Alvaro Iglesias
Mathematics: Elisabeth Santos
Physics: Jimish Patel
- Kathy Major, College of Natural Sciences and Mathematics