Unused Planter Transformed by Students for Students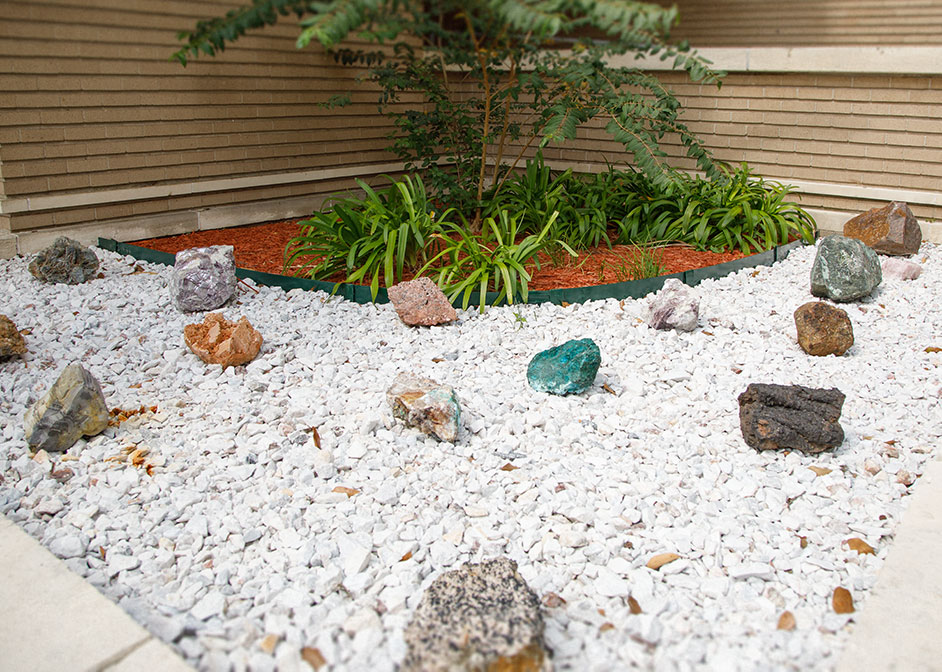 In August 2019, members of the GeoSociety at the University of Houston gathered at the south end of Science and Research Building 1 to rejuvenate a planter as a second rock garden for the Department of Earth and Atmospheric Sciences.
The deeply rooted weeds were cleared and a black weed-proof tarp was laid underneath a marble base layer next to cougar red mulch. Despite the thunderstorm that came through during the work, the end result was a big improvement from the unused planter.
The rock garden includes carbonates, igneous, pure minerals and petrified wood samples. Rock samples were donated by the EAS department with the help of Shelby Johnston, Ph.D. student in geology, and Jinny Sisson, EAS instructional professor.
The planter will be used by students, experienced or not, to learn and identify the characteristics of a variety of rocks and minerals. The GeoSociety will maintain the rock garden in the future.
The GeoSociety rock garden team included EAS undergraduate students Nikola Bjelica, Weston Charles, Christian Montes, Bryan Moore and Trevor Russell.
- Bryan Moore, Vice President, GeoSociety, College of Natural Sciences and Mathematics