Erin Miller ('18) Supported by UH Research Mentors
Erin Miller, who graduated from the University of Houston in 2018 with a bachelor's degree in geology, is the recipient of a highly prestigious National Science Foundation Graduate Research Fellowship (NSF GRF). This award will fund Miller's research on how barrier island systems respond to hurricanes and sea level rise.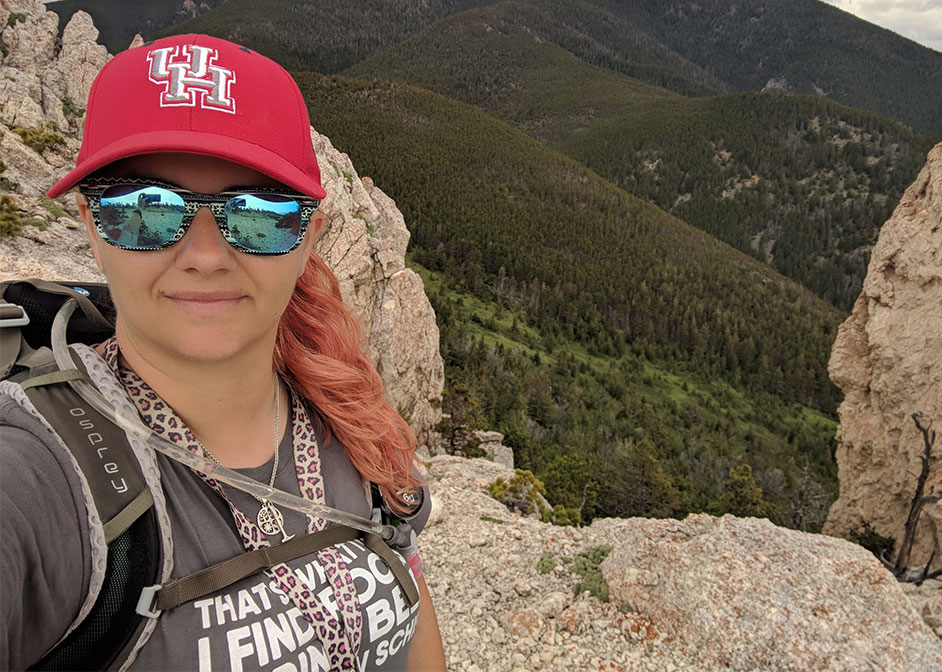 The NSF GRF Program recognizes and supports outstanding graduate students pursuing degrees in science, technology, engineering and mathematics disciplines at accredited U.S. institutions.
The fellowship offers three years of financial support, which includes a monthly stipend, tuition allowance, and opportunities for international research and professional development. With an average award rate of approximately 16%, these fellowships are highly competitive.
First Research Experience: "Galápagos Evolving" Course
Miller's first research experience came from taking the College of Natural Sciences and Mathematics' "Galápagos Evolving" course in 2016. This course culminates with students spending three weeks on San Cristóbal Island in the Galápagos, where they conduct field work alongside researchers.
Miller took the course planning to work on a volcano project. When the necessary permits for this project didn't come through in time, she went on the research trip anyway.
"Even though I didn't do any geology, I was out in the field, doing research," said Miller, who served in the Army for 13 years before heading back to school to study geology.
This trip proved to be a formative experience, putting Miller on a path to graduate school.
"I stumbled into research. I didn't know research was an option, or even what it was about," Miller said.
Senior Thesis Project on Sedimentation Rates in Oyster Reefs
After the trip, Miller worked on a project studying oyster reefs in Galveston Bay, which gave her the idea for her Senior Honors Thesis, which looked at the impact of oyster reefs on sedimentation rates.
"Working with Erin was like working with a first year graduate student," said Marc Hanke, a faculty member in the Honors College, who first recruited Miller to do field research. "Fieldwork with this project often takes multiple people to get everything done, and Erin took the initiative to recruit her own help."
Meanwhile, Miller was encouraged by her mentors to attend the NSM Peer Writing Group, which offers support for writing fellowship applications. In this workshop, students read and review each other's application materials. This workshop, which just completed its first year, has already been enormously successful, with four participants receiving NSF GRF awards.
"I would not have gotten this award without this workshop," Miller said.
Ph.D. Project Examining How Barrier Island Systems Respond to Sea Level Rise
Miller graduated in the fall of 2018. After graduating, she entered a Ph.D. program at the University of Southern Mississippi, where she is working on understanding how barrier islands systems in the Gulf Coast region will respond to hurricanes and sea level rise.
"Every barrier island system responds differently," Miller said. "That is why regional studies are so important."
To gain an understanding of how Gulf Coast barrier islands might respond, she is looking at their response during the last period of sea level rise.
"I know what I want to do," Miller said. "I'm not going to waste time."
- Rachel Fairbank, College of Natural Sciences and Mathematics