Commencement Celebrates Spring Graduates, Including Five, 4.0 Grads
More than 500 bachelor's, master's and doctoral degree candidates crossed the stage during the University of Houston Commencement for the College of Natural Sciences and Mathematics (NSM) on May 13. The ceremony was held at UH's Fertitta Center.

Although more than 700 NSM students completed degree requirements for spring 2019, not all were able to attend the ceremony. NSM's 43 doctoral candidate participants earned degrees in atmospheric sciences, biochemistry, biology, chemistry, computer science, geology, geophysics, mathematics, or physics. Fifty NSM master's degree candidates attended, and more than 400 participants were candidates for bachelor's degrees.
There were 67 summa cum laude graduates, the highest academic honor for bachelor's degree recipients. Five students were recognized for perfect, 4.0 grade point averages. An additional 182 undergraduate students graduated either cum laude or magna cum laude.
Twenty-one students graduated through the teachHOUSTON program, a collaboration between NSM and the College of Education. They have committed to teach high school math or science.
The ceremony included remarks from student speaker Daniel Scott and NSM Alumni Association board member Dr. Kathy O'Keefe Herrin.
Two NSM faculty awards, the John C. Butler Excellence in Teaching Award and the Junior Faculty Award for Research Excellence, were presented. Butler Award winners were Melahat Almus, instructional assistant professor of mathematics, and Thomas Teets, assistant professor of chemistry. The Junior Faculty Award also went to Teets. All award recipients received a $5,000 cash award and a plaque.
Dan E. Wells Outstanding Dissertation Award – Aria Mansouri Tehrani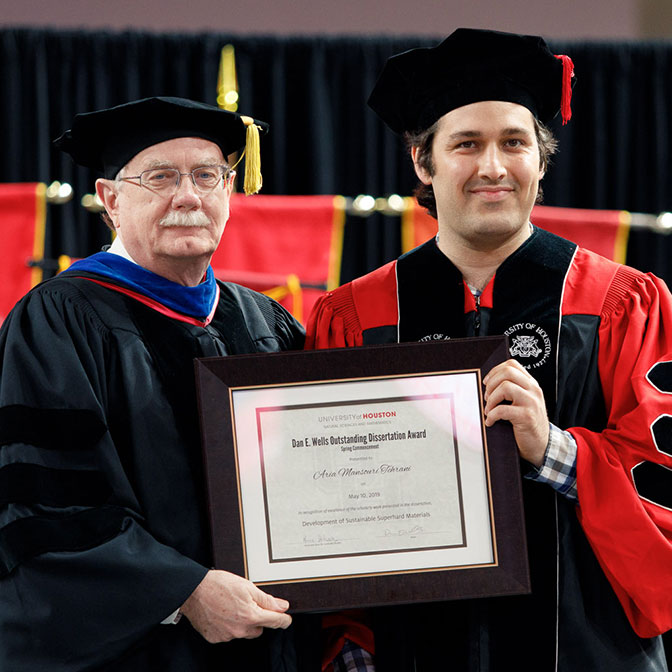 This semester, NSM created an award to recognize a graduating doctoral student who has performed outstanding research and submitted the best dissertation to the College.
The inaugural recipient of the Dan E. Wells Outstanding Dissertation Award was Aria Mansouri Tehrani, a Ph.D. candidate in the Department of Chemistry. He received a certificate and an award of $1,000.
Mansouri Tehrani's dissertation, entitled "Development of Sustainable Superhard Materials," is centered on using machine learning approaches to discover superhard materials, and combines both theoretical and experimental work. He has published nine papers and presented his work at many conferences, including a prestigious Gordon Research Conference. Mansouri Tehrani's mentor is Dr. Jakoah Brgoch.
Students selected for this honor go through a two-step application process. Their application materials are submitted at the departmental level. After departmental review, each department selects a single nominee to move forward for review by the College Graduate Committee.
For the award, the dissertations are evaluated for:
Significance and impact of the research
Originality of the work
Quality of the scholarship
Quality of the presentation and organization of the dissertation
NSM's 4.0 Summa Cum Laude Graduates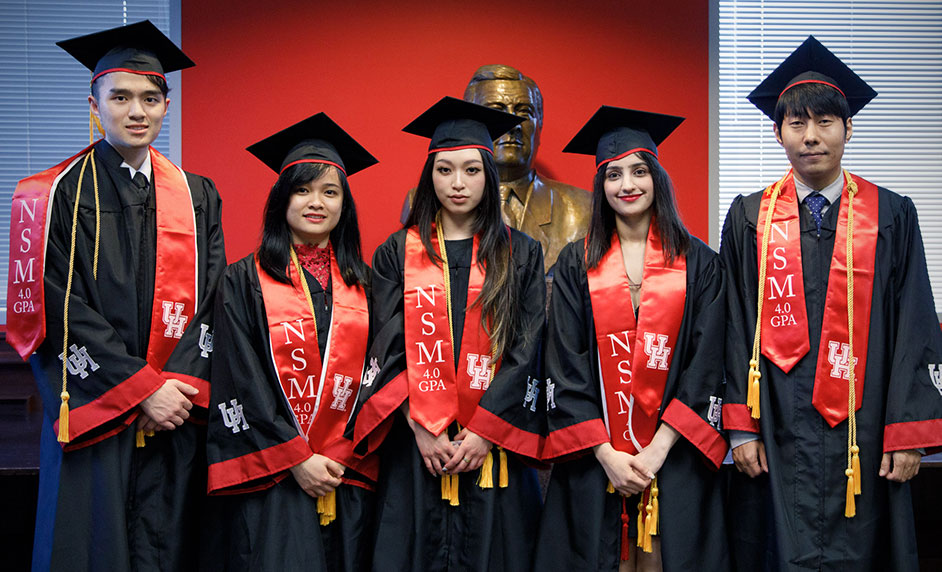 Five students participating in the ceremony completed their studies at UH with perfect 4.0 summa cum laude academic honors.
Arushana Ali, Bachelor of Science in Biology
Ali will participate in a Center for Cell and Gene Therapy Research Internship at Baylor College of Medicine in summer 2019. She hopes to enter UH's master's program in biology which includes a graduate certificate in biomedical sciences.
Chang Jin Lee, Bachelor of Science in Computer Science
Lee will be working as an application developer for the University of Houston Enterprise System.
Vivian Le, Bachelor of Science in Computer Science
After graduation, Le will begin full-time work as a technological consultant.
Duong Nguyen, Bachelor of Science in Computer Science
In the fall, he will enter the UH master's program in statistics and data science.
Vincent Chung Hei Poon, Bachelor of Science in Computer Science
Poon will enter the master's program in computer science at UH this fall.
Commencement Student Speaker – Daniel Scott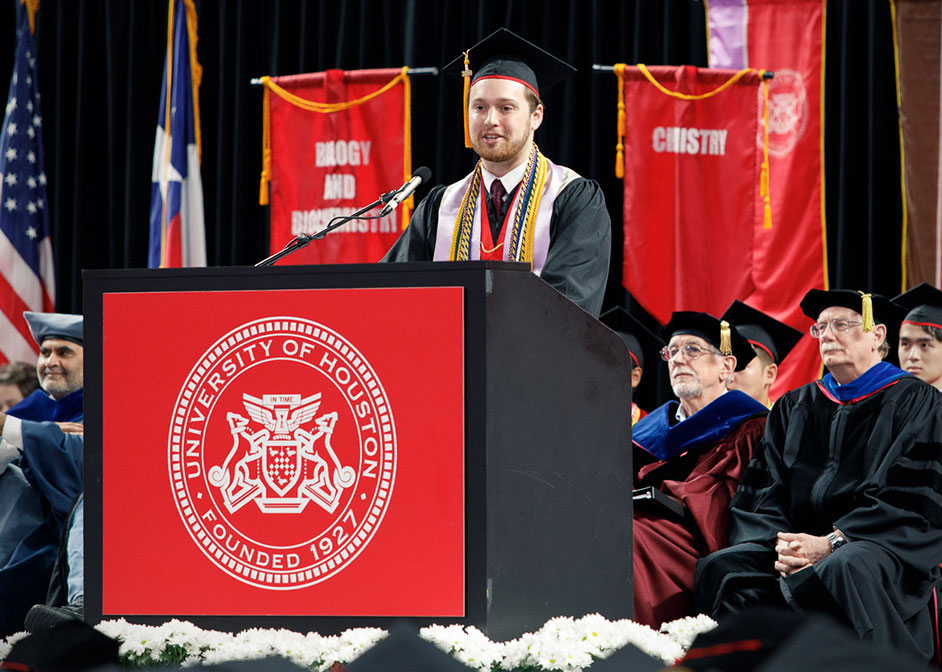 Commencement student speaker Daniel Scott came to UH as a National Merit Scholarship recipient. He graduated with a double degree in physics and Chinese studies and minors in mathematics and Asian American studies. Scott was selected as speaker through a competition that is open to all summa cum laude graduates.
During his speech, Daniel emphasized the inevitability of change and challenged graduates to "pursue change which reflects the values of our university, change that embraces the kind of diversity that makes our campus strong." He described this change as alumni's legacies to the world, which will shape the public image of the University of Houston and "define what it means to be a Houston Cougar."
While at UH, Daniel did undergraduate research on nano alloy synthesis with Dr. Wei-Kan Chu in the ion beam laboratory. He also did summer research at Kansas State University on nano-composite properties.
Through a scholarship from the Chinese Ministry of Education, he spent a year studying abroad at Peking University.
Daniel is involved in multiple student organizations, including the UH Honors College Club Theatre, and is a member of Phi Kappa Phi and Phi Beta Kappa. As an undergraduate, Daniel assisted fellow students through his work as a peer-teaching assistant for physics and as a grader for mathematics.
He has been admitted to a four-year master's and Ph.D. program in nanoscience and nanotechnology at University of Cambridge.
Commencement Banner Bearers – NSM Outstanding Students

The Commencement processional included outstanding students from NSM's six departments carrying the university, college and departmental banners. The banner bearers had the additional honor of sitting on stage as part of the Commencement platform party.
University Banner: Chang Jin Lee, computer science major
College Banner: Arushana Ali, biology major
Department of Biology and Biochemistry: Migara Jayasekera
Department of Chemistry: Timothy Tran
Department of Computer Science: Vincent Chung Hei Poon
Department of Earth and Atmospheric Sciences: Tyler Wood
Department of Mathematics: Tia Lahl
Department of Physics: Daniel Scott
- Kathy Major, College of Natural Sciences and Mathematics