Ceremony Celebrates Summer and Fall 2018 Graduates
Nearly 250 bachelor's, master's and doctoral degree candidates participated in the University of Houston Commencement for College of Natural Sciences and Mathematics (NSM) on December 13. The ceremony was held at NRG Arena and included students completing degrees in summer and fall 2018.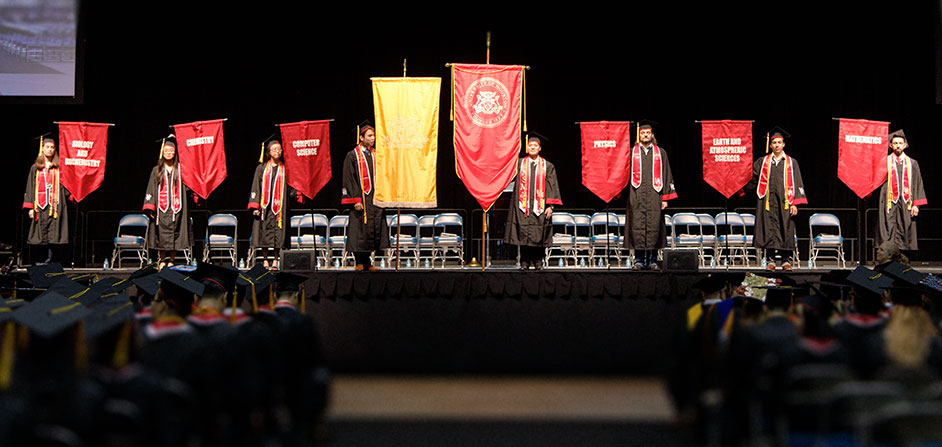 More than 500 NSM students completed degree requirements, but not all were able to attend the ceremony. In summer and fall 2018, 68 doctoral candidates earned degrees in atmospheric sciences, biochemistry, biology, chemistry, computer science, geology, geophysics, mathematics, or physics. Seventy-five NSM students were candidates for master's degrees, and nearly 370 students were candidates for bachelor's degrees.
There were 11 summa cum laude graduates, the highest academic honor for bachelor's degree recipients. An additional 78 bachelor's degree recipients graduated either cum laude or magna cum laude.
NSM's 4.0 Summa Cum Laude Graduate – Anh Ho
Anh Ho, NSM's 4.0 summa cum laude graduate, received a bachelor's degree in biology with minors in chemistry and mathematics. When she was 10 years old, Ho moved to the U.S. from Vietnam. She learned to speak English after moving here.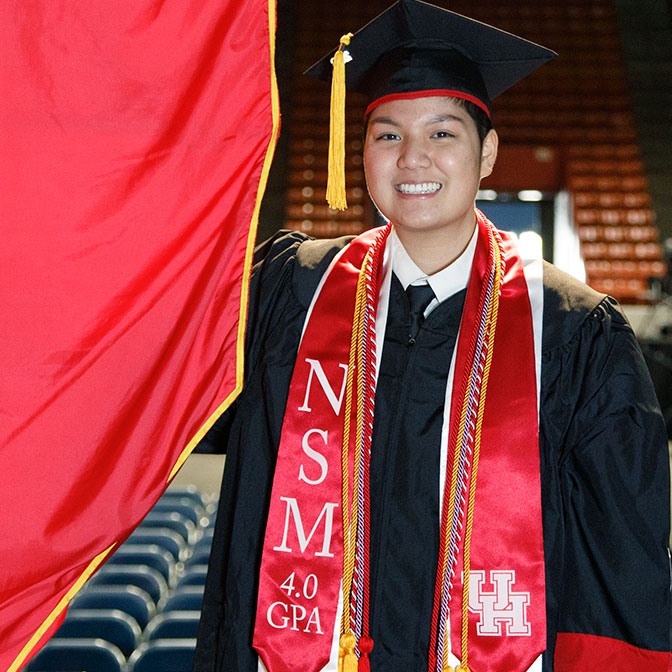 Clearly, she didn't let that slow her down academically. Upon entering UH, she received the University's Academic Excellence Scholarship and a High School Valedictorian Scholarship.
Throughout her time at UH, Ho helped fellow students as a facilitator for the Scholar Enrichment Program, assisting students with Organic Chemistry 1 and 2. She also tutored in the American Chemical Society Tutor Room.
"That experience helped build my confidence in English and in my ability to help students understand topics," Ho said.
Her interest in health care and community service led her to intern at the Texas Obesity Research Center and to volunteer at the Indian Doctor's Charity Clinic and the Vietnamese Culture and Science Association.
"Through my volunteer work with the Indian Doctor's Charity Clinic, I was able to help an underserved community and promote better health to the elderly," Ho said.
After graduation, Ho plans to apply to medical school. "During the next year, I want to gain more hands-on experience in research and to volunteer in hospitals," she said.
Commencement Student Speaker – Robert Laroche
Robert Laroche, a biology major and member of Phi Beta Kappa Honor Society, spoke at the ceremony on behalf of all the students. He was selected through a speech-writing competition open to NSM's summa cum laude graduates.
At UH, he has been involved in numerous student organizations, including Bonner Leaders and NSM Student Leadership. He was also the recipient of UH's Academic Excellence Scholarship.
"Through the Bonner Leaders Program, we engaged in community service in the Third Ward, organized events and developed public speaking skills," Laroche said. "These experiences truly impacted my education and career plans as the skills I gained are transferrable to any field."
Undergraduate research also has been a big part of his time at UH. Highlights include research abroad in the Galapagos Islands and a National Science Foundation Research Experience for Undergraduates at the American Museum of Natural History.
Through the Albert Schweitzer Junior Fellowship Program, he developed a research-based community service project. "For my project, I worked with a low-income housing population to determine the biggest dietary challenges faced by the residents. Then, I developed a series of workshops to address those challenges," he said.
After graduation, Laroche plans to pursue a Ph.D. in evolutionary biology with the goal of doing research that impacts conservation efforts.
Commencement Banner Bearers

The College's Commencement processional included outstanding students from NSM's six departments carrying the University, NSM and departmental banners. The banner bearers have the additional honor of sitting on stage as part of the Commencement platform party.
University Banner Anh Ho
College Banner Kirkland Tran
Biology and Biochemistry Rene' Zimmerer
Chemistry Brittany Trinh
Computer Science Patricia Sieng
Earth and Atmospheric Sciences Mario Ballinas
Mathematics Taha Jilani
Physics Kenneth Berner
- Kathy Major, College of Natural Sciences and Mathematics