teachHOUSTON Reaches Ten-Year Milestone
An experienced teacher can leave a lifelong impact on a student. However, with high turnover and burnout rates, experienced teachers are becoming rarer. For example, in 2014, 80 percent of teachers within the Houston Independent School District had fewer than five years of teaching experience. With math and science, this problem is even more acute.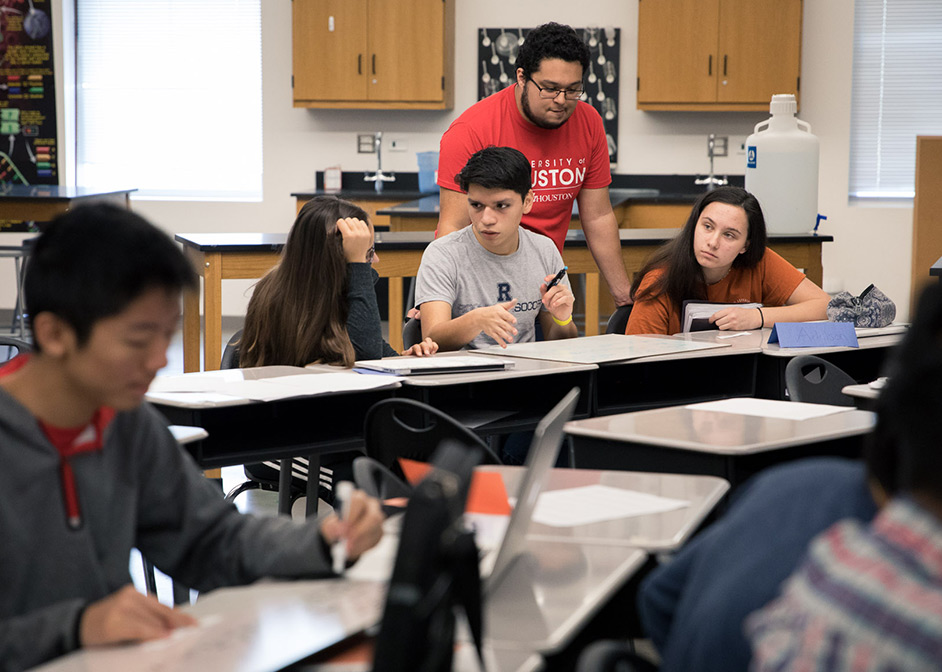 95 Percent of teachHOUSTON Graduates Teaching in Houston
The teachHOUSTON program, which is a collaboration between the College of Natural Sciences and Mathematics and the College of Education, recently reached a ten-year milestone. Along the way, the program has produced 222 graduates, 95 percent of whom are currently teaching in the greater Houston area high schools.
"Having these two colleges come together allows us to combine science content with pedagogy," said Paige Evans, a clinical professor for the teachHOUSTON program.
Master Teachers with Extensive Classroom Experience
Evans, who came to the teachHOUSTON program in 2008 after spending 17 years teaching high school, is part of a team of master teachers with extensive experience. All told, teachHOUSTON master teachers boast over 100 years of experience teaching high school math and science.
"This experience gives us true insight into what works," Evans said. "This allows us to bridge the gap between theory and practice."
Students Gain Practical Experience
"What's different about our program is that students try out teaching their very first semester," Evans said. "That way, they can know early on whether it's right for them."
Students in the teachHOUSTON program obtain a bachelor's degree from the College of Natural Sciences and Mathematics, while working on a minor in education. This program is designed to give students a range of classroom experience, with the final capstone being a semester-long student teaching assignment.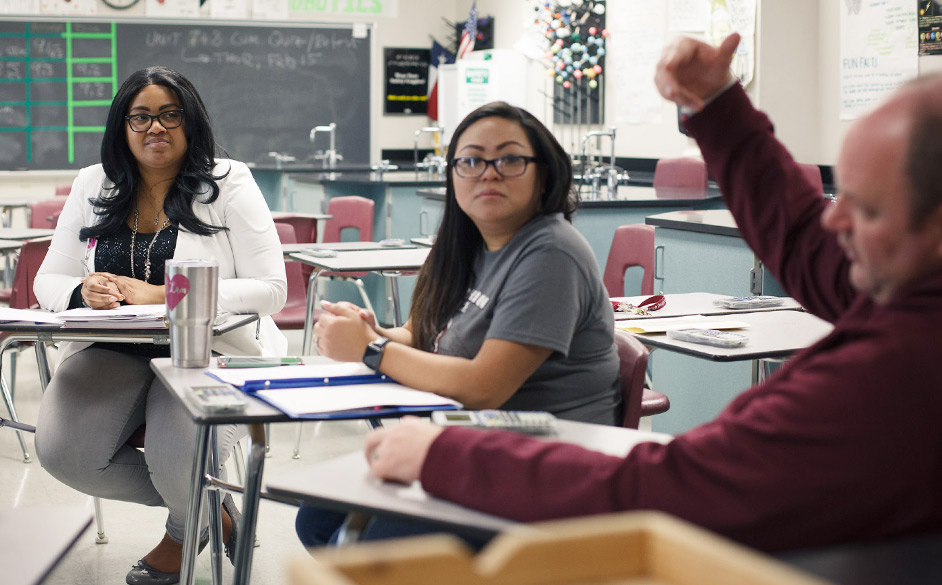 "During my first year of teaching, my mentor told me I didn't look like a first-year teacher," said Jacqueline Ekeoba, who graduated from the program in 2010. "By the time I graduated, I'd seen enough to realize there will be problems, for which I'd already come up with solutions. By the time I started teaching, I'd developed a goodie-bag of experience I could pull from."
Adapting to Promote Success in the Classroom
After teaching chemistry and physics for three years, Ekeoba is now a science instructional coach at Cinco Ranch High School. She is also working on a Ph.D. in education, so that she can continue supporting and developing STEM teachers.
Ekeoba, who has remained active with teachHOUSTON, notes that ongoing feedback from graduates has helped the program adapt to serve the needs of future teachers.
"The first three years are critical for determining which teachers stay in the profession," Evans said. "We're proud that our success rate is so high."
- Rachel Fairbank, College of Natural Sciences and Mathematics