Commencement Celebrates Spring Graduates, Including Five, 4.0 Grads
Nearly 500 bachelor's, master's and doctoral degree candidates crossed the stage during the University of Houston Commencement for College of Natural Sciences and Mathematics (NSM) on May 11. The ceremony was held at NRG Arena.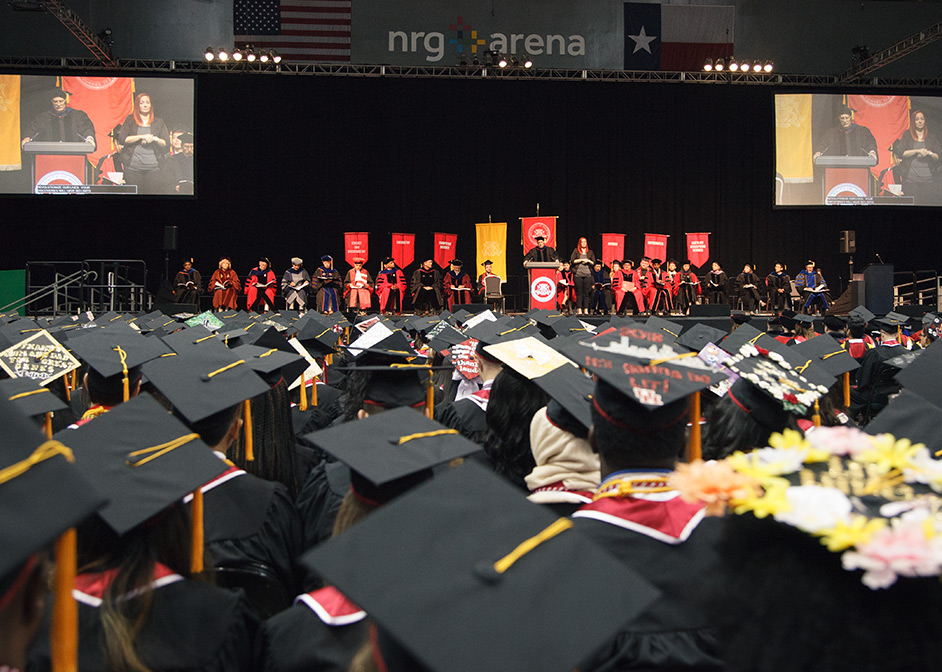 Although more than 700 NSM students completed degree requirements for spring 2018, not all were able to attend the ceremony. NSM's doctoral candidate participants, numbering over 40, earned degrees in atmospheric sciences, biochemistry, biology, chemistry, computer science, geology, geophysics, mathematics, or physics. Thirty-nine NSM master's degree candidates attended, and more than 400 participants were candidates for bachelor's degrees.
Eighteen students graduated through the teachHOUSTON program, a collaboration between NSM and the College of Education. They have committed to teach high school math or science.
There were 48 summa cum laude graduates, the highest academic honor for bachelor's degree recipients. An additional 151 undergraduate students graduated either cum laude or magna cum laude.
The ceremony included a student address delivered by summa cum laude graduate Christopher Wong, who received a bachelor's degree in biology. Each year, NSM holds a competition for student speaker that is open to all summa cum laude graduates.
The ceremony also included remarks from NSM Alumni Association board member Dr. Kathy O'Keefe, Student Government Association immediate past president Winni Zhang, and the Student Regent for UH System Board of Regents, Neelesh Mutyala, an NSM honors biomedical sciences major.
NSM's 4.0 Summa Cum Laude Graduates – Harari, Ibraheim, Kharsa, Lau and Smith
Noam Harari, Marina Ibraheim, Admad Kharsa, Jin Lau and Terrance Smith were honored as NSM's 4.0 summa cum laude graduates. All five will pursue advanced degrees.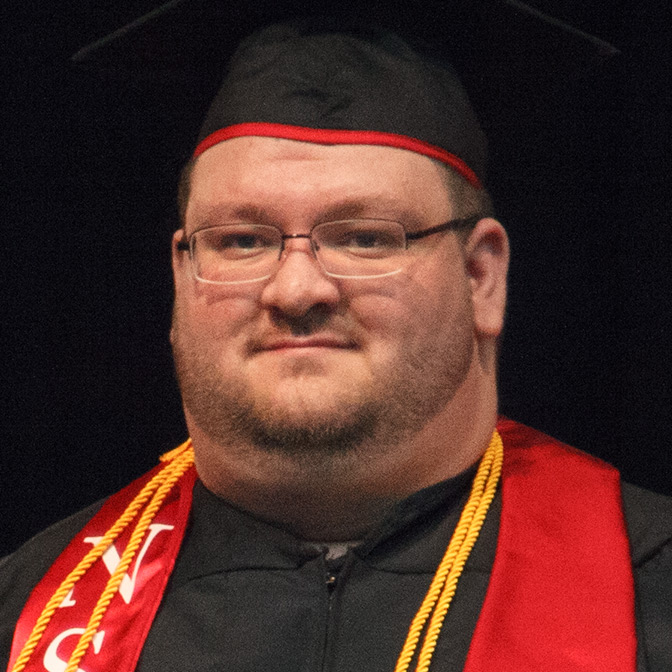 Noam Harari – Beginning M.S. in Applied Mathematics at UH
A mathematics major and biology minor, Noam Harari transferred to UH in spring 2015. He previously attended Texas A&M University. At UH, he tutored students in calculus, pre-calculus and physics.

"Working with professors who value the act of teaching highly impacted my career goals," Harari said. "I plan to use my advanced degree to either teach or work in the biomedical sciences."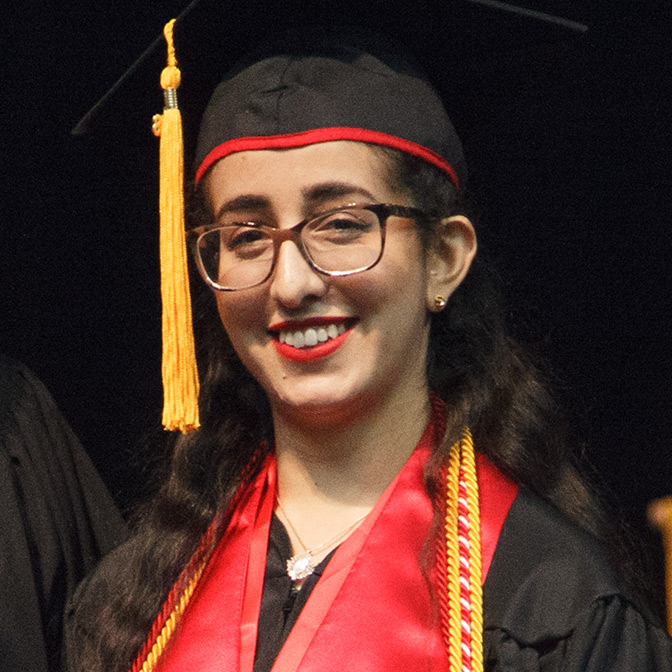 Marina Ibraheim – Attending University of Texas McGovern Medical School
Marina Ibraheim, an honors biomedical sciences major, has already completed her first year of medical school as part of UH's B.S./M.D. dual-degree program. As a UH undergraduate, she participated in a medical mission trip to Guatemala. "That experience reaffirmed by desire to become a doctor," she said.
Through her undergraduate research, she was first author on a published paper covering emotion dysregulation in teens with borderline personality disorder.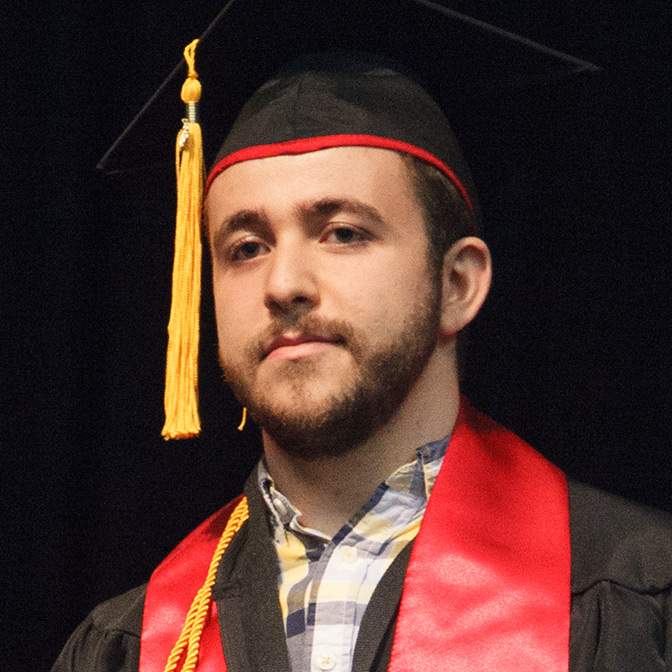 Admad Kharsa – Entering University of Texas Medical Branch in Fall
A biology major, Ahmad Kharsa realized his potential in teaching while serving as a tutor and peer facilitator in organic chemistry and biochemistry. He also participated in a summer research program at M.D. Anderson working on potential treatments for breast cancer.
"Beyond my clinical interests in medicine, I plan to be part of an academic medical center and look forward to teaching future generations of physicians," Kharsa said.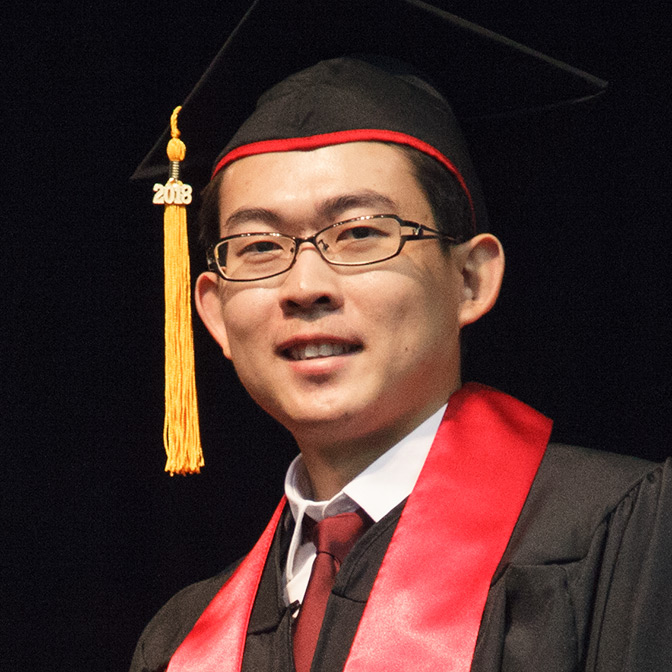 Jin Lau – Entering Ph.D. Program in Economics at Rutgers University
Jin Lau, a mathematics major with a finance option, was born and raised in Singapore. His experiences with UH professors, who went the extra mile to help students learn and succeed, led to his desire to become an economics professor.
"Economics encompasses a good mix of mathematical analysis, and I would like to utilize it for a better understanding of the financial economy," Lau said.
Terrance Smith – Pursuing Medical Degree
Terrance Smith received a B.S. in biochemistry. His first degree, from Texas A&M University, was in chemical engineering. After working in industry, he decided to change careers.
"My experiences as a UH biology peer facilitator cemented my interest in biology, especially life sciences, and shaped my desire to go to medical school," Smith said. Through upper-level courses and an M.D. Anderson internship, he developed an interest in cancer research.
Commencement Student Speaker – Christopher Wong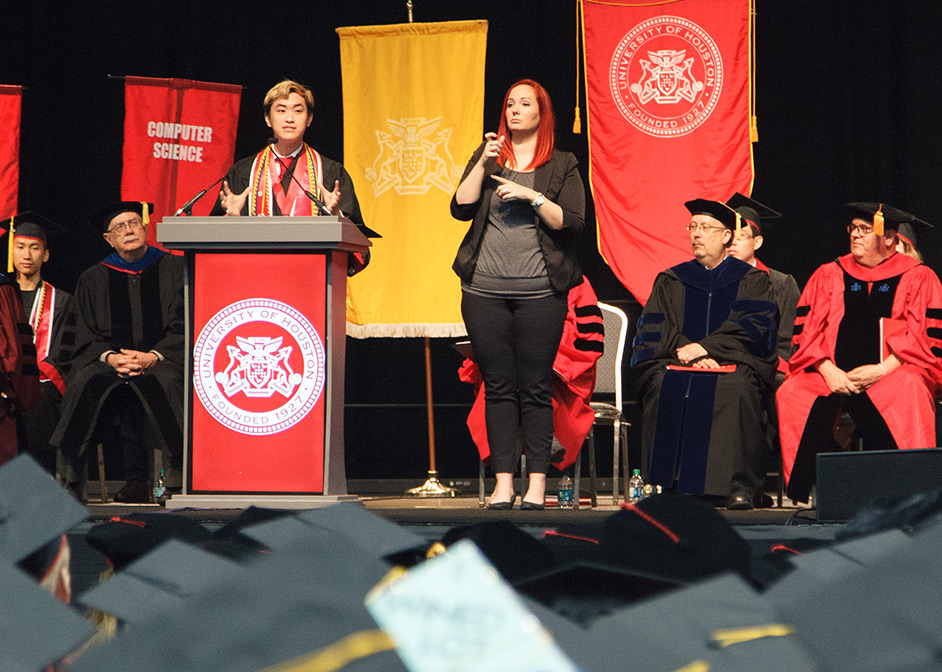 Commencement student speaker Christopher Wong is a native Houstonian. He received a bachelor of science in biology, with additional majors in French and liberal studies.
During his speech, Wong challenged graduates to "press onward to a future where we can all benefit from the advancements of science and technology." He asked students to think more carefully about the world around them and to challenge what they feel is wrong.
In addition to training in the UH labs of Drs. Ognjen Miljanic and Mehmet Sen, Wong participated in a summer research fellowship at Yale School of Medicine. While there, he investigated molecular pathways of inflammation in the cardiovascular system.
"During a medical mission to Honduras, I learned the importance of global health and primary care and developed a better understanding of healthcare disparities and challenges in developing nations," Wong said.
In July, Wong will enter Baylor College of Medicine. He has been awarded the John P. McGovern Foundation Scholarship, providing $30,000 over his four years at BCM.
Commencement Banner Bearers – NSM Outstanding Students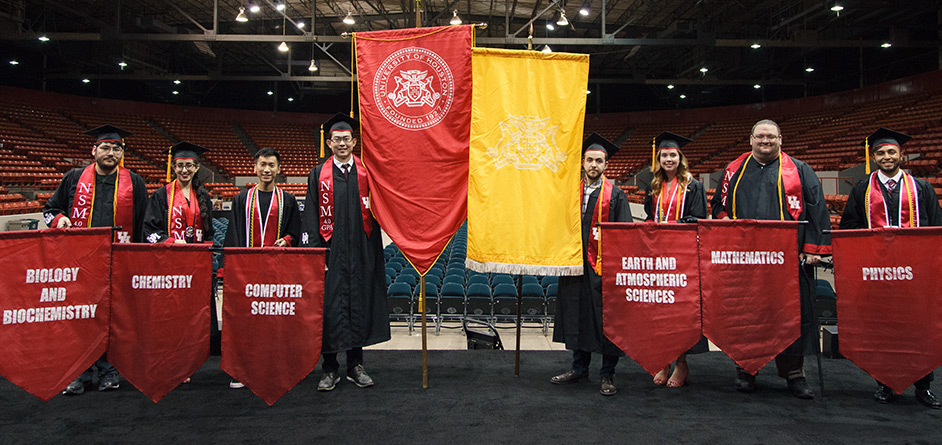 Continuing a tradition established in 2015, the Commencement processional included outstanding students from NSM's six departments carrying the university, college and departmental banners. The banner bearers had the additional honor of sitting on stage as part of the Commencement platform party.
University Banner Jin Lau, mathematics major
College Banner Ahmad Kharsa, biology major
Department of Biology and Biochemistry Terrance Smith
Department of Chemistry Marina Ibraheim
Department of Computer Science Kenny Le
Department of Earth and Atmospheric Sciences Ellen Creecy
Department of Mathematics Noam Harari
Department of Physics Luis Victor
- Kathy Major, College of Natural Sciences and Mathematics