Conference Focuses on Best Practices for Student Success
In February, professors and administrators from around the country will convene at the University of Houston to discuss challenges and opportunities in science, technology, engineering and mathematics (STEM) education at Hispanic Serving Institutions (HSIs).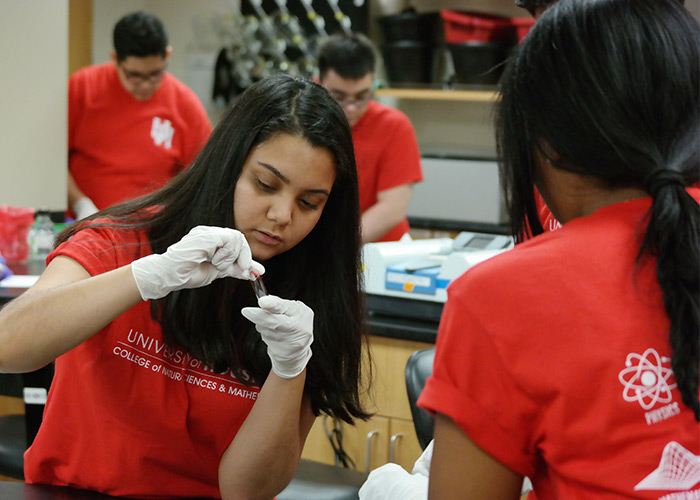 UH is one of four institutions receiving $100,000 grants this year from the National Science Foundation (NSF) to fund conferences aimed at shaping future STEM programs at HSIs.
HSIs are defined as not-for-profit institutions with undergraduate enrollments of at least 25 percent Hispanic students where at least fifty percent of the total undergraduate student body also is eligible to receive certain kinds of federal financial aid.
Shaping Future NSF STEM HSI Initiatives
This conference, titled "Transitions to Success in STEM Fields and Beyond," will help shape future NSF initiatives for improving STEM outcomes at HSIs nationally. Discussions will be about transition points in students' educational careers from high school through college and on to graduate school and the workforce, with a focus on strategies that get results.
"We will have conversations about what programs have worked, and which ones have not," said Andrew Hamilton, associate dean for student success in the UH College of Natural Sciences and Mathematics. "If we can bring different voices to the table, then maybe we can determine what are the effective programs and strategies that NSF might best focus on in the future."
The meeting will include workshops as well as "What Works Presentations," in which conferees share data about successful projects that may be exportable to other campuses.
"Ultimately, this conversation will help NSF create calls for applications for future proposals," said Hamilton, who is the principal investigator for the conference grant.
Conference to Focus on Transition Points
Moving from high school to college, or from community college to a four-year university, or from university to the workforce, comes with its own struggles.
For first-generation and low-income students, these transitions can be especially fraught. Some of the factors that affect student success include a lack of family members who can offer advice on the college process, an inadequate level of academic preparation due to attending resource-poor high schools, or the financial struggles incurred by educational costs.
"Moving from high school to college, there is a shift in learning responsibility, with students going from a learning environment that is highly structured, to one where they are responsible for creating their own structure," said Donna Pattison, instructional professor of biology, assistant chair for undergraduate affairs in the Department of Biology and Biochemistry, and an organizer for the conference.
"We are seeing very bright students, who come to college and struggle, simply because they haven't had the advantages their peers have had," Pattison said.
Conference organizers include educators from The City College of New York, Florida International University, Houston Community College, New Mexico State University, University of California Irvine and the University of New Mexico. The conference will include 60 participants, as well as university presidents and chief academic officers.
- Rachel Fairbank, College of Natural Sciences and Mathematics