More than 1,000 Items Collected for Third Ward Schools
In support of Hurricane Harvey relief efforts, the University of Houston's College of Natural Sciences and Mathematics hosted a school supply drive to benefit schools in the Third Ward.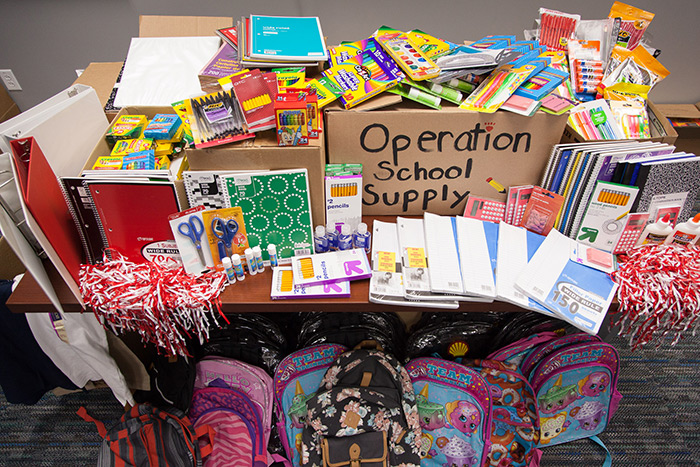 The one-week drive, organized by the NSM Dean's Office, brought together alumni, faculty, staff and students in a common effort to help local schools. School supply collection began at the NSM Tailgate on September 16 and continued throughout the week.
"Providing replacement school supplies and teaching materials is one way that UH and NSM can help the students and teachers who experienced losses due to Hurricane Harvey," said Dan E. Wells, NSM dean. "The event was organized quickly, and it is gratifying to see the response from our alumni, faculty, students and staff."
teachHOUSTON, NSM's collaborative program with the College of Education to train secondary math and science teachers, lent support by donating several boxes of binders, art supplies and backpacks. In all, more than 1,000 items were collected ranging from glue sticks, markers and calculators to composition notebooks and school uniforms.
Materials will be delivered to the schools on September 27. Schools that will be receiving supplies include:
Stephen F. Austin High School
Blackshear Elementary School
Cullen Middle School
Mickey Leland College Preparatory Academy for Young Men
Lockhart Elementary
Ryan Middle School
University of Houston Charter School
Phillis Wheatley High School
Worthing High School
Yates High School
Yellowstone Academy
Young Women's College Preparatory Academy
- Kathy Major, College of Natural Sciences and Mathematics