Students Self-Organized to Address Immediate Needs
As Hurricane Harvey downgraded to a tropical storm, dropping up to 52 inches of rain over the city and creating unprecedented flooding, people started figuring out ways in which they could help.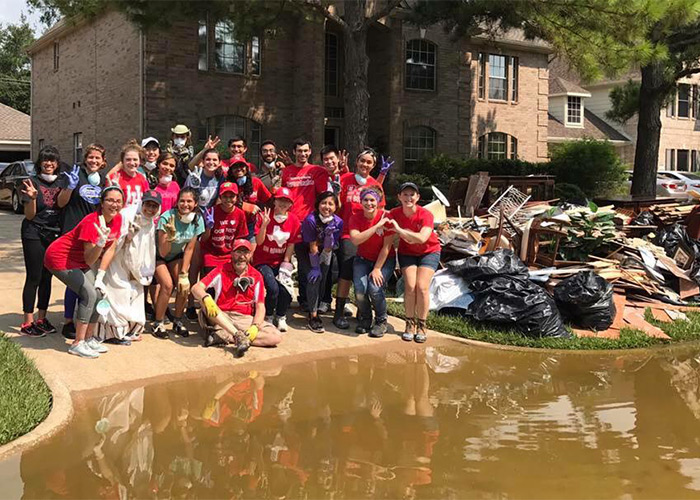 For students within the College of Natural Sciences and Mathematics at the University of Houston, that meant organizing among themselves, to identify the needs.
"I knew UH was going to organize long-term efforts, but I also knew there would be a gap in time, when school was still closed, but people needed help," said True Furrh, an NSM Ambassador double-majoring in environmental sciences and civil engineering. "So I thought, what can I do to fill that void?"
For Furrh, whose family lost their home during Hurricane Ike, the urge to help was personal. Given his experiences in high school, where he organized a student group to support the athletic teams and also volunteered as a construction worker for his church, he had the skills to organize relief efforts.
So Furrh created a Facebook group, bringing in friends, who then brought in their friends. Within a week, this group swelled to 1,500 members. Initially, the focus was setting up carpools to save on gas and figuring out which shelters in the city needed volunteers.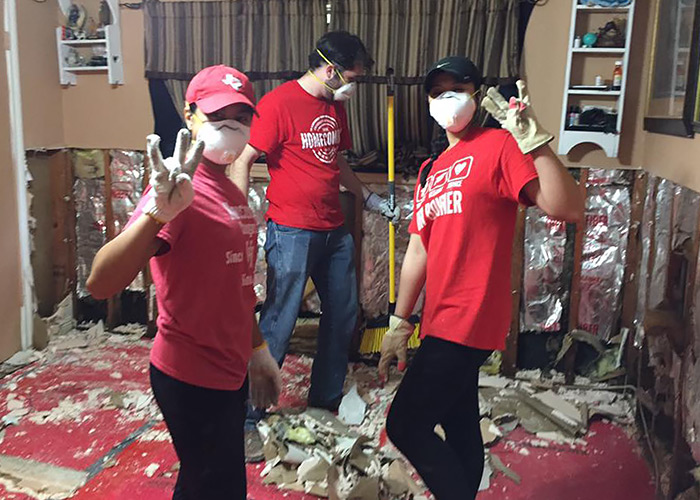 Meanwhile, Furrh reached out to Andrew Hamilton, associate dean for student success, to coordinate efforts.
Once the city started drying out, their focus shifted to cleanup, setting up vanpools, and identifying homes in need of help. Furrh, with the help of other volunteers, organized crews, which were then dispatched to locations all across Houston. Over the span of four days, the crews cleaned out 34 houses. Wherever people needed help, students went.
"Seeing how many UH students were there was heart-warming," said Chelsea Cheung, a mathematical biology major who volunteered to clean flooded homes.
"Those students worked tirelessly in very bad conditions, day after day, and they worked hard," Hamilton said. "By the time we got started with house demos, many other students were volunteering at the shelters and even working shifts in the dining hall to relieve staff there who did not have replacements."
Now that school has started again, with students returning to their schedules from before the storm, life is still not the same. Cleanup will continue for weeks, followed by rebuilding, as people try and get back to a new normal. For Furrh and Cheung, that means finding ways to remain engaged in the community, while also juggling life as a student.
"Managing school, volunteer efforts, and student organizations will be tough, but not as tough as losing a home again," Furrh said. "This storm was a nightmare for a lot of people, but it's a continuing nightmare for Houston's most vulnerable populations. As a city, we need to help them the most."
- Rachel Fairbank, College of Natural Sciences and Mathematics