Drop-In Science Camp Addressed Need for Last-Minute Childcare
Walking through Butler Plaza on the Tuesday following Labor Day, as students returned to campus after Hurricane Harvey, visitors may have seen children launching rockets made out of soda bottles. Later during the week, walking down the basement hallway of the Fleming building, visitors heard the sounds of children's laughter.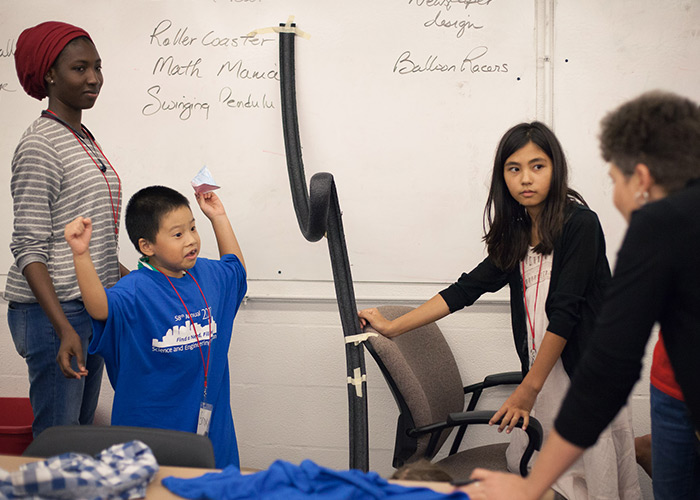 Campers test out roller coasters during the Hurricane Harvey STEM Camp, which was organized to address the need for childcare options.After the devastation wrought by Hurricane Harvey, the University of Houston made the decision to re-open the day after Labor Day, with faculty and staff prepared to offer students the stability and resources they need to build their future.
However, with local schools closed for another week and many daycare facilities remaining closed, parents found themselves scrambling for childcare options.
"Finding last-minute childcare is really hard," said Amanda Garza, a kinesiology major whose nine-year old son is enrolled in the camp.
Within the College of Natural Sciences and Mathematics, a group of educators came up with a solution, donating their time and skills to organize a free, weeklong Hurricane Harvey STEM Camp for the children of faculty, staff and students.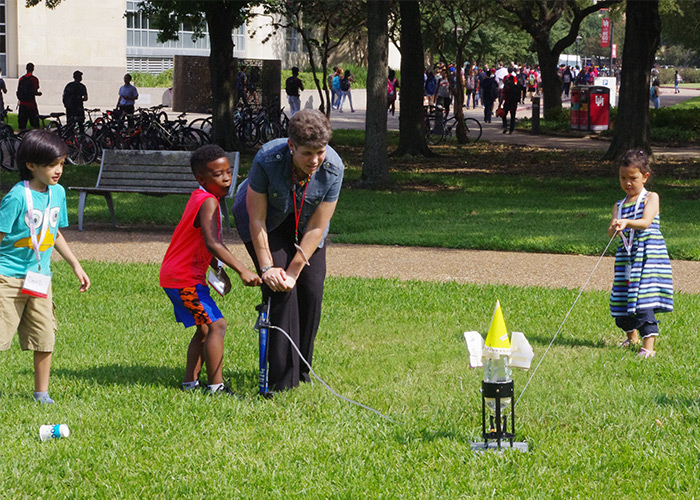 Campers launch bottle rockets in Butler Plaza."Andrew Hamilton, associate dean of student success suggested the idea, and within just a few hours, everyone came together to help organize," said instructional professor of biology Dr. Donna Pattison.
Organizers included interim executive director of the UH STEM Center Dr. Heather Domjan, UH STEM Center program director Dr. Laura Jacobs, as well as Pattison. Also lending assistance was Dr. Andrew Hamilton, as well as over 20 student volunteers.
With an enrollment of 50 students, this camp was offered for children in grades K-8, with the option of morning and afternoon slots.
Activities have included building and flying soda-bottle rockets, building bridges out of toothpicks, constructing boats out of aluminum foil, and testing pendulums. With these activities, campers were given the opportunity to test what they build, learning about physical concepts that make rockets fly higher, bridges and boats hold more weight, and pendulums swing.
"My son is loving the activities," said Garza. "I've never seen him so happy."
- Rachel Fairbank, College of Natural Sciences and Mathematics