Peter Jurtshuk, professor emeritus in the University of Houston's Department of Biology and Biochemistry, passed away on July 9, 2017. He was 87.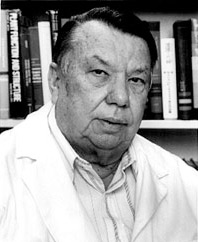 Jurtshuk was an active member of the UH faculty for 41 years, joining the University in 1970 as an associate professor. He retired as a full professor in 2011 and was named professor emeritus in 2012. Prior to joining UH, he served as an assistant professor of microbiology at the University of Texas at Austin from 1963-1969. He received his Ph.D. from University of Maryland in 1957 and performed postdoctoral research at University of Wisconsin.
Jurtshuk was one of the world's foremost experts in oxygen-metabolizing enzymes in bacteria. In his career, he published 74 peer-reviewed papers, six book chapters and 117 scientific abstracts. His scientific publications have been cited well over 2,000 times. He was named a Fellow of the American Academy of Microbiology in recognition of his record of scientific achievement and his original contributions that advanced microbiology.
He was an excellent mentor and teacher. During his time at UH, he mentored or co-mentored 18 Ph.D. students and 33 M.S. students. He also had responsibility for one of the department's important undergraduate courses – Microbiology. Over his 41 years at UH, he taught more than 10,000 undergraduates.
His service to the University and department included Undergraduate Chair of Biology (1976-1982) and positions on the Departmental Executive Committee periodically between 1973 and 1984. His longest terms of service were as the Medical Technology Advisor, Biology, and as the UH advisor for the Beta Beta Beta Biology Honorary Society (both terms from 1973-1994).
Visitation will be Thursday, July 13, from 6-8 p.m., at Jeter Memorial Funeral Home Chapel, 311 N. Friendswood Dr., Friendswood, TX. Funeral services will be at 10 a.m. on Friday, July 14, at the same location.
The family has requested that donations be made in his name to Clear Lake Baptist Church Food Pantry, the Make a Wish Foundation or the Gary Sinise Foundation.