Convocation Celebrates Spring Graduates, Including Three, 4.0 Grads and UH's Youngest Graduate
More than 470 bachelor's, master's and doctoral degree candidates crossed the stage during the College of Natural Sciences and Mathematics (NSM) Spring Convocation on May 13. The ceremony was held at the NRG Arena.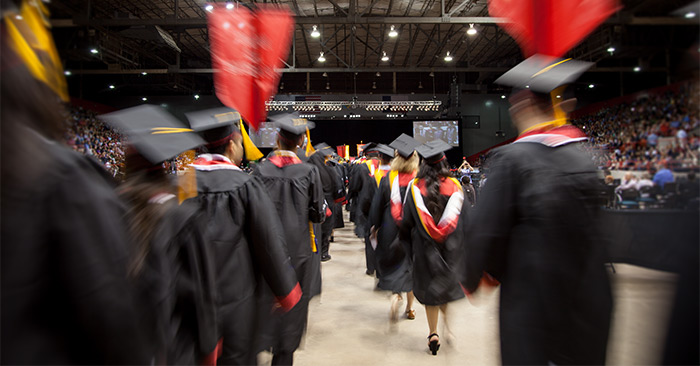 Although nearly 600 NSM students completed degree requirements, not all were able to attend the ceremony. NSM's doctoral candidate participants, numbering over 40, earned degrees in atmospheric sciences, biochemistry, biology, chemistry, computer science, geology, geophysics, mathematics, or physics. Approximately 30 NSM master's degree candidates attended, and nearly 400 participants were candidates for bachelor's degrees.
There were 40 summa cum laude graduates, the highest academic honor for bachelor's degree recipients. An additional 104 undergraduate students graduated either cum laude or magna cum laude.
The ceremony included a student address delivered by summa cum laude graduate Lejla Zoronjic, who received a bachelor's degree in biology. Each year, NSM holds a competition for student speaker that is open to all summa cum laude graduates.
NSM's 4.0 Summa Cum Laude Graduates – Baig, Nguyen and Pepin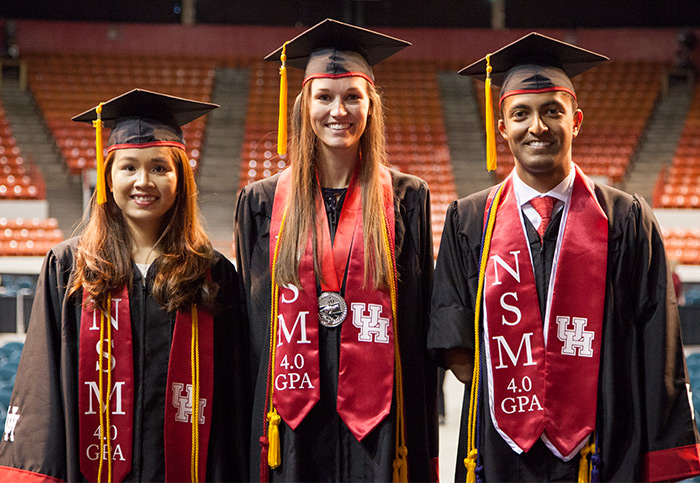 NSM's 4.0 summa cum laude graduates Nga Nguyen, Karissa Pepin and Mirza BaigMirza Baig, Nga Nguyen and Karissa Pepin were honored as NSM's 4.0 summa cum laude graduates. All three will pursue advanced degrees.
Mirza Baig – Attending Baylor College of Medicine
Though born in Karachi, Pakistan, Mirza Baig considers Houston his hometown, having spent most of his life here. Baig graduated with a bachelor's degree in honors biomedical sciences.
"My experience in the Human Situation literature course, as well as my courses for the medicine and society minor, taught me what an important role the humanities play in STEM professions," Baig said.
At UH, Baig did research in the UH Behavioral Neuroscience Lab of Leigh Leasure, studying the effects of binge drinking on brain physiology. He also worked in the lab of Michael Cottingham, where he studied the overriding societal perceptions held about athletes with disabilities and about wheelchair sports.
Baig also participated in UH's Adaptive Athletics Program, as the wheelchair tennis coordinator, providing opportunities for sports involvement to individuals with spinal cord injuries and limited mobility.
Outside of UH, he volunteered at the Harris County Psychiatric Center and provided English tutoring to refugees and families entering the U.S.
After graduation, Baig will enter Baylor College of Medicine.
Nga Nguyen – Attending University of Texas Medical Branch
Nga Nguyen, who emigrated from Vietnam in 2013, completed a bachelor's degree in biology with a minor in mathematics.
"I chose UH because it was close to my family, and I heard about President Khator and all she had done to bring the University to a new level," Nguyen said.
Since entering UH, Nguyen has been doing undergraduate research with Joydip Das in UH's College of Pharmacy. "I studied the role of a protein that we believe is necessary to protect the brain and neurotransmitters from Alzheimer's disease," Nguyen said. She has co-authored a paper on this research that is currently under review for publication in either a biochemistry or neurochemistry journal.
Nguyen also spent two semesters participating in clinical research through the Academic Associates Program, a partnership between NSM, Texas Children's Hospital and Baylor College of Medicine.
In her spare time, she tutored underprivileged elementary students in Katy, Texas, and volunteered at churches and hospitals.
In August, Nguyen will start classes at the University of Texas Medical Branch in Galveston.
Karissa Pepin – Beginning Geophysics Ph.D. at Stanford
Karissa Pepin, who grew up in Stillwater, Minnesota, received a Bachelor of Science in geophysics. This is her second bachelor's degree, having received a degree in French in 2012 from Augustana University.
Undergraduate research and her participation in the Summer Undergraduate Research Fellowship program impacted her educational plans.
"The experience of being able to focus on research for an entire summer led me to complete a Senior Honors Thesis and prepared me for my next step – graduate school," Pepin said. Her research in the lab of Aibing Li, a professor in NSM's Department of Earth and Atmospheric Sciences, involved the creation of high-resolution tomographic images of the crust and upper mantle of central Alaska from ambient surface waves.
Last year, she served as a counselor for the Science Engineering Fair of Houston's Scholars Program exposing young students to science, helping them develop ideas for science fair projects, and giving them a better understanding of how to do research.
After graduation, Pepin will be entering the Ph.D. program in geophysics at Stanford University.
Convocation Student Speaker – Lejla Zoronjic
Convocation student speaker Lejla Zoronjic moved to the U.S. in 2001 from Bosnia and Herzegovina.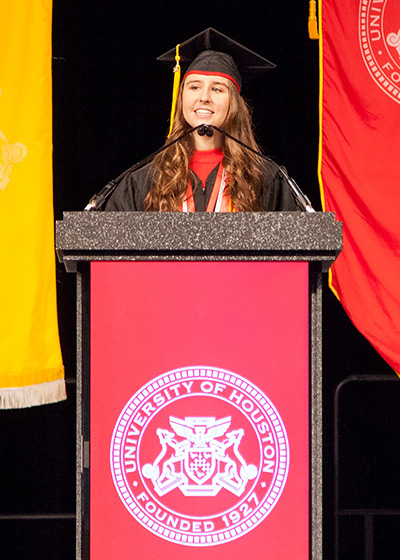 Convocation Student Speaker: Summa cum laude graduate Lejla ZoronjicDuring her speech, Zoronjic reviewed the life lessons learned by all the graduates while at UH, encouraging graduates to remember that "no matter what you face in your career or in your personal life, you can and will get back up."
Though she entered UH as a pre-med student, her career plans changed while on a service learning trip to Honduras and Guatemala. "I got to shadow a dentist, and I really liked it; during that 2 weeks I learned so much," she said.
After that experience, she became active in the American Student Dental Alliance, serving as a pre-dental liaison with the student chapter at the UT dental school. She also volunteered in the dental office at Houston's San Jose Clinic which provides healthcare for the uninsured.
Zoronjic also did undergraduate research in the lab of Richard Meisel and participated in NSM's Scholar Enrichment Program as a tutor and workshop facilitator, helping other undergraduate students master organic chemistry and calculus.
After a summer backpacking trip through Europe, Zoronjic will enter the University of Texas School of Dentistry in Houston.
UH's Youngest Graduate – NSM's Rasheed Ajala
This semester, NSM had the distinction of having the University of Houston's youngest graduate. Rasheed Ajala, 19, graduated magna cum laude with a Bachelor of Science in geophysics. He came to the U.S. in 2013 from Lagos, Nigeria.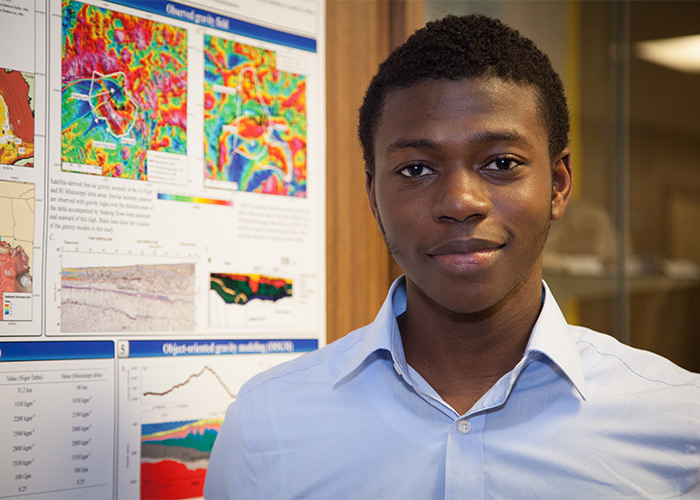 Rasheed Ajala, 19, is UH's youngest graduate. He will enter the geophysics Ph.D. program at Louisiana State University.While at UH, Ajala received several scholarships, including the Society for Exploration Geologists, the National Association of Black Geoscientists, and his Department of Earth and Atmospheric Sciences Field Camp Scholarship.
He did undergraduate research with Paul Mann working on gravity and flexure modeling to get a better understanding of the subsurface. "I started research as soon as I got to UH. That experience impacted my decision to pursue a career in research," Ajala said.
In the fall, Ajala will enter the geophysics Ph.D. program at Louisiana State University.
Convocation Banner Bearers – NSM Outstanding Students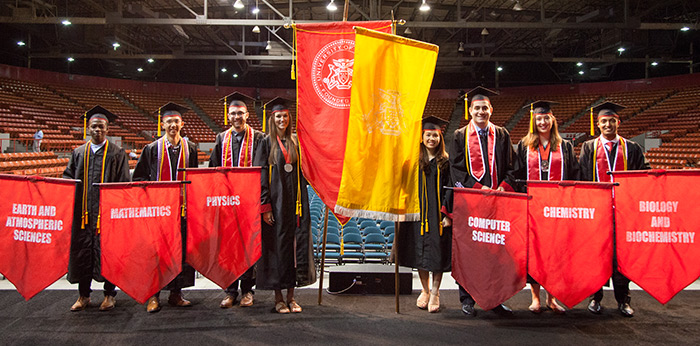 Continuing a tradition established in 2015, the College's Convocation processional included outstanding students from NSM's six departments carrying the university, college and departmental Banners. The banner bearers had the additional honor of sitting on stage as part of the Convocation platform party.
University Banner Karissa Pepin, geophysics major
College Banner Nga Nguyen, biology major
Department of Biology and Biochemistry Mirza Baig
Department of Chemistry Clara Kohlmetz
Department of Computer Science Salim El Awad Ibrahim
Department of Earth and Atmospheric Sciences Rasheed Ajala
Department of Mathematics Shawn Sunshine
Department of Physics Brandon Carter
- Kathy Major, College of Natural Sciences and Mathematics