Team Recovered 219 Meteorites
Antarctica, one of the most remote and beautiful locations on Earth, happens to also be the best place to hunt for meteorites.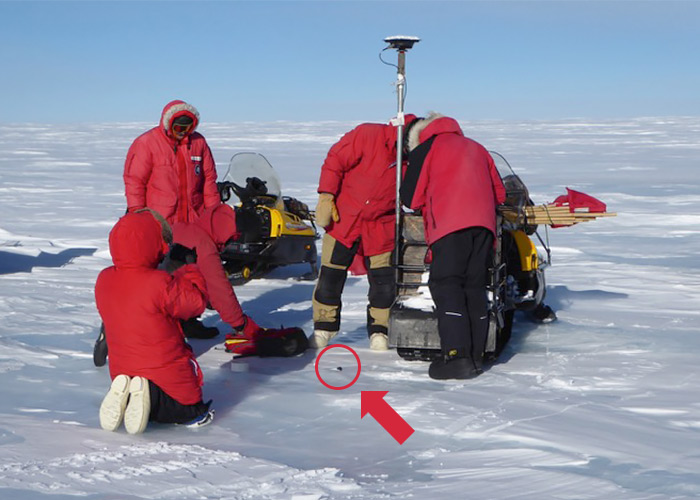 ANSMET team recovering a meteorite.Dr. Minako Righter, a researcher and lab supervisor in the Department of Earth and Atmospheric Sciences, recently returned from the 2016-2017 field season of the Antarctic Search for Meteorites, or ANSMET for short.
While in Antarctica, Righter worked with a team of six, searching for meteorites that will give us clues about the solar system. During their expedition, the team recovered a total of 219 meteorites.
ANSMET: The 'Poor Person's Space Mission'
"Although meteorites fall on Earth evenly, in Antarctica they are easy to find because everything is covered in ice," Righter said.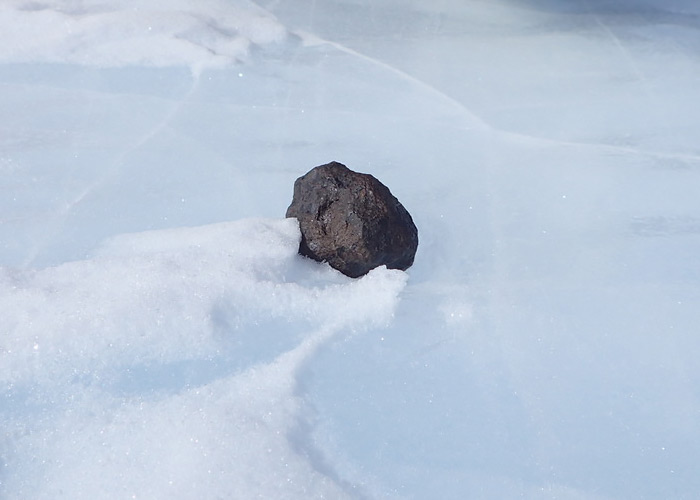 One of the 219 meteorites recovered during the 2016-2017 field season.In Antarctica, where there is a low amount of indigenous materials, any rock spotted is likely to have fallen from the sky. Furthermore, the abundance of blue ice, with mountain winds eroding snowfall and exposing older layers, makes meteorites easy to spot.
For this reason, ANSMET is called the 'poor person's space mission.' By hunting meteorites in Antarctica, scientists can recover materials from the solar system at a tiny fraction of the cost of human or robotic space missions. ANSMET, which is funded by NASA and run by Case Western Reserve University, has been operating since 1976, recovering more than 21,000 meteorites.
Adjusting Plans to Circumstances
"Flying around Antarctica is very hard," Righter said. "You can't fly unless the conditions are perfect."
This year that meant adjusting to a shortage in flights that necessitated a change in plans.
"As meteorite hunters, we can search in different locations, which meant we could readjust our plan, rather than cancel the entire season," Righter said.
Instead of spending five weeks searching for meteorites in an area close to the South Pole, along the Transantarctic Mountain Range, they spent three weeks searching an area north of McMurdo Station.
Remaining Safe in Harsh Antarctic Conditions
In Antarctica, safety and foresight is key, as any team member with an injury or illness in the field will be hundreds of miles from the nearest doctor and thousands of miles from the nearest full-service hospital. Meanwhile, Antarctic conditions, even in the summer, are severe, with strong winds sweeping through the area at periodic intervals, and a wind chill that can drop to as low as -40°F.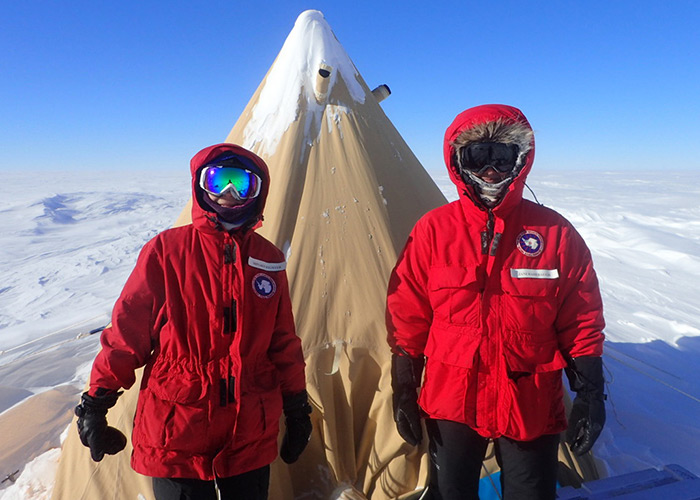 While out in the field, team members lived in tents."A good mountaineer is essential to an Antarctic expedition," Righter said.
In this six-person expedition, two were mountaineers, tasked with keeping the expedition safe. During the expedition, the team stayed in tents. Within these tents, a gas stove provided heat. At night, when team members slept, the gas stove got turned off.
"Antarctica is very dry," Righter noted. "An untended open flame is very dangerous."
To deal with the cold, they slept in heavy sleeping bags, bundled up so that only a tiny breathing hole remained. On the days when the winds made meteorite hunting too dangerous, the team had 'tent days,' where they stayed inside.
"After three tent days in a row, we just wanted to get out," Righter said. "During these times, mountaineers know how humans react. They knew how to keep us motivated and out of danger."
Meteorites Shipped to NASA Johnson Space Center
Any meteorites discovered during the expedition get shipped back to the NASA Johnson Space Center, where they will be catalogued and analyzed. After this process, scientists can request access to meteorites uncovered by ANSMET expeditions. ANSMET members do not get to keep any meteorites for their own use or receive any special privileges or access.
Instead, they get the once-in-a-lifetime experience of hunting for meteorites in Antarctica.
"Antarctica is so beautiful," Righter said. "I wanted to stay longer."
- Rachel Fairbank, College of Natural Sciences and Mathematics