Ceremony Celebrates Summer and Fall 2016 Graduates
More than 250 bachelor's, master's and doctoral degree candidates participated in the College of Natural Sciences and Mathematics (NSM) Fall Convocation on December 16. The ceremony, held at University of Houston's Hofheinz Pavilion, included students completing degrees in summer and fall 2016.
More than 500 NSM students completed degree requirements, but not all were able to attend the ceremony. Sixty-six doctoral candidates earned degrees in atmospheric sciences, biochemistry, biology, chemistry, computer science, geology, geophysics, mathematics, or physics. Approximately 70 NSM students were candidates for master's degrees, and nearly 400 students were candidates for bachelor's degrees.
There were 7 summa cum laude graduates, the highest academic honor for bachelor's degree recipients. An additional 51 bachelor's degree recipients graduated either cum laude or magna cum laude.
Student Speaker – Leora Truong, 4.0 Graduate
Thuy Nhu Leora Truong, graduating summa cum laude with a perfect, 4.0 GPA, spoke at the ceremony on behalf of all the students. She was selected through a speech-writing competition open to NSM's summa cum laude graduates.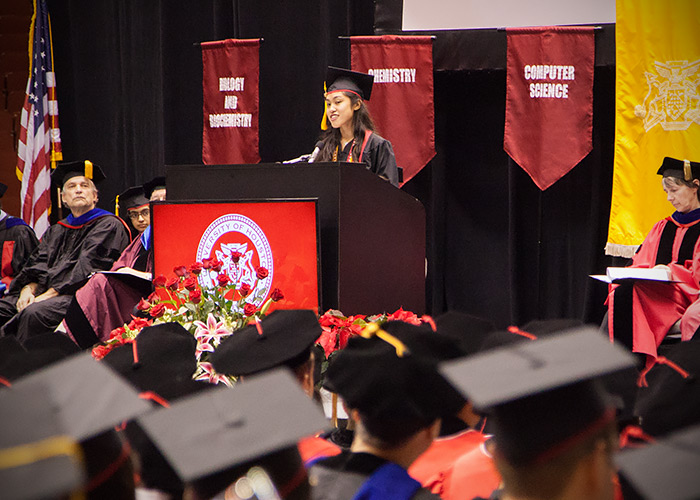 Leora Truong, a 4.0, summa cum laude biology major, gave the student address. She will begin dental school in fall 2017.Truong, a biology major minoring in chemistry, spoke of the challenges, lessons learned and common bonds shared by UH students. She reminded the graduates that in addition to knowledge of facts "we have gained knowledge of the strength of our own character."
A native of Sugar Land, Texas, Truong came to UH with a four-year, Tier One Scholarship. Attending UH is also a tradition in her family. "My family has a very long line of alumni from UH – both my parents, my sister, most of my cousins, uncles and aunts. We bleed Cougar Red," she said.
Truong participated in undergraduate research at UH spending 1-1/2 years in the lab of Tony Frankino, associate professor of biology and biochemistry. "The research, involving fruit flies, looked at body proportion and the underlying mechanisms behind the scaling relationships between body size and trait size."
As a pre-health professional, she sought out opportunities to hone her communications skills, looking for opportunities to work on her bedside manner. Through UH's Language and Culture Center, she worked as a conversation guide, helping international students practice English.
"After participating in Conversation Club, I sought out similarly minded programs that focused on diversity and cultural awareness," Truong said. That effort led her to become active in the UH chapter of Global Medical Brigades, going on medical mission trips to Honduras and Nicaragua. She also volunteered with the Partnership for the Advancement and Immersion of Refugees, chaperoning children on field trips, and with the San Jose Clinic, which provides health care to the uninsured in Houston.
Truong, who has been accepted to four dental schools for the fall, will finalize her dental school decision in early 2017.
Convocation Banner Bearers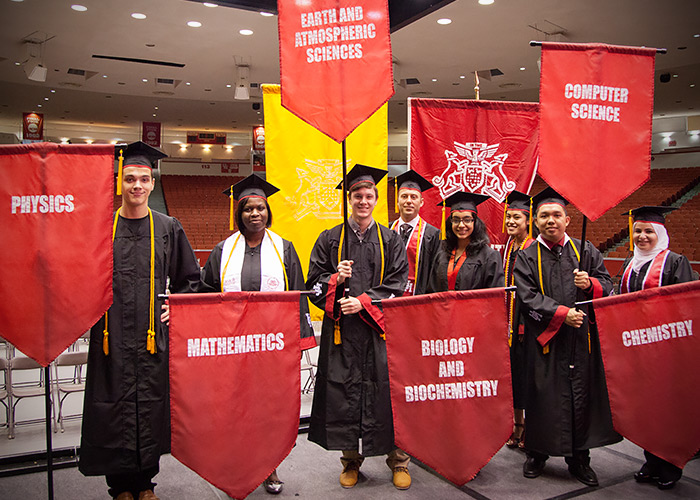 Outstanding students from each of NSM's six departments carried the UH, NSM and departmental banners.The College's Convocation ceremony processional included outstanding students from NSM's six departments carrying the University, College and Departmental Banners. The banner bearers have the additional honor of sitting on stage as part of the Convocation platform party.
University Banner – Thuy Nhu Leora Truong, biology major
College Banner – Michael Craig Ticer, computer science major
Biology and Biochemistry – Trishna Bhagirath Parikh
Chemistry – Randa Hassan Al Saadi
Computer Science – Jon Jerico Ancheta Calanio
Earth and Atmospheric Sciences – Robert Edward Gibler
Mathematics – Felicia Davina Ebhodaghe
Physics – Ryan Patrick Hannigan
- Kathy Major, College of Natural Sciences and Mathematics