His Leadership Transformed NSM into a Premier Academic and Research Institution
John L. Bear, professor of chemistry and former dean of the College of Natural Sciences and Mathematics, passed away on October 24. He was 82.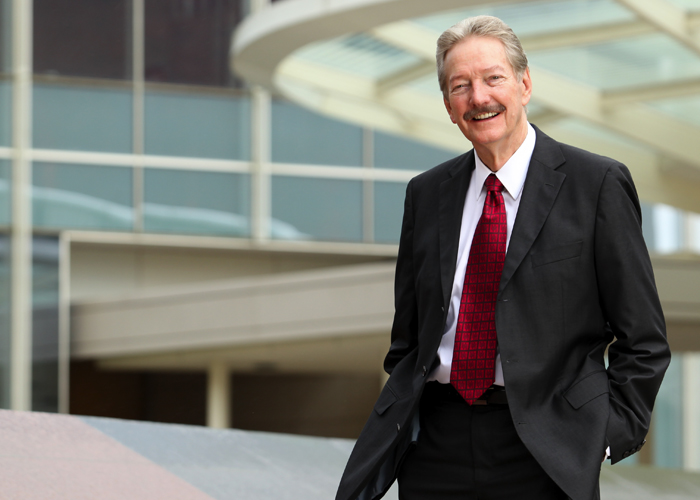 John L. Bear, 1934-2016

Memorial Service
Thur, Nov 3, 12:30 pm
A.D. Bruce Religion Center, University of HoustonHe joined the University of Houston faculty in 1963, accepting an appointment as assistant professor of chemistry. At the time, the College's chemistry, biology, physics and geology departments were housed in what is now known as the Old Science Building; the Fleming Building was under construction. Bear's first office was in the attic of Old Science, and his lab consisted of a couple of benches in a space shared with another faculty member.
Those less than glamorous accommodations did not deter his research, teaching or leadership abilities. In 1975, Bear, now a professor, became chair of the Department of Chemistry. He held that position for 17 years. During that time, the department grew and became regarded as one of the University's leading research departments.
In 1992, Bear was named dean of the College of Natural Sciences and Mathematics. During his 18 years as dean, NSM saw dramatic improvements in many significant measures – research funding, student retention and graduation, enrollment, faculty hires, diversity, laboratory space, and academic prestige.
Through Bear's leadership, the College experienced phenomenal growth – sponsored research doubled to $36 million, undergraduate and doctoral enrollment grew by more than a third, and the number of degrees conferred annually doubled.
Bear was passionate about student success. He initiated several student programs during his tenure, including the Scholar Enrichment Program, the Houston-Louis Stokes Alliance for Minority Participation and the Houston Premedical Academy partnership between NSM, Baylor College of Medicine and the DeBakey High School for Health Professions.
Bear, who grew up near Lampasas, Texas, received his bachelor's and master's degrees from Southwest Texas State University (now Texas State University) and his Ph.D. from Texas Tech University. He performed postdoctoral research at Florida State University.
The family has requested that memorial contributions be made to the John L. Bear Presidential Endowed Fellowship at the University of Houston's College of Natural Sciences and Mathematics, 3507 Cullen Blvd, Room 214, Houston, Texas 77204-5008. For assistance, please contact Janis Parsley, parsleyj@uh.edu.
There will not be a public funeral service; however, a memorial service will be held on Thursday, November 3, at 12:30 pm, at the University of Houston's A.D. Bruce Religion Center, 3841 Cullen Blvd., Houston, TX 77204. (Google Map)