Will Lead the Center for Tectonics and Tomography
John Suppe, world-renowned researcher in the field of structural geology and tectonics and a member of the National Academy of Sciences, joined the University of Houston's College of Natural Sciences and Mathematics this fall.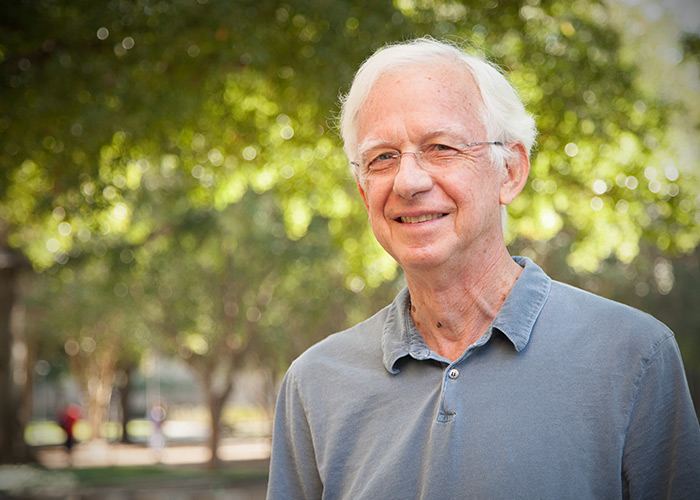 As a Distinguished Professor of Earth and Atmospheric Sciences, Suppe will establish and lead the Center for Tectonics and Tomography, which will be devoted to developing new insights about past plate motions and global circulation of the Earth's mantle. Before joining UH, he was a Distinguished Chair and Research Professor at National Taiwan University and Blair Professor of Geology at Princeton University.
"My reason for coming to the University of Houston is because I want to take hold of the opportunities for discoveries in tectonics that are fueled by tomographic imaging," Suppe said. "Having access to the community here is accelerating us towards that goal."
Suppe's recruitment was made possible through a $2.4 million grant from the Governor's University Research Initiative (GURI). The GURI program, which was a priority for Governor Greg Abbott in the last legislative session, offers matching grants to eligible institutions of higher learning to aid in the recruitment of nationally renowned researchers to Texas.
"Suppe's research interests complement the research activities of many of our faculty members," said Hua-Wei Zhou, chair of the Department of Earth and Atmospheric Sciences. "Recruiting Suppe to UH will add to the quality and recognition of our programs."
Accompanying Suppe is his collaborator and mentee Jonny Wu, who joined UH as an assistant professor of geology this fall and who will be part of the Center for Tectonics and Tomography.
"The University of Houston is very strong in petroleum-related research," Suppe said. "Tomography, which is one of two key focuses of this center, is important both for petroleum research as well as understanding the interior of the Earth."
Seismic tomography is a technique that uses information from waves generated from earthquakes or small explosions to image the Earth's subsurface. Similar to a CT scan, which can show a three-dimensional image of the body's interior, tomography can be used to develop a three-dimensional image of the Earth's interior.
"It turns out that when plates are subducted into the Earth's interior, they don't disappear," Suppe said. "What we've found is that we can map these plates in 3D using tomography, then reconstruct these plates to show where they were previously located on the Earth's surface."
Using this technique, Suppe and his colleagues, including Wu, are able to image remnants of tectonic plates within the Earth's interior. In a recent paper, published in the Journal of Geophysical Research, they described this technique, which they used to reconstruct a long-lost ocean that was once between the Pacific and Indian oceans.
"These plates don't disappear until they reach the core, which takes about 200 million years, meaning that we have a complete record," Suppe said.
"The recent work by Suppe and Wu has generated a wave of excitement among geoscientists worldwide," noted Zhou. "The establishment of the Center for Tectonics and Tomography under Dr. Suppe's leadership will transform the impact of geosciences programs on the energy and natural resources industry."
In addition to this recent work, Suppe is known for his work on fault-related folding, as well as extensive work on the formation of mountain belts. Some of his many awards and accolades include the Alexander von Humboldt Foundation research prize and a Career Contribution Award in Structural Geology and Tectonics from the Geological Society of America. Suppe has been a member of the National Academy of Sciences since 1995.
- Rachel Fairbank, College of Natural Sciences and Mathematics