Convocation Celebrates Spring Graduates, Including Three, 4.0 Grads
More than 400 bachelor's, master's and doctoral degree candidates participated in the College of Natural Sciences and Mathematics (NSM) Spring Convocation on May 11. The ceremony was held at the University of Houston's Hofheinz Pavilion.
Although nearly 650 NSM students completed degree requirements, not all were able to attend the ceremony. NSM's doctoral candidates, numbering close to 40, earned degrees in atmospheric sciences, biology, chemistry, computer science, geology, geophysics, mathematics, or physics. Approximately 100 NSM students were candidates for master's degrees, and nearly 500 students were candidates for bachelor's degrees.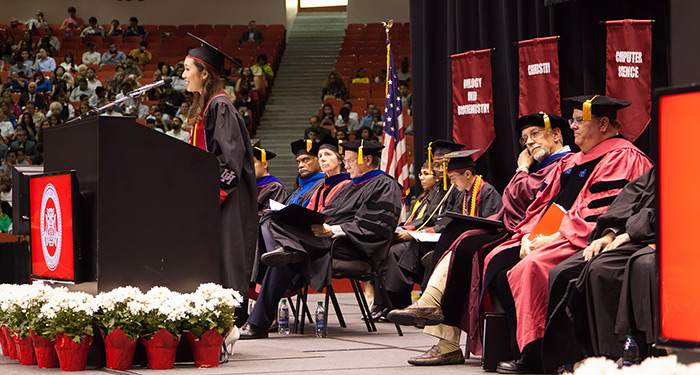 Kristina Duan delivers the student address at NSM Convocation.There were 23 summa cum laude graduates, the highest academic honor for bachelor's degree recipients. An additional 96 undergraduate students graduated either cum laude or magna cum laude.
The ceremony included a student address delivered by summa cum laude and 4.0 graduate Kristina Duan, who received a bachelor's degree in biology. Each year, NSM holds a competition for student speaker that is open to all summa cum laude graduates.
NSM's 4.0 Summa Cum Laude Graduates – Focus on Medical School
Kristina Duan, Trong Nguyen and James Tran were honored as NSM's 4.0 summa cum laude graduates. All three plan to attend medical school.
Kristina Duan – Undergraduate Research
A Texan since the age of 5, Duan completed a capstone Honors Thesis in addition to her bachelor's degree.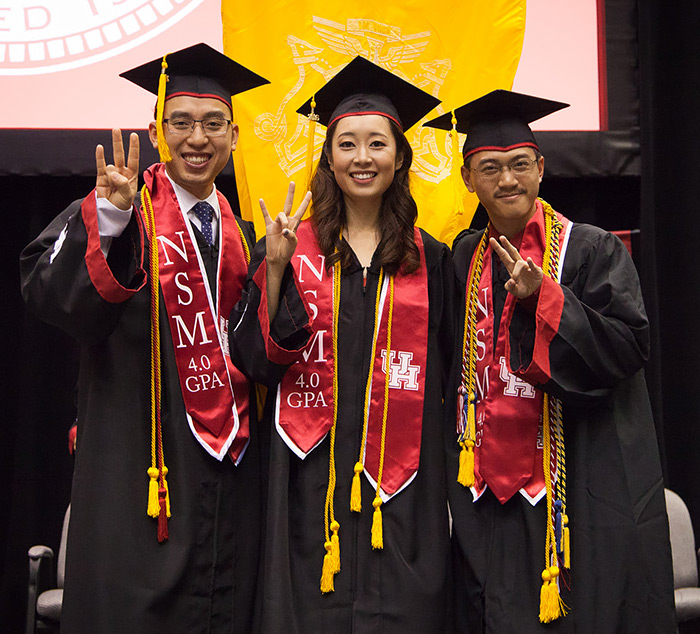 From left, Trong Nguyen, Kristina Duan and James Tran – NSM's 4.0 Graduates.After transferring to UH from a small, liberal arts college, she quickly became involved in undergraduate research receiving a Provost's Undergraduate Research Scholarship and a Summer Undergraduate Research Fellowship in the lab of Dr. Timothy Cooper. Her research focuses on experimental evolution and a beneficial mutation in E. coli that increases fitness.
"Dr. Cooper mentioned his research in class. Afterwards, I talked with him about it," Duan said. "I was shocked and grateful that he spent so much time with me explaining his work. He connected me with his graduate students, and I worked with them at first. Eventually, I got my own independent project."
Outside of UH, Duan volunteers at Texas Children's Hospital's Ronald McDonald House, where she has been volunteering since entering college.
After graduation, Duan plans to continue her research in Cooper's lab and hopes to publish the results and present her findings at scientific conferences. She will also be applying to medical schools for admission in 2017. Duan is interested in pediatrics.
Trong Nguyen – Will Attend UTHealth for Medical School
Trong Nguyen, who emigrated from Vietnam five years ago, is receiving a bachelor's degree in biology.
Nguyen participated in undergraduate research with a project in Timothy Cooper's lab, followed by a year-long renal disease research project in the lab of Dr. Stuart Dryer.
"The opportunities to do undergraduate research really impacted my education," Nguyen said. "The research I am doing on renal disease with Dr. Dryer is the subject for my Honors Thesis."
Nguyen has been an active member of Alpha Epsilon Delta, the Pre-Medical Honor Society, and was the recipient of scholarships from the NSM Alumni Association and the British-American Foundation of Texas.
In his spare time, he tutored in the American Chemical Society Tutor Room, which reminded him how much he loves to teach.
Nguyen will attend the McGovern Medical School at the University of Texas Health Science Center in Houston in August.
James Tran – Helping Others through Tutoring
James Tran is receiving a bachelor's degree in biology with a minor in health.
A native of Port Arthur, Texas, Tran has been active in the American Chemical Society Student Chapter, holding the office of webmaster this year. He is also a member of Alpha Epsilon Delta. This year, he received the Phi Kappa Phi honor society's award for the Highest GPA of its senior members.
"At UH, I made friends that will last a lifetime," he said. "One of the best experiences was finding 'like-minded' people who helped me, worked with me, and studied with me. That really impacted my teamwork and social skills."
Throughout college, Tran has tutored in the American Chemical Society Tutor Room. He also served as a workshop facilitator in NSM's Scholar Enrichment Program, helping student's master general chemistry.
After graduation, he will be focusing on volunteerism and applying to medical school for admission in Fall 2017. Tran is interested in the field of cardiology.
Convocation Banner Bearers
NSM started a new tradition in May 2015. The College's Convocation processional includes outstanding students from NSM's six departments carrying the University, College and Departmental Banners. The banner bearers have the additional honor of sitting on stage as part of the Convocation platform party.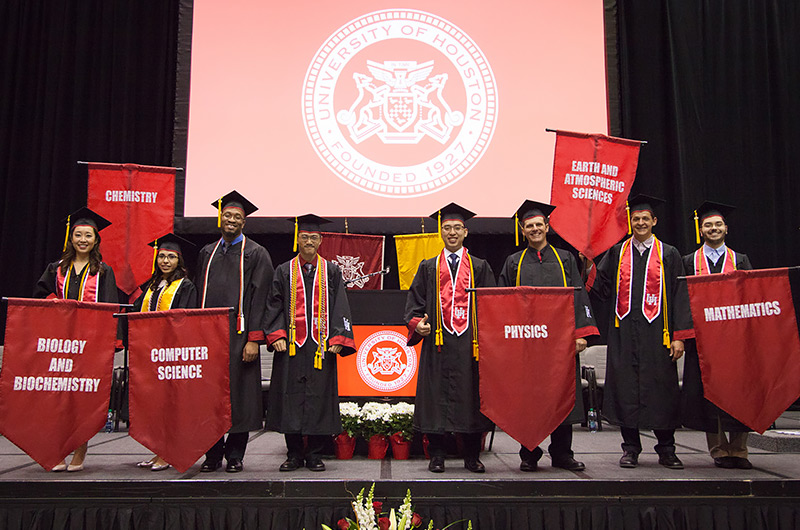 University Banner
James Tran, biology major
College Banner
Trong Nguyen, biology major
Department of Biology and Biochemistry
Kristina Duan
Department of Chemistry
Fabiana Toro-Figueira
Department of Computer Science
Marden Joseph Benoit
Department of Earth and Atmospheric Sciences
Jarret Lee Garber
Department of Mathematics
Shaun Bulsara
Department of Physics
Brian McElhenny
- Kathy Major, College of Natural Sciences and Mathematics