Will Spend Three Weeks Monitoring Air Quality Aboard the Jang Mok-1
Matthew Erickson, research scientist in the College of Natural Sciences and Mathematics at the University of Houston, is set to spend three weeks conducting air quality research in South Korea aboard the research vessel Jang Mok-1.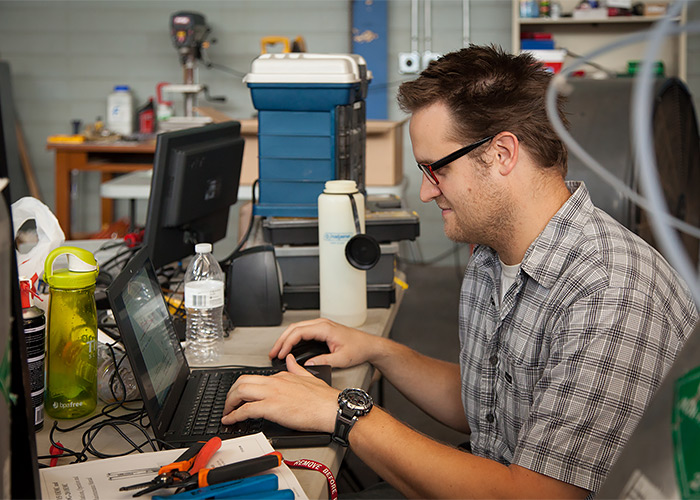 Matt Erickson, research scientist in the Department of Earth and Atmospheric Sciences, will spend three weeks monitoring air quality off the coast of South Korea.This field study will test a new technology, called Pandora, for its ability to monitor air quality from the air. If successful, Pandora can be installed in satellites.
To test Pandora, this study will be a coordinated effort of two research vessels – the Jang Mok-1 and the Onurri – and an aircraft carrying Pandora. The research vessels will be recording air quality and ocean color measurements on the ground using established technologies, which will then be compared to the measurements taken in the air by Pandora. Their route will take them along the southern coast of South Korea.
"Our main focus will be to compare the measurements taken aboard the Jang Mok-1 versus the measurements taken by Pandora," said Erickson, who is part of the Institute for Climate & Atmospheric Science in the Department of Earth and Atmospheric Sciences (EAS).
"This work will help link the aircraft observations with surface conditions," said James Flynn, a research assistant professor in EAS who is also involved in this study. "This is important since much of the pollution is in the lowest layers where satellite retrievals become more difficult."
Erickson, whose specialty is fieldwork instrumentation, was responsible for automating the instrument that he'll use aboard the Jang Mok-1. This instrument, provided by UH, will measure levels of NO2, which is a precursor to ozone, SO2, which leads to acid rain, and CO, which is produced by the incomplete combustion of fuel.
In addition to testing out Pandora, the measurements Erickson will be taking will help yield insights about air pollution in that region. Seoul, which is the capital of South Korea, has a real-time air quality index for air pollution levels, with residents being warned to stay indoors or wear masks on the worst days. South Korea is also close to China and subject to wind currents, a factor that is thought to impact the level of air pollution.
"The measurements that we are taking will also allow us to visualize any pollution plumes coming from either Korea or its neighbor China," Erickson said.
This project is part of the joint Korea-U.S.-Air Quality (KORUS-AQ) and Ocean Color (KORUS-OC) study, which is a collaboration between South Korea and NASA that aims to advance the ability to monitor air pollution from space.
- Rachel Fairbank, College of Natural Sciences and Mathematics