May 2015 Marks 100th Program Graduate
Alumni, faculty and friends of the University of Houston's Professional Geosciences Master's Program gathered at Armadillo Palace to celebrate the program reaching 100 graduates. The Milestone Celebration highlighted the accomplishments of the program and gave alumni from various cohorts the opportunity to reconnect.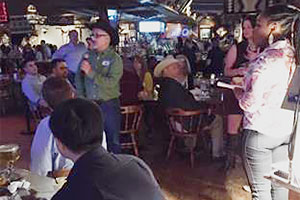 "The success of these graduates and this remarkable milestone are standing on the shoulders of the efforts and success of all previous graduates and alumni," said Don Van Nieuwenhuise, director of the Professional Geosciences Master's Program, while addressing alumni at the event.
Since 2004, 11 student cohorts have earned their master's degrees through the program offered by the Department of Earth and Atmospheric Sciences.
The Professional Master's Program, offering degrees with specializations in petroleum geology and petroleum geophysics, is uniquely designed for current professionals in the oil and gas industry. It is recognized for its integrative approach toward petroleum geoscience education and for its collaboration with industry experts. New cohorts typically start at the completion of the preceding cohort. Each cohort lasts four semesters, including a summer semester.
"Many of our students enter the program after a few years in industry," Van Nieuwenhuise said. "We also have partnerships with domestic and international companies that give their employees the opportunity to earn their master's degree through this program."
"The M.S. program at UH really enhanced my understanding of geosciences by providing an excellent curriculum, a group of expert and well-known professors, and motivated students who answered the same call to learn that brought me there," said Robert Blanchard, a graduate of the ninth cohort and a geophysicist at Marathon Oil. "I appreciated my experience in the program and enjoy working with my cohort alumni who are already in industry."
Graduates from 10 different cohorts attended the celebration. As the program continues to grow, the hope is that alumni stay engaged with UH and with fellow colleagues in the program.
"We've got a strong community of alumni from this program, and we hope everyone continues their conversations beyond the time they spent in school," Van Nieuwenhuise said.