Daugulis Named Robert A. Welch Chair in Chemistry

Recognition as a Scientist, Scholar and Mentor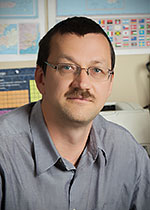 Olafs Daugulis has been named the Robert A. Welch Chair in Chemistry at the University of Houston.
The chair is endowed by the Welch Foundation, one of the United States' oldest and largest private funding sources for basic chemical research. The University based the selection on his scientific reputation, accomplishments, creativity and potential for continued growth as a scientist.
Since joining UH in 2003, Daugulis has performed groundbreaking research in synthetic organic and organometallic chemistry while publishing his work in the best international chemistry journals and maintaining significant federal funding for his research.
"His well-regarded, often-cited papers have appeared in high impact journals including the Journal of the American Chemical Society and Angewandte Chemie," said David Hoffman, chair of the UH chemistry department. "Olafs' superb publication record and frequent speaking invitations document that his research is highly regarded nationally and internationally."
Daugulis has received four prestigious awards while at UH's College of Natural Sciences and Mathematics.
He was recipient of a 2014 Arthur C. Cope Scholar Award, one of the highest American Chemical Society awards available to mid-career chemists. In 2013, he received the Robert A. Welch Foundation Norman Hackerman Award in Chemical Research, an annual award recognizing the accomplishments of young chemists in Texas. Daugulis is the first recipient of a Hackerman Award from UH. In 2008, he received a prestigious Alfred P. Sloan Fellowship and a Camille Dreyfus Teacher-Scholar Award.
His record as a teacher and mentor is as strong as that of his research.

Daugulis teaches both undergraduate and graduate courses and was recognized in 2010 with a UH Teaching Excellence Award. He has mentored 14 master's and Ph.D. students, five postdoctoral researchers and numerous undergraduate students in his laboratory.
"Because of his excellent reputation and professionalism in his interactions with his research group members, he routinely has more graduate students who wish to work with him than he can accommodate," Hoffman said.
Prior to joining UH, Daugulis received his Ph.D. from the University of Wisconsin-Madison with Professor Edwin Vedejs and was a postdoctoral associate at the University of North Carolina at Chapel Hill with Professor Maurice Brookhart.
- Kathy Major, College of Natural Sciences and Mathematics