Fatima Qamar NSM's 4.0 Summa Cum Laude Graduate
More than 600 bachelor's, master's and doctoral degree candidates participated in the College of Natural Sciences and Mathematics (NSM) Spring Commencement on May 9. Held at University of Houston's Hofheinz Pavilion, the ceremony also included the Gerald D. Hines College of Architecture and Cullen College of Engineering.
Close to 50 doctoral candidates earned degrees in atmospheric sciences, biochemistry, biology, chemistry, computer science, geology, geophysics, mathematics, or physics. Approximately 125 NSM students were candidates for master's degrees and 450 students were candidates for bachelor's degrees. There were 32 summa cum laude graduates, the highest academic honor for bachelor's degree recipients.
Honorary Degree – Dinesh Singh
During the ceremony, Dinesh Singh, vice chancellor of the University of Delhi, received the degree of Doctor of Humane Letters, honoris causa. An accomplished higher education administrator, his affiliation with UH spans four decades.
Following collaborative research associations with colleagues at UH that began in the 1970s, Singh became an adjunct professor in 1999. He visits UH often to teach graduate courses and direct research. For more than a decade, he has worked with NSM's Department of Mathematics to administer a program that brings talented graduate students from India to complete their master's degrees at UH; more than half have remained to pursue their doctorates.
NSM's 4.0 Summa Cum Laude Graduate – Fatima Qamar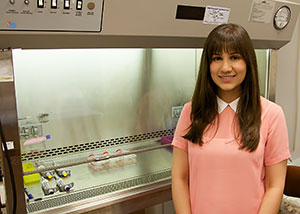 Fatima Qamar, NSM's 4.0 summa cum laude graduate, will attend dental school at Columbia University College of Dental Medicine. Fatima Qamar, a biology major with a chemistry and philosophy minor, achieved a perfect 4.0 at UH. In recognition of this honor, she served as the NSM banner bearer in the commencement opening processional, sat on stage for commencement, and was recognized by UH President Renu Khator during the ceremony.
Qamar grew up in Rawalpindi, Pakistan, and moved to Houston in 2009. She will begin dental school in the fall at Columbia University College of Dental Medicine in New York City.
While at UH, her experiences with tutoring and undergraduate research impacted her plans for the future.
"Dr. Simon Bott recruited me as a tutor for the American Chemical Society Tutoring Room during my second year at UH," Qamar said. "Once I started tutoring, I realized I really love teaching and hope to remain involved in academia after I finish dental school."
For more than two years, Qamar has done research at UH with Dr. Tahir Hussain examining a drug and its effect on hypertension.
"The research has been a great experience, and I'm interested in doing more research in dental school and after dental school," she said.
Qamar's husband, Jaffar Syed, is a 2009 graduate of UH's College of Pharmacy.
- Kathy Major, College of Natural Sciences and Mathematics