More than 550 NSM Candidates Participate in December Commencement

NSM Celebrates President's Medallion Recipients, Our Valedictorian and UH's Oldest Grad
More than 550 bachelor's, master's and doctoral degree candidates crossed the stage during the College of Natural Sciences and Mathematics (NSM) Fall Commencement on December 20. Held at University of Houston's Hofheinz Pavilion, the ceremony also included the College of Education, College of Technology and the Conrad N. Hilton College of Hotel and Restaurant Management. The commencement ceremonies included students completing degrees in August or December 2013.
Close to 60 doctoral candidates earned degrees in biochemistry, biology, chemistry, computer science, geology, geophysics, mathematics, or physics. Approximately 130 NSM students were candidates for master's degrees, and 360 students were candidates for bachelor's degrees. There were eight summa cum laude graduates, the highest academic honor for bachelor's degree recipients.
President's Medallion Recipients – Joan C. Suit, Ph.D., and Herman D. Suit, M.D., Ph.D.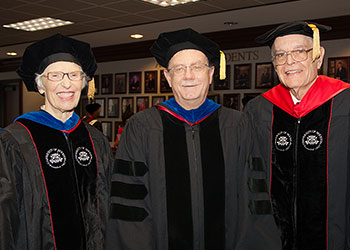 Joan and Herman Suit with NSM Dean Dan E. Wells (center) at UH Commencement on December 20. University of Houston alumnus Herman Suit (biology, '48) and his wife Joan received the President's Medallion during the ceremony. The medallion is the highest honor awarded to individuals who have made exceptional contributions to the University.
The Suits have dedicated their careers to science and medicine, and both made substantial contributions to their fields.
Long-time supporters of NSM and UH, their gifts include establishing a charitable annuity for endowed faculty support and annual support for a postdoctoral fellow in the Department of Chemistry through the Eby Nell McElrath Fellowship in Chemistry, named for Herman Suit's former organic chemistry professor at UH. They have also generously contributed to the NSM Fund and the UH Alumni Association, funded scholarships, and supported the expansion of the M.D. Anderson Library and The Honors College.
"This is indeed a tremendous and deeply appreciated honor to be the recipients of this medallion from the UH President. My time as an undergraduate in 1946, '47 and '48 was definitely a happy experience and had a positive impact on my life and career," Herman said. "I was particularly impacted by Professor McElrath."
The Suits visit UH frequently to keep in touch with the work of the postdoctoral fellow they support and to meet with NSM faculty. Herman Suit received a Doctor of Humane Letters, honoris causa, from UH in 2011 and the Distinguished Alumni Award from the UH Alumni Association in 2005.
At commencement, President Renu Khator recognized the Suits for their lifelong mission to improve the health of their fellow citizens and for providing the inspiration and the financial resources for students to follow in their footsteps and for faculty members and researchers to excel in the lab and the classroom. (Related Article: Suits Receive the President's Medallion.)
Valedictorian – Jeff Mindrebo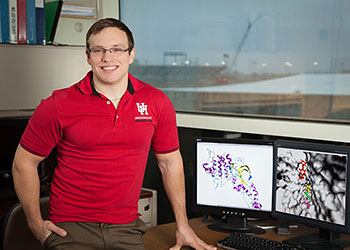 Jeff Mindrebo participated in undergraduate research and the Scholar Enrichment Program while at UH and is applying to Ph.D. and M.D./Ph.D. programs.Jeff Mindrebo, a biochemistry major minoring in math and chemistry, attained NSM's highest GPA, a 3.986. As valedictorian, he served as the NSM banner bearer in the commencement opening processional. 
Mindrebo credits NSM's Scholar Enrichment Program (SEP) for helping him develop his love for science and education.
"It was wonderful to find a community on campus that cared about education and about learning science. SEP is supportive whether students are studying to be engineers or doctors or planning to go for their Ph.D.," he said.
Through SEP, Mindrebo helped his fellow students by teaching workshops in physics, organic chemistry and biochemistry.
His other main interest at UH was performing undergraduate research in the labs of biology and biochemistry professors Robert Schwartz, James Briggs and Steven Bark. Mindrebo's primary research efforts were in computational drug design for heart disease, and he also worked on protein interaction networks related to endometrial and ovarian cancer.
In support of his research activities, he received a Summer Undergraduate Research Fellowship as well as the Provost's Undergraduate Research Scholarship. In May 2012, he presented his research in Austin during "Texas Undergraduate Research Day at the Capitol."
Mindrebo is applying to Ph.D. programs and wants to focus on biophysics and structural biology. He is also considering M.D./Ph.D. programs as a way to combine his love for research and medicine.
Oldest UH Graduate – NSM's Jim Mayhan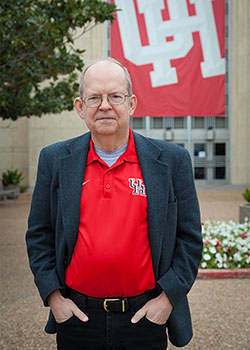 Jim Mayhan, 65, received his Ph.D. in physics and has accepted a postdoctoral fellowship at UH in the Mission-Oriented Seismic Research Program.At 65, Jim Mayhan completed his Ph.D. in physics and earned the distinction of being UH's oldest graduate in the December commencement ceremonies.
After more than 33 years at ExxonMobil, Mayhan retired and decided to pick up where he left off in the early 70s.
"I started graduate school in physics at Purdue University during the Vietnam War," said Mayhan, who received his bachelor's degree in physics from Louisiana State University. "Federal funding for physics was rapidly shrinking to help fund the war, so I decided to transfer to the graduate business school and received a Master of Science in Industrial Administration."
Mayhan was immediately hired by Exxon where he worked on financial analysis and financial systems projects. He worked at several locations over the years, retired in March 2007, and entered UH's physics Ph.D. program in August 2007.
"I wanted to enroll in a physics program within driving distance from my home; the UH physics chairman saw my application and contacted me about the seismic physics program," Mayhan said.
Now, he's connected to the oil industry in a new way and completed his Ph.D. research with UH's Mission-Oriented Seismic Research Program (M-OSRP). The program is led by his advisor, Arthur Weglein, the Cullen Distinguished University Chair in Physics.
"Our research program looks for better ways to find oil and gas working with seismic data. We develop theory and then develop computer code to implement the theory," said Mayhan, who applied the theory and code to field data while interning at Petroleum Geo-Services and ExxonMobil.
Mayhan has accepted a postdoctoral fellowship with M-OSRP/Department of Physics at UH. He looks forward to making the new advances and further contributions that are required to address the outstanding and pressing challenges in exploration seismology.
- Kathy Major, College of Natural Sciences and Mathematics