Nearly 550 Candidates Participate in May Commencement

Michael Wright – NSM's Outstanding Summa Cum Laude Graduate
The College of Natural Sciences and Mathematics (NSM) held its Spring Commencement on May 11, with nearly 550 bachelor's, master's and doctoral degree candidates crossing the stage. Held at University of Houston's Hofheinz Pavilion, the ceremony also included the Gerald D. Hines College of Architecture and Cullen College of Engineering.
Nearly 30 doctoral candidates earned degrees in atmospheric sciences, biochemistry, biology, chemistry, computer science, geology, geophysics, mathematics, or physics. Approximately 120 NSM students were candidates for master's degrees and 412 students were candidates for bachelor's degrees. There were 35 summa cum laude graduates, the highest academic honor for bachelor's degree recipients.
During the ceremony, Harold L. Kohn, an M.D. Anderson Professor of Chemistry at UH from 1973-1999, received the President's Medallion for his stellar achievements in the research of clinical agents. Kohn discovered lacosamide (Vimpat®) when he was a researcher at UH. This first-in-class antiepileptic drug for the treatment of partial-onset seizures in adults is marketed in the U.S. and 35 other countries. Kohn is the Kenan Distinguished Professor at the University of North Carolina at Chapel Hill.
Outstanding Summa Cum Laude Graduate – Michael Wright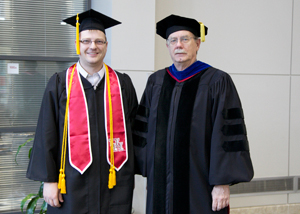 Michael Wright, NSM's outstanding summa cum laude graduate, and Dean Dan Wells. Wright will work at Pariveda Solutions, a consulting firm. Michael Wright, a computer science major and math minor, attained a near-perfect GPA of 3.969. As NSM's outstanding summa cum laude graduate, Wright gave the keynote speech at NSM's "Tribute to Scholars, Leaders and Partners in Education Luncheon" and served as the NSM banner bearer in the commencement opening processional.
Wright, who grew up in Ras Tanura, Saudi Arabia, earned his first bachelor's degree at the University of Texas at Austin, majoring in Hispanic studies. He then earned a law degree from UH Law Center. In 2010, after practicing law for three years as a civil litigator, he decided to change careers.
"I wanted to pursue my passion for computer science, and I am happier than I've ever been," Wright said. "Going back to school was one of the best decisions I've made."
Wright credits computer science professor, Venkat Subramaniam, for broadening the way he looks at his new career. "The class I took from him, programming languages, was the most eye-opening class I've taken," he said. "The course tied a lot of concepts together and made me think about what I'm going to be doing for the rest of my life in a totally different way."
At UH, Wright received a Department of Computer Science ExxonMobil Scholarship, held an internship for two years at a software development company, and participated in the CougarCS organization. Wright will begin working at Pariveda Solutions, a consulting firm, the week after graduation.
- Kathy Major, College of Natural Sciences and Mathematics