Strides in Math Education, Community Outreach Add up to Piper Honor

Math Department Chair Jeffrey Morgan Becomes 10th UH Professor To Receive Prestigious Title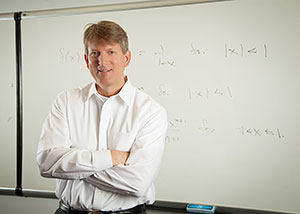 An ardent supporter of mathematics education at the university, high school and middle school levels, University of Houston (UH) professor Jeffrey J. Morgan has been selected a 2013 Piper Professor by the Minnie Stevens Piper Foundation. He will receive a $5,000 honorarium for his superior college-level teaching and will be recognized by President Renu Khator during a 6 p.m. ceremony May 8 at the Rockwell Pavilion.
"I teach to give something back that was given to me. It was clear from a young age that I had a hunger for teaching, and this was because a few excellent teachers in K-12 played an amazing role in shaping my life," Morgan said. "The most prominent of these was a man named Bob Collings, who taught me mathematics from 9th to 12th grade. He was both a teacher and mentor to me and forever changed my life path. His teaching was dynamic, and his willingness to listen to me and offer advice was inspiring. I became captivated with mathematics and less confused about life. Moreover, I was inspired to do for others what he had done for me."
Outreach to K-12 Teachers and Students
In addition to his many duties as professor and chair of the math department, Morgan provides support and resources to math and science teachers in the community. He organizes competitions and workshops, as well as develops free exercises and practice exams, for both students and teachers from the K-12 spectrum.
"Jeff has authored and developed numerous materials that teachers and students can access for free," said UH's 2012 Piper Professor recipient and instructional professor of chemistry Simon Bott. "It would not be an exaggeration to say that most good math students at high schools in the greater Houston area will have encountered Jeff or some of his work at some stage, from taking part in the annual high school math contest to their preparation for Advanced Placement exams. He is a great teacher and a wonderful role model for our students for his level of concern and activity both at the university and in the outside community."
As the director of undergraduate affairs and advising, Bott shares another honor with Morgan. They serve as co-directors of the teachHOUSTON math and science teacher-preparation program. The six-year-old program, which prepares students to be math, science, technology and engineering (STEM) teachers, is designed to help urban schools attract and retain middle-school and high-school teachers in STEM by immersing aspiring educators in public school classrooms early in their college careers. The program has grown from 14 students in 2007 to enrolling more than 120 annually, with nearly 100 having graduated to date. Morgan's Piper award will be presented during a reception honoring this year's teachHOUSTON graduates.
Mentor to Students
Morgan is immersed in mathematics across the board at UH and has played a key role in instructing many college students who may otherwise have slipped through the cracks of higher learning. A considerable number of students have been inspired to become math majors because of their experiences in his courses.
As one former student wrote in a letter of support, "Dr. Morgan was my professor and mentor throughout my undergraduate and graduate studies. When I expressed doubts about my ability to succeed in graduate school, it was Dr. Morgan who encouraged me to apply and ensured my doubts did not hold me back from achieving my full potential. His support made the difference when deciding to enter grad school. He continued to be very supportive throughout my studies – making sure I wasn't overburdened, took the appropriate classes and followed the right approach. It was this encouragement and attitude that made it possible for me to be successful. He is such an inspiration and a great person to emulate. He genuinely cares about his students and their capacity to learn."
Morgan oversees the largest department on campus that also has the largest total teaching load, offering instruction in nearly 80,000 student credit hours per year. By his own preference, he takes on a good-sized portion of the load, with a majority of his classes numbering in the hundreds, yet always making himself available to answer questions and speak with students. Additionally, the department specializes in cutting-edge research, ranging from computational mathematics to mathematical biology, as well as being involved in a number of outreach activities in the Houston area.
Innovation in Course Management
Morgan, who came to UH in 2002 and has served as the chair of the mathematics department for 10 years, is largely responsible for increasing the caliber of math instruction at UH in the last decade. Under Morgan's leadership, the math department increased student performance in college algebra nearly 20 percent by introducing common exams to unify standards and approaches across class sections, building electronic databases and course management software, creating online learning materials, and instituting mandatory attendance requirements. The department has since instituted these reforms in other of its classes, not only improving student performance, but also saving students a considerable amount of money on learning materials.

"I am always trying to figure out how something works – even if I have to dismantle it. My curiosity for life is perhaps my greatest gift. I look forward to experiencing everything life brings my way and sharing that passion with my family, friends, colleagues and students," Morgan said. "Outside of family and faith, my commitment to teaching is the most important thing in my life. I love UH, and I plan to stay here as long as I can make positive contributions in teaching, service and research. I will continue to teach, work with teachers and contribute in any way I can, so long as I can find a way to make a difference."

Each year, the Minnie Stevens Piper Foundation chooses 10 outstanding educators from across the state of Texas for this honor. A Texas-based nonprofit organization founded in 1950 for the purpose of supporting charitable, scientific and educational undertakings, the foundation began recognizing Piper Professors in 1958. Morgan is the 10th professor from UH to receive this honor.

- Lisa Merkl, University Communication