UH, Air Alliance Houston, American Lung Association Launch New Tool
Houstonians have a new tool to provide real-time ozone updates.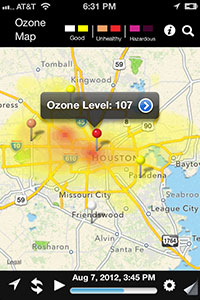 "OzoneMap," a free smartphone and tablet app (for both Apple and Android products), incorporates ozone updates from HoustonCleanAirNetwork.com. The app is the work of a partnership between the University of Houston, Air Alliance Houston and the American Lung Association.
"The people most susceptible to air pollution are the young and the elderly," said Barry Lefer, associate professor of atmospheric science in UH's Department of Earth and Atmospheric Sciences. "Everyone has a different sensitivity to ozone."
Lefer, one of the UH researchers on the project, said ozone can trigger asthma attacks. "Days with high ozone levels tend to have higher numbers of emergency room visits due to asthma," he said. Other health risks include coughing, inflamed breathing passages and increased vulnerability to respiratory infections.
The app and website are part of the clean air initiatives sponsored by a three-year, $450,000 grant from Houston Endowment.
OzoneMap features a map of the greater Houston and surrounding area. Colored clouds illustrate ozone levels in different parts of the city. Conditions range from good (white) to hazardous (purple).
Mark Specific Locations
"Users can drop a pin at a specific location on the map by typing in the address. This makes it easier to identify the ozone level at a location," Lefer said. "The app is designed to be like a weather site. If there is an ozone cloud, you can see if it is moving in your direction."
The app's users can select from three different maps – standard, satellite or hybrid – and can access information on the health effects of ozone.
The data is collected from 43 ozone monitors and updated every five minutes. Five of the monitors are part of UH's Houston Network of Environmental Towers, a U.S. Environmental Protection Agency project started by Lefer seven years ago.
"Ozone readings higher than 75 are considered to be the start of unhealthy levels," Lefer said. However, he cautioned that individuals need to talk with their health care provider to determine what level they should be concerned about.
Decision Tool for Outdoor Activity
The app is an excellent resource for those who know they are sensitive to ozone and for people who want to reduce exposure for children.
"We want to give people access to the information, and they can decide whether to modify their outdoor activity," Lefer said. "For instance, teachers or school nurses can use the app to check ozone levels during recess hours and move outdoor activities inside if levels are high."
While the number of air pollution events in Houston has decreased dramatically in the last decade, the city still has 30 to 40 high ozone days a year.
"High ozone days are typically days with low wind speeds and lots of sun," Lefer said. "We can forecast that there is going to be high ozone tomorrow, but we can't forecast which neighborhoods will be impacted. That's why this app is so useful."
In year three of the grant, the group wants to add an alert feature that would allow people to register a particular address or set of GPS coordinates with the system. In the event of high ozone levels, the user would receive a text message or email alerting them to the conditions.
"We hope Houston's data collection systems and app can be replicated in other cities – like Los Angeles, New York and Chicago," Lefer said.
OzoneMap is available for Android devices through Google Play and for Apple products through the Apple App Store. Computer Science Ph.D. student Ilyas Uyanik and undergraduate Ashik Khatri, both from the Computational Physiology Lab, developed OzoneMap under the supervision of professor Ioannis Pavlidis.
- Kathy Major, College of Natural Sciences and Mathematics with excerpts from UH News Release by Mike Emery