Fossil CSI: Prehistoric Clues to Oil, Environment Revealed

Geologic Problem Solving with Microfossils III Held at UH March 10-13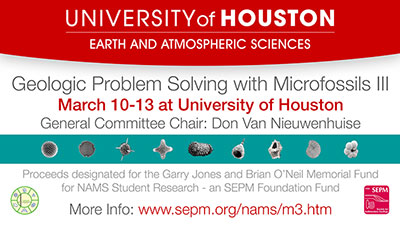 More than 200 delegates from around the world will assemble at the University of Houston (UH) next week to share research and discoveries about oil and the environment at an international conference on the economic and environmental use of fossils.
Specifically examining microfossils, which are invisible to the naked eye, the scientists who participate in this quadrennial gathering represent leaders in various branches of stratigraphy, the branch of geology that studies rock layers in the Earth's crust. Notable presenters will include the authors of the last decade of geologic time scales, which are a system of chronological measurements that relate stratigraphy to time. These time scales are used by geologists, paleontologists and other earth scientists to describe the timing and relationships between events that have occurred throughout Earth's history.
The conference, Geologic Problem Solving with Microfossils III, will be held at UH March 10-13. Kicking off the activities will be poster sessions at the Hilton University of Houston Sunday and Monday evening, with oral presentations taking place Monday through noon Wednesday in room 100 of the Science and Engineering Classroom building.
"We will have some of the world leaders in research on global time scales presenting at this conference. They are the keepers of the keys to time for the fossil record over the course of the last 550 million years in sedimentary rocks," said Don Van Nieuwenhuise, director of Professional Geoscience Programs at UH in the Department of Earth and Atmospheric Sciences. "They also are keeping track of available age data back into the Precambrian age, extending as far back in time as 4.5 billion years ago. The work of hundreds of scientists from all over the world entails integrating data generated from the Earth, moon, Mars and Venus."
The various presentations lined up will show how microfossils are used to understand environmental conditions, such as global warming and cooling, from prehistoric times to the present. Talks also will cover how microfossils are used to age-date rocks, as well as provide clues to finding oil and gas resources not only in conventional sand and limestone, but also unconventional shale plays.
In addition to discussions of practical applications in oil and gas exploration and production, Van Nieuwenhuise says basic science about stratigraphy and environmental monitoring will be showcased. Since microfossils are found in abundance in oil and gas well samples, scientists can then link the environmental signals of similar living microscopic organisms, flora and fauna in a region, also called microbiota, to understand the fossil and rock record.
"This has led to the use of these organisms as environmental monitors for various forms of pollution," he said. "Once researchers determine the baseline abundances and distributions of microbiota in a given habitat, we can then determine if pollutants have disrupted their habitat and populations. Some microbiota develop deformities related to pollutant influences and other environmental stresses."
Intended to reflect today's broadening application of micropaleontology, presentations will include talks on the microfossil record of major oceanic events, microfossils and unconventional resources, reconstructing past environments using microfossils, paleoclimatology and paleoceanography related to sea-level change, and new technologies and techniques in microfossil studies.
Sponsored by the North American Micropaleontology Section of the Society for Sedimentary Geology, this conference broadly focuses on the use of microfossils for solving geological problems. Initiated in 2005 and held every four years, this event has been well received and is growing in attendance. Attendees of past meetings have said the open problem-solving theme of the conference and the broad participation of specialists from varied disciplines creates a rich environment for collaboration and sharing of ideas and knowledge.
For more information on the conference, visit http://www.sepm.org/nams/m3.htm. For a list of presentations, visit http://www.sepm.org/nams/M3OralProg.pdf.
- Lisa Merkl, University Communication