More than 500 Candidates Participate in December Commencement

NSM Celebrates Two 4.0 Graduates and UH's Youngest Grad
The College of Natural Sciences and Mathematics (NSM) recognized its more than 500 bachelor's, master's and doctoral degree candidates during the Fall Commencement ceremony on December 21. Held at University of Houston's Hofheinz Pavilion, the ceremony also included UH's College of Education, College of Technology, and the Conrad N. Hilton College of Hotel and Restaurant Management.
Close to 50 doctoral candidates earned degrees in atmospheric science, biochemistry, biology, chemistry, computer science, geology, geophysics, mathematics, or physics. In addition, 130 NSM students were candidates for master's degrees, and 328 students were candidates for bachelor's degrees.
NSM's 4.0 Graduates – Besandre and Slaugenwhite
During the ceremony, NSM's 4.0 summa cum laude graduates were recognized – Ronald Besandre, a biochemistry major and chemistry minor, and Jeremy Slaugenwhite, a geology major. As 4.0 students, Besandre and Slaugenwhite had the honor of sitting on stage for commencement.
Ronald Besandre
A native Houstonian, Besandre graduated from Michael E. DeBakey High School for Health Professions. He plans to enter an M.D./Ph.D. program and has been accepted to several medical schools.

NSM 4.0 graduate, Ronald Besandre, with Dan Wells, chairman of the Department of Biology and Biochemistry (left), and David Hoffman, chairman of the Department of Chemistry. Besandre is a biochemistry major and chemistry minor.While at UH, he received a Provost's Undergraduate Research Scholarship and the American Chemical Society's Summer Undergraduate Research Fellowship (SURF). Through the SURF program, Besandre had the opportunity to present his work at Pfizer's Global Research and Development campus in Groton, Conn.
His interest in combining an M.D. with a Ph.D. came out of the research experiences he had in the lab of Jeremy May, UH assistant professor of chemistry, and with Dr. Rocky Hui, a pathologist and assistant director of the blood banking service at Texas Children's Hospital. Besandre has two publications in the works resulting from his research with May and Hui, and he will continue his research in May's lab this spring.
In the future, Besandre hopes to combine medicine and organic chemistry research for the development of new drugs. "I'd like to use the aspects of my Ph.D. training to develop therapeutics that can benefit not just my patients in the surrounding community, but also those across the nation and beyond," he said.
Jeremy Slaugenwhite
In August 2009, Slaugenwhite left an advertising career in New York City to pursue his passion for geology. Married with two children, Mathis and Hazel, he balanced his time between schoolwork, classes and family. "Any success I've had at UH, the credit goes back to my wife, Jennifer. She made sacrifices and has been very supportive," he said.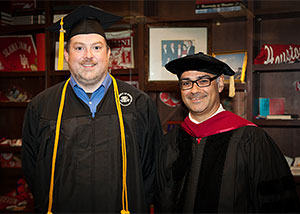 Jeremy Slaugenwhite, NSM geology major and 4.0 graduate, with Janok Bhattacharya, chairman of the Department of Earth and Atmospheric Sciences.At UH, Slaugenwhite worked on research projects with two professors in the Department of Earth and Atmospheric Sciences, Peter Copeland and Alan Brandon. "They have been instrumental in providing career guidance, research opportunities, and connections to researchers within the geological community," he said. Following participation in a joint MIT/Woods Hole Oceanographic Institution program in January and a six-month internship at an independent oil company, he plans to enter a Ph.D. program with a focus on experimental petrology and geochemistry.
Slaugenwhite received numerous awards while at UH and most notably was the 2011-2012 recipient of the Houston Geological Society Foundation Scholarship – Maby Scholarship. The scholarship is awarded to the highest overall ranked student from seven participating Texas universities (UH, University of Texas, Rice, Texas A&M, Sam Houston State, Stephen F. Austin State, and Lamar).
The Youngest UH Graduate – NSM's Jihad Harmouche
Jihad Harmouche moved to Houston from his hometown of Tripoli, Lebanon, in 2007. He started high school at 13, graduated in three years with some college credits, and at 18, is UH's youngest December graduate. However, his education will not end with his bachelor's degree; Harmouche, a summa cum laude graduate, is interviewing with medical schools and also wants to pursue a master's degree in public health.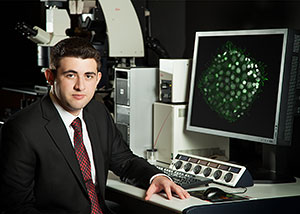 UH's youngest graduate, Jihad Harmouche, participated in undergraduate research in Gregg Roman's behavioral biology lab. Harmouche graduated summa cum laude.At UH, Harmouche actively participated in undergraduate research and NSM's Scholar Enrichment Program, where he tutored chemistry and facilitated student workshops. He credits those experiences with improving his study skills, people skills and public speaking skills.
He received the UH Biology of Behavior Institute Research Award in 2012 for his research with Gregg Roman, associate professor of biology and biochemistry. Harmouche and a couple of other students recently represented UH and Rice at the Regional Undergraduate Research Symposium, winning the award for cell signaling presentation.
Within the community, he volunteered at Memorial Hermann Southeast Hospital and shadowed a cardiologist for a year, getting first-hand exposure to the schedule and variety of the medical profession. Before heading off to his next educational adventure, Harmouche will continue to do research in Roman's lab in spring 2013.
- Kathy Major, College of Natural Sciences and Mathematics